Interview: Country Artist CJ Solar Talks Music, Guns and James Dean
Dave Maas 02.28.17

Dave: This will give away my age, but I've been a fan of country music for a long time. My first concert was in Minneapolis in a hockey arena that's been torn down for decades; my 11th-grade buddies and I piled into a rusty car to see Waylon Jennings in 1981. You sort of remind me of Waylon. Who are the top three artists/bands that influenced your music?
CJ: My grandparents love outlaw country, so I got a healthy helping of that growing up while spending summers out at my grandma's . . . but I'd say that southern rock was my biggest influence when I was learning to play and sing. Skynyrd and Creedence Clearwater Revival were my first two favorite bands and biggest influences. Then I got into country music in middle school after going to the Grand Ole Opry where we saw Dierks Bentley and Brad Paisley, and I thought, That's what I wanna do! Then I had my rock n roll phase where I got into 90's grudge through my Uncle Steve and loved Nirvana, STP and Soundgarden. So I'd say those three genres/groups of artist are my biggest influences!
Editor's note: For more on who influenced CJ's music, check out the short video below.
Dave: I know that you started out as a writer for other artists, and then they encouraged you to play your own music. Did you find the transition easier or harder than you expected?
CJ: Being a singer and guitar player first, I had always loved performing and had played honkytonks across the South while I was in college. But doing that I didn't get the opportunity to play my own songs very much. When I got the deal and became a full-time writer, I really got to figure out my sound and what I wanted to say as an artist, so when I got the chance to start putting out stuff and touring again, it's made the transition super fun and easy!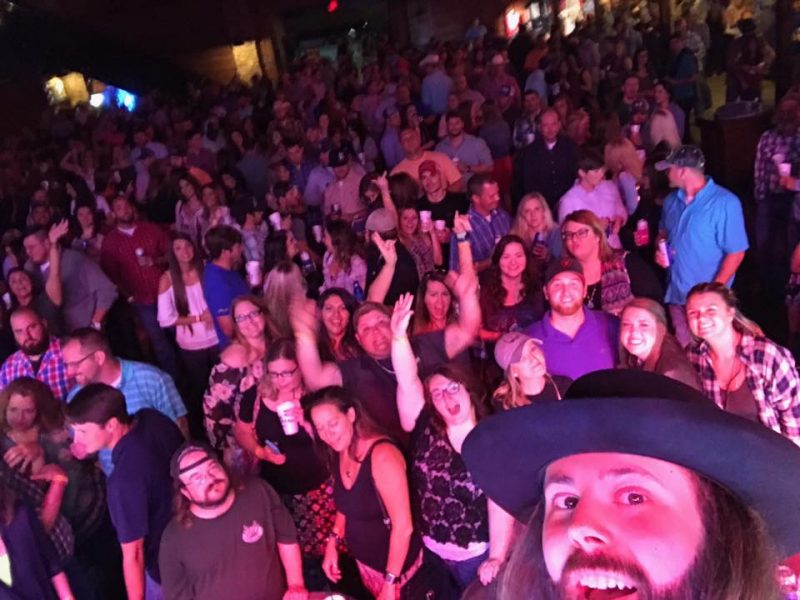 Dave: Because OHUB is a website for fishermen and Second Amendment-loving shooters and hunters, let's talk about the outdoors. Where did you grow up, and who taught you to hunt and fish?
CJ: I grew up in Baton Rouge, Louisiana, and spent a lot of time at my grandma's house in Kentwood, LA, where she's got some property that they trained cutting horses on. We'd fish in the ponds and hunt a little growing up, but we have this little homemade shooting range out back that I spent a lot of time target shooting and shooting clays with my dad and Uncle Steve.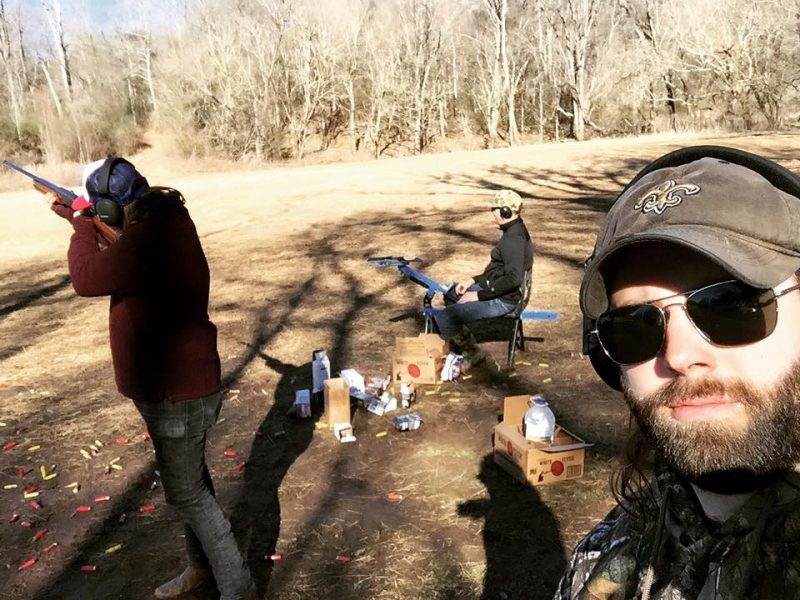 Dave: I assume writing and performing take up almost all your time. Do you still get out in the treestand in pursuit of whitetails, or in the duck blind or turkey woods?
CJ: Since I moved up here, I usually go deer hunting for about a week over Christmas break, but I'm trying to make more time for that this year. Never been turkey hunting, so I wanna try that when the season comes around here shortly.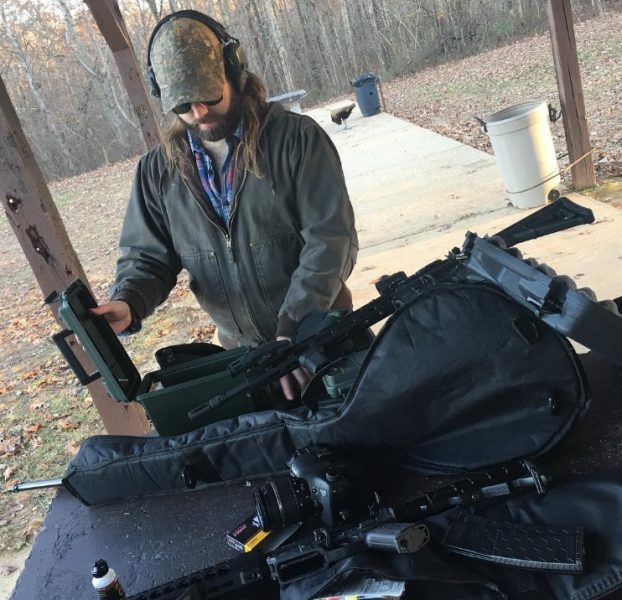 Dave: OK, let's get back to your music: I liked "Just Another Day in the Country" the first time I heard it, and loved it after watching the video (below). Two quick questions: The guy bass fishin' from the bank . . . did he actually catch anything during filming, and did he ever attend a KISS concert?
CJ: Yeah! That was my buddy Michael Hardy, and we brought some fishing poles out with us 'cause we knew there was a little pond, and he caught that bass while we were setting up stuff waiting on some friends to show up. And that KISS shirt was from the first concert his dad took him to when he was like 12; that's good parenting if you ask me!
Dave: At the 3:07 mark of the video, I couldn't help but smile at the Reagan/Bush '84 hat. Classic! The authentic sound and imagery reminds me of two of my other favorites, Kid Rock and The Charlie Daniels Band. How much input did you have in the video?
CJ: I LOVE Kid Rock – seen him five times and am a huge fan – and obviously Charlie Daniels is amazing, and we jam "Long Haired Country Boy" all the time, being long-haired country boys ourselves! But we had all the input in the video; pretty much just brought all those props with us from my house. I got myself and the guys I wrote the song with those Reagan/Bush hats for Christmas since we had the line in the song. Only thing I ordered online was the James Dean cut-out that the guys drank beer with!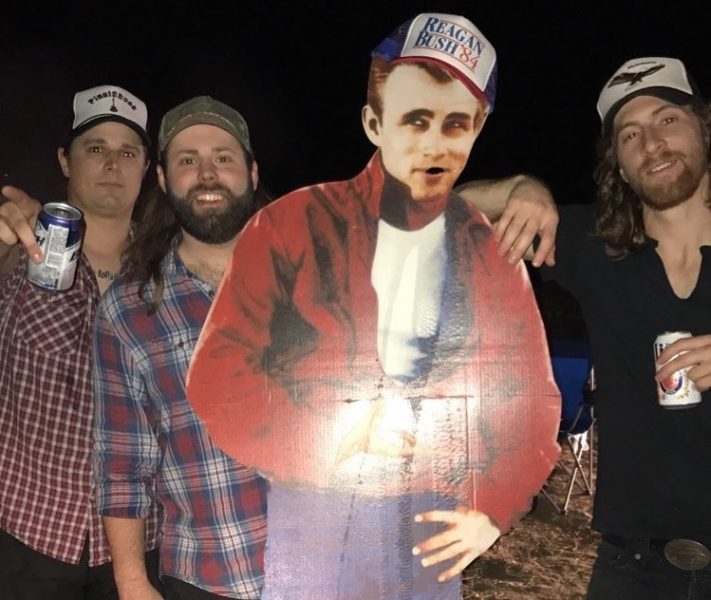 Dave: The same Reagan/Bush '84 hat makes an appearance at the 1:39 mark of "Tall Boy" video (below), too! Can I assume you tend toward voting Republican?
CJ: Ha! Hard to hide it.
Dave: Let's go back a few years – in March of 2014, you signed a publishing deal with Sea Gayle Music. I have to assume that ranks very high on your list of proudest accomplishments in music. Do you have any accomplishments in the outdoors that rival it? A 10-pound largemouth bass? A record-book whitetail?
CJ: Not gonna lie, unfortunately the deer I've shot and bass I've caught have all been pretty average. But I'm still holding out hope for a monster. I have gotten some pretty huge nutria back home while fishing, and caught 'em running around the pond though.
Dave: What's your favorite motto/words to live by?
CJ: My favorite movie ever is Joe Dirt, so I'd have to say "Life's a garden, dig it" – especially since it's been the background on my phone since I had a flip phone!
Dave: I'll provide links here so new fans can easily find you on Facebook, Twitter and Instagram. They can click here for a list of your upcoming shows, and rumor has it that you have a live EP titled "No Sleep Till Nashville" dropping today on Spotify. The pulpit is yours . . . any closing words of wisdom?
CJ: Hope to see anyone reading this at a show soon! And if you ever wanna take a long-haired country boy hunting or fishing with you, I'm there!