Professional golfer Cody Gribble (26) was born in Dallas, Texas, played college golf at the University of Texas, and won the 2012 NCAA Championship. Cody is holding the trophy in the photo below. One of his teammates in college was Jordan Spieth (second from the left). In October 2016, Gribble won his first PGA Tour title at the Sanderson Farms Championship.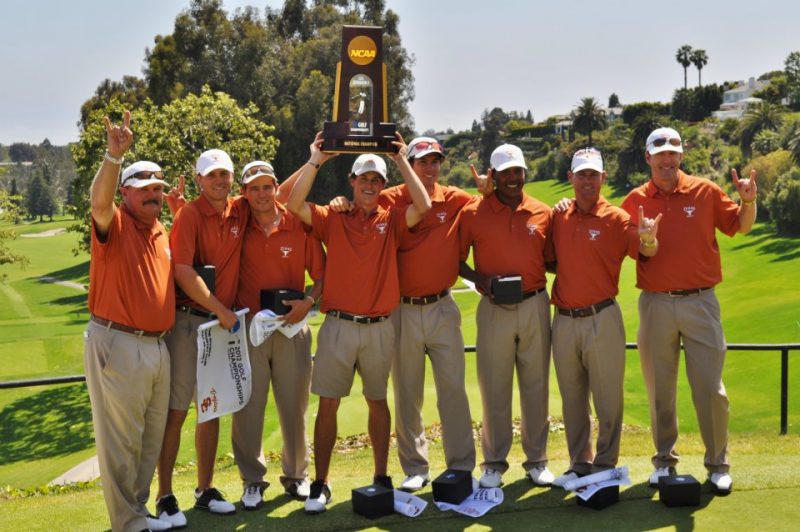 On March 16, 2017, during the opening round of the 2017 Arnold Palmer Invitational in Orlando, Florida, Cody strolled up the fairway toward an alligator on the bank of a water hazard. Instead of giving the gator space, which is what every other golfer probably would've done, Gribble decided to have a little fun – he slapped the gator on the tail.
Keen observers of the clip below will notice that Cody used his left hand to send the gator into the water, which makes sense because he's a left-handed golfer.
According to Gribble's bio on his Twitter page: "Highland Park High School Alum. University of Texas alum. Rather be Hunting or Fishing. Professional golfer on PGA tour."
We aren't sure if Cody is a southpaw when it comes to shooting a gun or bow. Either way, we editors are fans of a young man who stalks a gator during a golf event!
P.S. Gribble shot 6 over par during the first round of the 2017 Arnold Palmer Invitational, and the projected cut is 3 over, so he needs to step it up to play during the weekend. Otherwise, he'll find himself pursuing Florida hogs or fishing for bass instead of chasing birdies.