The rod-and-reel world record for lake trout is 72 pounds and was caught in 1995 on Great Bear Lake in Northwest Territories. So it should come as no surprise if the next record laker comes from that same fishery.
And it almost did. Check this out: Members of the Deline First Nation harvested a lake trout from Great Bear Lake that weighed 83 pounds! They were sustenance fishing with a gill net and tried to revive the monster laker, but it was already dead.
We heard about this amazing lake trout from fishing guide Brandon Isaac, who works at Plummer's Arctic Lodges, which is about 150 miles on the opposite side of Great Bear Lake from the Deline First Nation community. As Brandon writes in his Facebook post: "I've been privileged to visit them twice. Amazing people and stewards of the land."
Brandon continued: "This fish is part of the reason why I love guiding in the arctic. Every morning, every guide launches their boat thinking "today could be the day". The new world record is cruising around there somewhere. And since we're a catch & release lodge – the 50 pounder caught 10 years ago is potentially still alive, but 20-30 pounds bigger."
In another Facebook post, Brandon described the photo below: "The heads on these giant lake trout I'm blessed to chase after as a guide will never cease to blow my mind. Dinosaurs of the arctic. Our lodge is 100% catch & release – this 52 pounder was released to swim again, and be caught again. I'm anxious to get back up there!"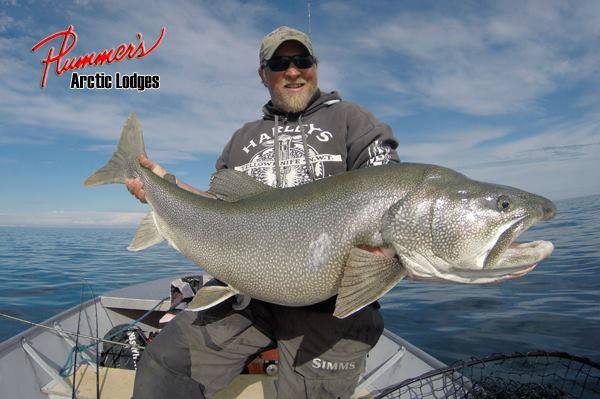 Maybe 2017 will be the year the lake trout world record is broken. And we editors hope it happens in Brandon's boat!