Speer Gold Dot Signs Contract with U.S. Department of Homeland Security for 120 Million Rounds
OutdoorHub Reporters 12.20.17

Speer Gold Dot is the hands-down choice of quality and performance for many shooters, including law enforcement.
As of December 19th, Speer has been awarded a hefty contract with US Department of Homeland Security (DHS) and Immigration Customs Enforcement (ICE) for what's been reported 120 million rounds of ammunition.
To put that into perspective, many ammo manufacturers send out their 9mm hollow-points in quantities of 25 rounds per box . . .
If you run some fast math, that means Speer is prepared to supply the DHS and ICE with roughly 4.8 million boxes of ammo in their popular Gold Dot flavor sometime over the next months/years.
A press release from Speer offers more details on their awarded contract:
"The U.S. Department of Homeland Security (DHS), Immigration Customs Enforcement (ICE), recently awarded Speer a major ammunition contract. Starting delivery in 2018, the contract provides for up to 120 million rounds of 124-grain, 9mm Luger Gold Dot duty ammunition to multiple DHS law enforcement components and other Federal agencies for up to five years.

This contract will provide the organization's agents and officers with the legendary performance that has made Gold Dot the No. 1 load of law enforcement worldwide."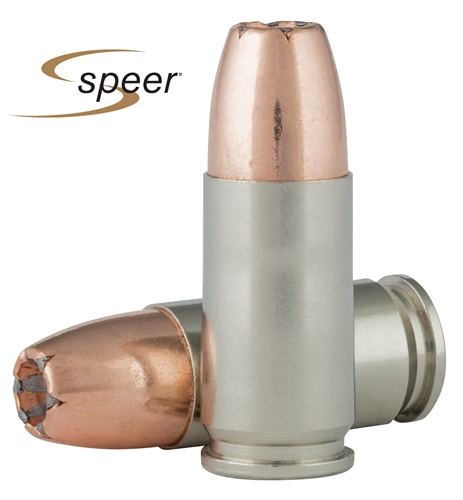 In case you're new to shooting, or just haven't had the chance yet to run any through your carry firearm, here's what you can expect when you open up a box of Speer Gold Dot:
"Uni-Cor" construction bonds the jacket to the lead core in a near flawless design; Extremely high weight retention
"Uni-Cor" bonding aids in superior, repeatable accuracy
Cleaning burning powder
Nickel plated brass
Reliable CCI primers
Jason Nash, product director at Speer, was quoted in the press release on why he believes Speer was chosen for the contract:
"Speer Gold Dot has a long history of providing trusted performance time and time again for our nation's law enforcement and military. We're very proud to provide Gold Dot to the DHS for their duty ammunition needs."