With the 2018 SHOT Show now just days away, IWI dropped some knowledge on us that's sure to steal our attention at the Industry Day at the Range.
IWI is set to release a 12 gauge bullpup shotgun that's capable of holding 26 rounds . . . Twenty. Six. Rounds!
A press release with more details can be read below, but right now we know this puppy is gas operated, semiautomatic, and has three rotating magazine tubes. Shooters can also adjust the ejection of spent shell casing from left to right as needed. There's no word on an official release date yet, but it appears magazines for the TS12 are already showing up on distributor's websites, so a drop date could be anytime in the next few months.
Here is the new release:
"IWI US, Inc., a subsidiary of Israel Weapon Industries (IWI) Ltd., brings innovation to the tactical shotgun market with their first bullpup shotgun: the TAVOR® TS12. This 12 GA gas regulated, smoothbore semi-auto shotgun feeds from one of three magazine tubes, each capable of holding four three-inch shotgun shells or five two-inch shotgun shells, for a total potential magazine capacity of 15 +1 rounds. The TS12 can be fed and unloaded from either side and configured for either right or left side ejection or operation.

"The TAVOR TS12 is our first entry into the home defense shotgun market and we held off until we had something unique and desirable that held the same characteristic quality and performance of the entire TAVOR line," Casey Flack, CEO of IWI US commented. "The TS12 is it; compact, easy to use and maintain, and with a large magazine capacity, it is ideal for home defense, as well as a sporting shotgun."

The TAVOR TS12 features a unique patented "Bullhead" bolt locking system, specific to the TS12. The 18.5-inch smoothbore barrel with a three-inch chamber is fed rounds through a tubular magazine system that automatically loads the next round when the tube is rotated in position. The muzzle threads are internal and compatible with Benelli®/Beretta choke tubes. One choke tube is included with the TAVOR TS12.

Compact in length at only 28.34-inches, the TS12 has a one-piece, full-length 1913 Picatinny top rail with M-LOK receptacles integral in each side of the forearm of the shotgun body, allowing multiple placement possibilities for the addition of accessories.

Available initially in a black finish, later versions will be offered in OD and FDE. The MSRP is $1399.00.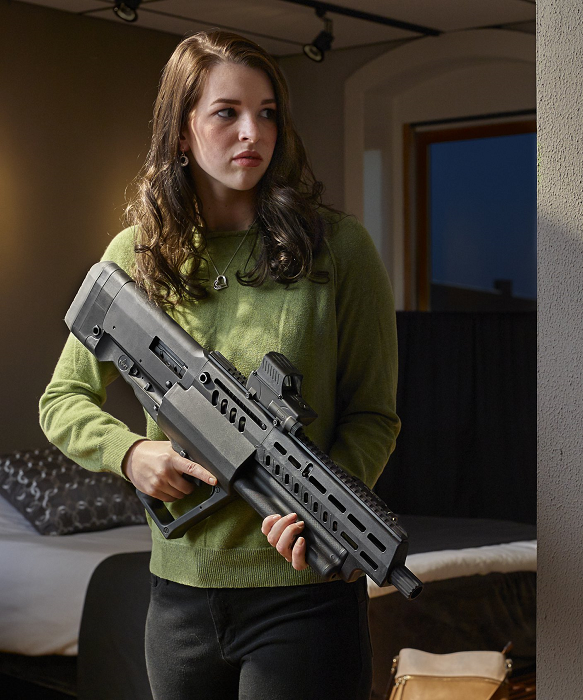 TAVOR® TS12 Specifications:

Gauge: 12GA/ 3" chamber
Weight: 3.6 kg (mag empty) / 8 lbs.
Barrel Length: 47 cm / 18.5"
Overall Length: 720 cm (not including choke) / 28.34"
Height: 260 mm / 10.23" (from pistol grip to top)
Magazine: Tubular system, 15-rounds total capacity (five 2.75" or four 3")
Choke: Internal muzzle threads / Benelli / Beretta Type (one choke included)
Picatinny Rail: one-piece, full-length 1913 standard top rail
Safety: cross bolt safety

To learn more about IWI US, please visit www.iwi.us.

About IWI US, Inc.

IWI US, Inc. is the USA based subsidiary of Israel Weapon Industries (IWI) Ltd. of Ramat Hasharon, Israel and a member of the SK Group, a leading defense and security group of companies that operate in the global Defense and Law Enforcement markets. The IWI US line of products includes several configurations of the TAVOR® X95™, TAVOR® TS12, Jericho® 941™ pistol, UZI® PRO pistol, Galil ACE® rifles and pistols and the DAN.338™.

For more information, visit IWI US Inc. at our website – www.iwi.us , on Facebook www.facebook.com/IWIUS – or contact us via email at: [email protected]"