SHOT Show 2018: Kent Cartridge Reveals New High-Performance Non-Toxic Bismuth Shotshell Loads
Dave Maas 01.24.18

This fall I plan on sitting out a few more weekends of whitetail deer hunting to target waterfowl and upland birds. My two sons (ages 13 and 15) are becoming more interested in pursuing gamebirds than deer; I think it boils down to the fact that they find hiking to flush pheasants, and calling and decoying waterfowl — and jump-shooting — more exciting and active than sitting and waiting in a deer stand or ground blind.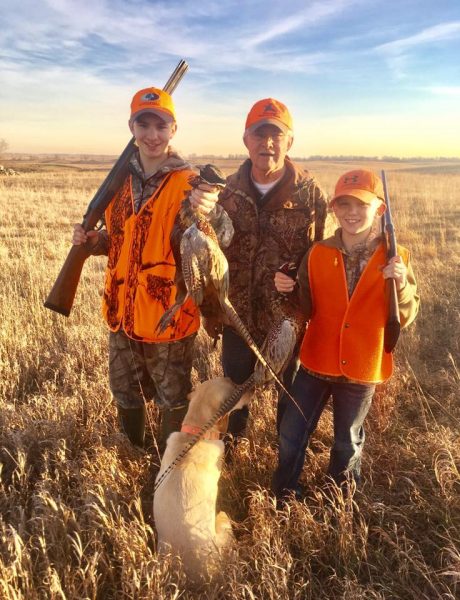 With that in mind, I've been keeping my eye out for waterfowl and upland gear while attending the week-long 2018 SHOT Show, and today I found what appears to be some great new ammo.
If you're not familiar with Kent Cartridge, you should be. Click here for a quick recap of the company's history. Even though I'm not a diehard bird hunter (yet), I remember hearing about Kent Cartridge — and specifically the brand's high-performance but affordable Fasteel offering (below) for ducks and geese — from a few of my avid waterfowling hunting buddies.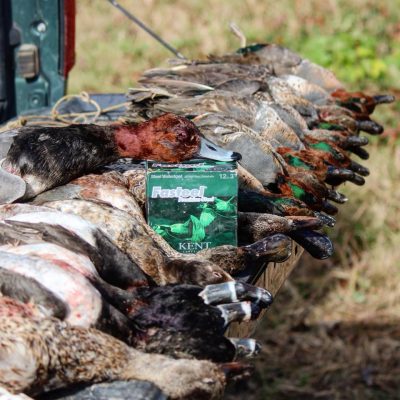 This afternoon when I happened to walk by the Kent Cartridge booth (below), I stopped to learn more.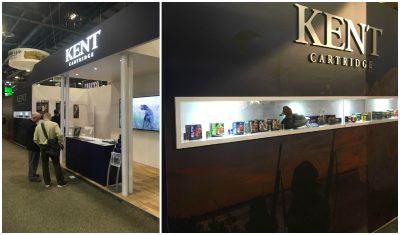 Here's the headline: Hunters now have a great non-toxic alternative to steel shot with the new Bismuth waterfowl and upland line of shotshells from Kent Cartridge.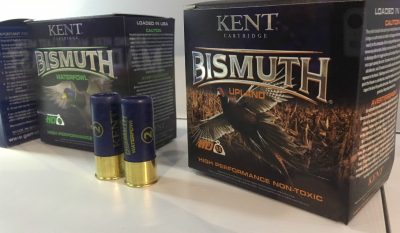 Bismuth is a high density 9.6g/cc non-toxic shot that has a 24 percent higher density than steel. This part was especially intriguing to me, because my youngest son's 20-gauge youth-model pump is more than 30 years old: Bismuth is as soft as lead, making it a safe choice for older and fixed choke guns.
According to the Kent Cartridge rep working the SHOT Show booth, Bismuth also has less side drift in windy conditions, helping shooters stay on target. Because the wind is often violent in South Dakota, where I like to pursue birds with my sons, this could help them (and me!) down a few more ducks, geese and pheasants.
Quote from the SHOT Show press release: Kent Cartridge Bismuth is created using a proprietary burnishing and rolling process that produces uniform, consistent shot for exceptional patterning, superior retained energy and penetration. The shotshells are loaded with a high-density, low flash powder for clean burning, all-weather performance. A hot fuel primer is used for consistent ignition. A high-performance base wad, developed during 5 years of research for the loads, produces more reliable functioning in popular semiauto shotguns.
As you can see from the product list below, the Kent Bismuth is made for any wing-shooting application.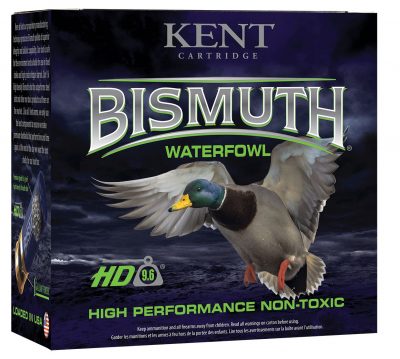 Bismuth High-Performance Non-Toxic Waterfowl
B1235W42 12 Gauge 3 1/2"; 1 1/2 oz; 1450 F.P.S. BB, 2, 3, 4
B123W42 12 Gauge 3"; 1 1/2 oz; 1350 F.P.S. BB, 2, 3, 4
B123W40 12 Gauge 3"; 1 3/8 oz; 1450 F.P.S. BB, 2, 3, 4
B12W36 12 Gauge 2 3/4"; 1 1/4 oz; 1350 F.P.S. #4
B203W28 20 Gauge 3"; 1 oz; 1400 F.P.S. #2, 3, 4
Bismuth High-Performance Non-Toxic Upland
B123U42 12 Gauge 3"; 1 1/2 oz; 1350 F.P.S. #4, 5
B12U36 12 Gauge 2 3/4"; 1 1/4 oz; 1350 F.P.S. #4, 5, 6
B12U30 12 Gauge 2 3/4"; 1 1/16 oz; 1325 F.P.S. #5, 6
B16U28 16 Gauge 2 3/4"; 1 oz; 1300 F.P.S. #5, 6
B203U28 20 Gauge 3"; 1 oz; 1400 F.P.S. #4, 5, 6
B202U28 20 Gauge 2 3/4"; 1 oz; 1200 F.P.S. #5, 6
B28U24 28 Gauge 2 3/4"; 7/8 oz; 1200 F.P.S. #6
The new Kent Cartridge Bismuth loads come packed 25 rounds to the box; expect prices ranging from $32 to $45 per box. I can't wait for our family to give it a try this fall!