NWT's Yellow Dog Lodge: The Changing Face of Canadian Fishing Adventures
OutdoorHub Reporters 01.31.18

Canada's beautiful Northwest Territories offers some of the world's finest fishing for lake trout, northern pike (below), Arctic grayling, walleyes, whitefish and other species of the Far North. As a result, it's been a must-fish destination for a number of generations of diehard anglers. But things are changing.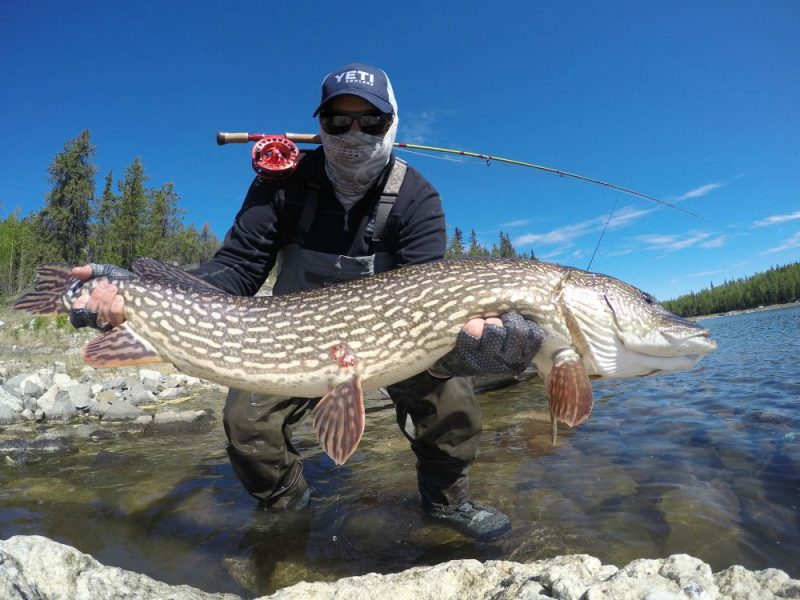 While the opportunity to engage in an epic tug-o-war with a behemoth laker or go toe-to-fin with a 48-inch pike still draws thousands of visitors to the Land of the Midnight Sun each year, sportfishing isn't the only jig in NWT's tacklebox. Nearly as many folks are lured North these days by the chance to enjoy a true wilderness experience, view the bountiful wildlife, or to take in spectacular displays of the Northern Lights, according to Gord and Kathy Gin (below) who own and operate the award-winning Yellow Dog Lodge.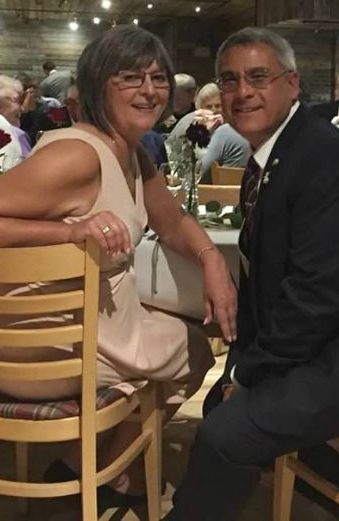 "It used to be that the clientele for Canadian lodges, especially those in the far north, was 90 percent Americans and 10 percent Canadians," Gord said, "and these guys were focused on hunting and fishing. They liked nothing better than to do a 12-hour marathon session in the boat catching fish after fish."
Today, the Internet and social media allows lodge operators like Gin to reach out on a global scale, however. So, nowadays, about one-third of his guests are from the States; another one-third from Canada, and the rest come from elsewhere in the world — mostly China, Japan and other countries across the Pacific.
"And a lot of these younger people aren't the avid anglers their fathers and grandfathers were," he added. "Sure, they want to catch a few fish during their stay, but they also want to kayak or canoe along a pristine river, hike through wilderness terrain, or just bask in a remote setting with family and friends. And, of course, there are those who come in August and September just to witness the incredible displays of Aurora Borealis (below).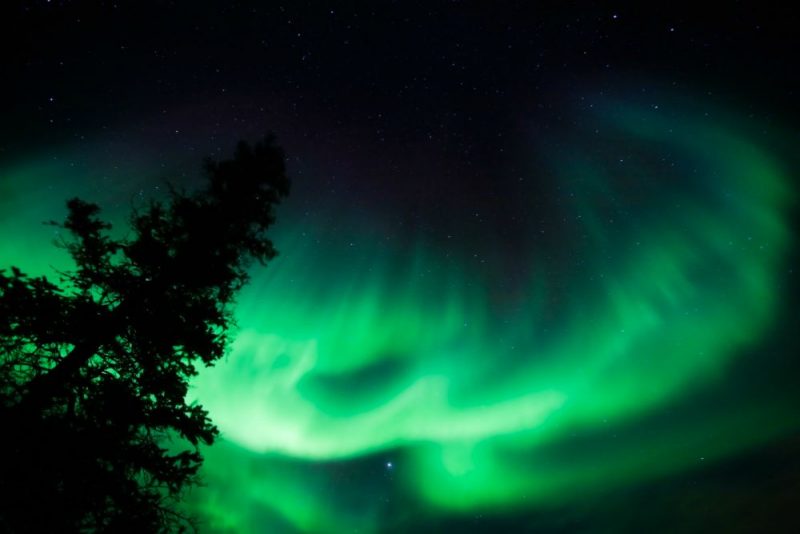 "We've set up our operation to offer guests a variety of activities in a very relaxed atmosphere; and more importantly, to allow them to enjoy themselves on their own terms in their own time — without a lot of structure and scheduling. This is the way of the future, I'm convinced."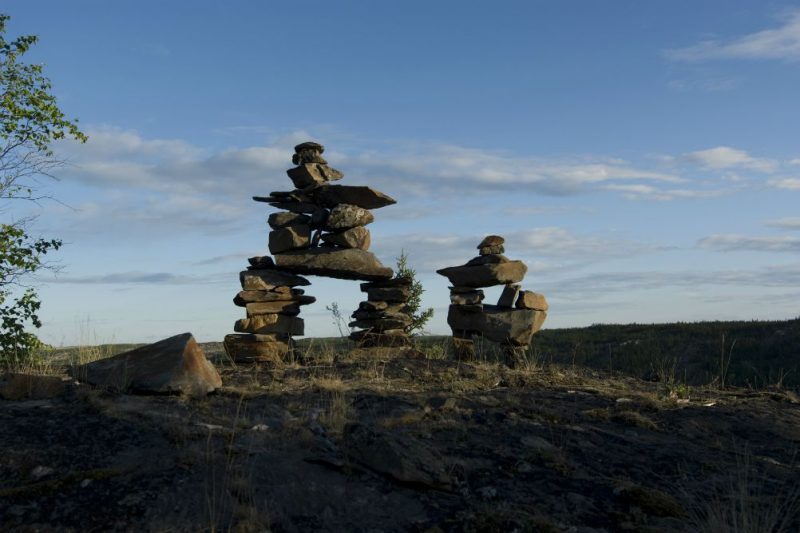 Multiple Options
Officially, Yellow Dog Lodge was named in honor of the Dogrib Band of the Yellowknives Dene Indigenous Peoples, but the first guests logically assumed it came from the original camp pup, a friendly yellow Labrador retriever named Casey (below), whose favorite job was to greet arriving guests.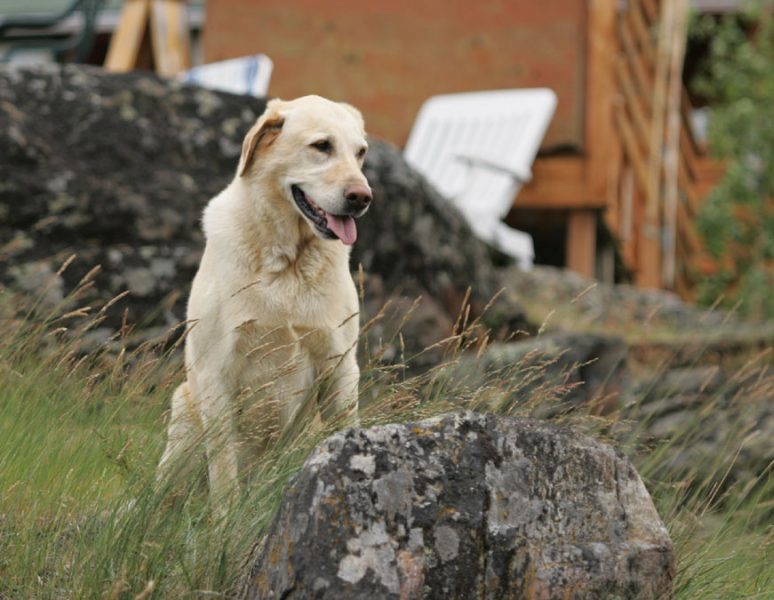 Located on the narrows between Duncan and Graham lakes, about 30 air miles north of Yellowknife, the operation can accommodate up to 28 guests at a time — 14 in the five-bedroom main lodge, up to four people in each of the two private cabins, and up to six guests in the Executive Cabin.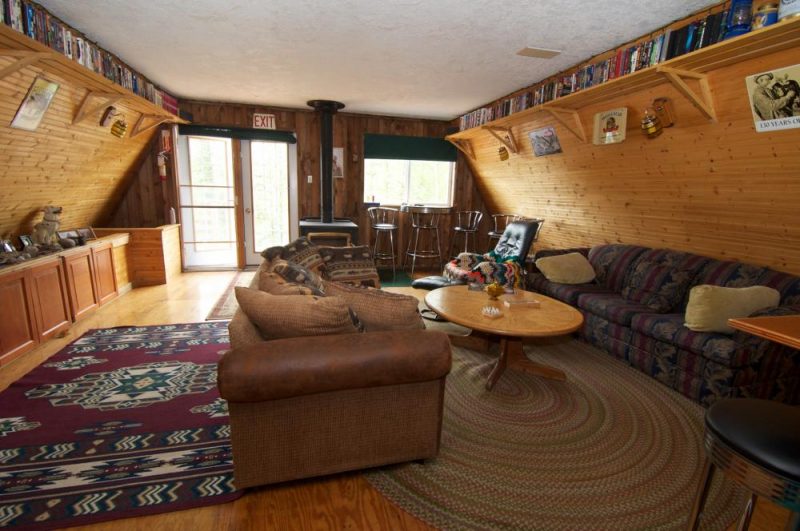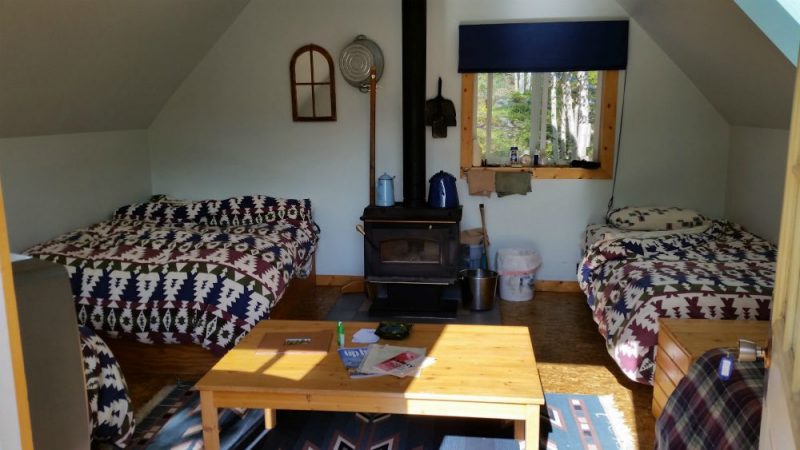 Package deals run from 1- to 7-night stays, and include round-trip air charter to and from the lodge, housekeeping, meals, shore lunch, access to a hot tub, sauna, gazebo, swimming beach, nature trails, boat-and-motor, canoes, kayaks and more.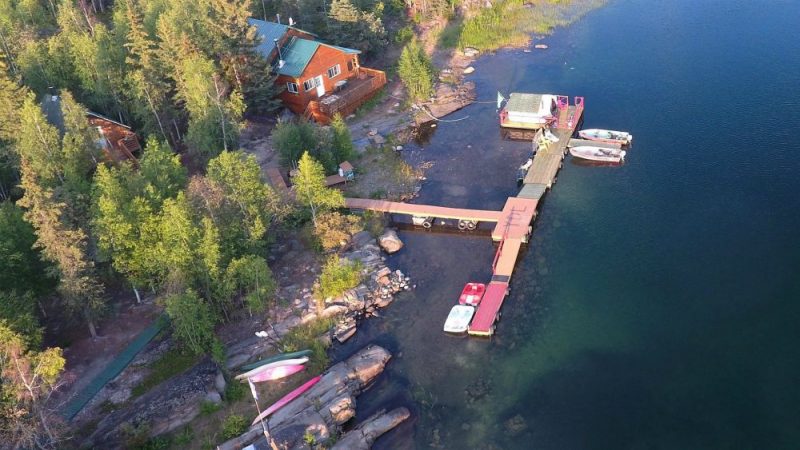 Unique to Yellow Dog Lodge are the two self-contained floating tent camps (one on each lake). Affectionately named the "Dog Houses," these facilities are anything but. Each Dog House (below) features a wall tent that sleeps up to four people and is equipped with a wood stove, propane grill, portable toilet, cooking utensils, coolers and an uncovered seating area. Each is also powered by a small outboard that allows guests to go and live where they please on the lake; each Dog House also comes with 16-foot fishing boat and motor.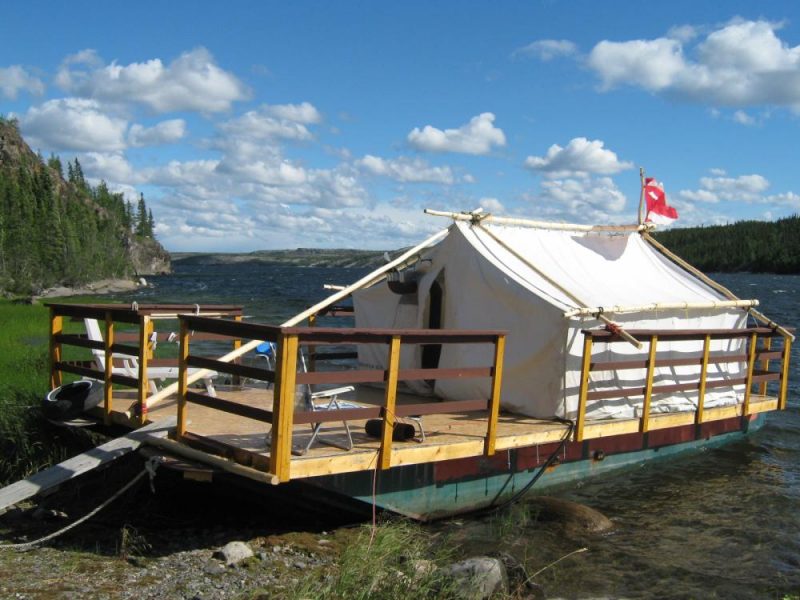 "They're the perfect choice for guests who prefer to get away from everything and do it all themselves," said Gord. "It's a great way to get out there and really experience living in the wilderness, where the only sounds you'll likely hear come from the loons and blowing wind. We include a boat-and-motor with each Dog House for guests who want to fish or go sightseeing away from the floating camp, but frankly we've had a number of groups who never even used the boat during their entire stay."
Fabulous Fishing, Too.
Make no mistake; though Yellow Dog Lodge welcomes guests who have wide ranging interests, the fishing is as good as anywhere in NWT. Lake trout, pike and Arctic grayling probably dominate the scene more than anything at Duncan and Graham lakes, but the Gins offer optional fly-out daytrips to a handful of other lakes for those who want to catch walleyes, as well as trout and grayling — or just get a change of scenery.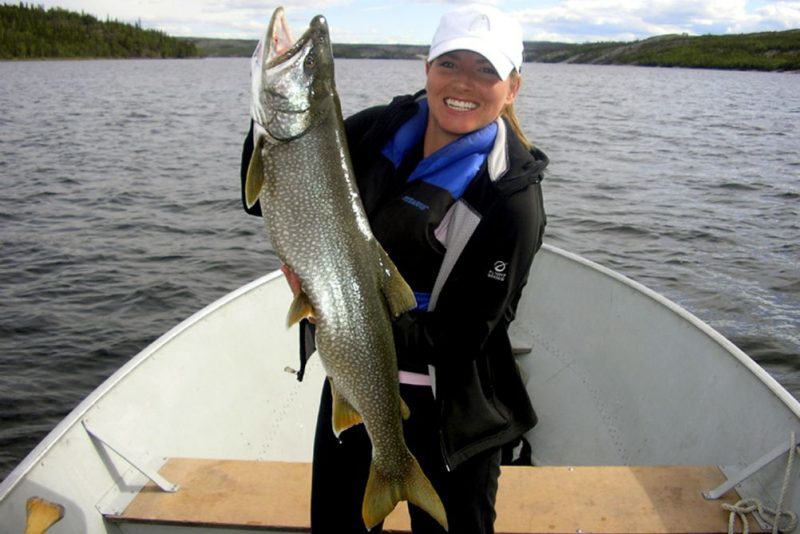 "Our waters are known more for numbers of fish than for trophies," said Gord, "but anglers do see their share of trout approaching 40 pounds, and pike in the 40- to 50-inch class. Several regular guests book trips in every June just to target big pike in the shallows, in fact."
Many of the lakes' best fishing areas are within a football field of the lodge, including a spot 30 yards from the door where at times anglers catch trout from shore on nearly every other cast, according to Gin.
"We have a family-oriented operation," he said, "and this is the type of fishing where everyone can be successful and have a lot of fun." For a change of pace, guests seeking even more solitude and scenery can travel up one of the rivers that feed the lakes, or make a short hike to one of the nearby lakes, he adds.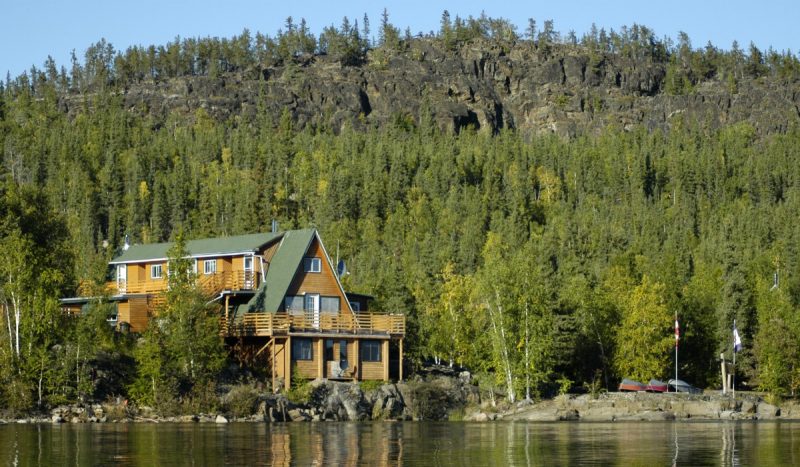 Highest Honors
Catering to adventurers as well as serious anglers transformed Yellow Dog Lodge into something more than the "traditional fish camp." And it's this forward-thinking approach that helped the Gins earn high praise and recognition.
Gord and Kathy, along with their six full-time employees and family members who help where and when needed, received the prestigious 2017 Operator of the Year Award from "Spectacular Northwest Territories," the NWT's tourism agency.
"It's like a badge of validation for what we're trying to do here," said Gord, "and we're very proud to have received such an honor."
Good business sense isn't the only thing Spectacular NWT examines when issuing the award. The operation must have shown strong growth and a record of success, both financially and in customer satisfaction, and exhibit a commitment to staff education and training. "That's something we especially take pride in," Gord said.
Some employees, he explains, are veterans of several years, and continue to come back because they value the feeling that they're a critical part of the operation rather than simply hired help.
"While each staff member has primary responsibilities," he said, "we sometimes job-swap for a period of time. It gives everyone a well-rounded understanding of the entire operation."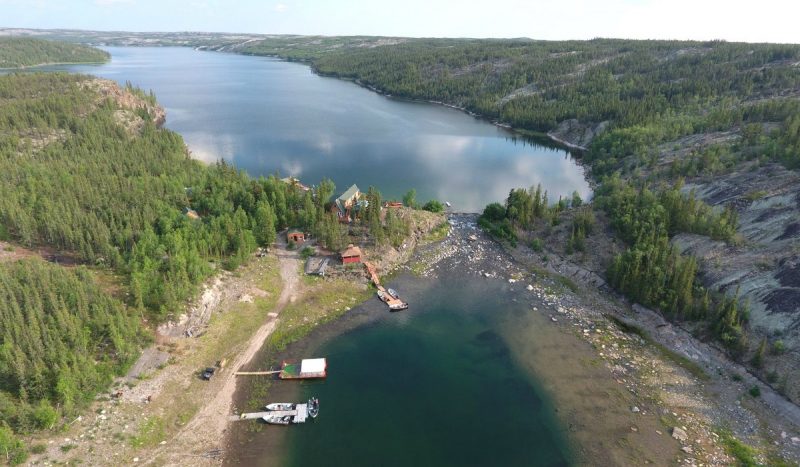 When it comes time to choose this year's adventure destination, give Northwest Territories a hard look. And while you're at it, you might want to start with Yellow Dog Lodge.