The B-I-G decision has been made: You're headed to Manitoba this year on a fly-in trip to spend several days chasing trophy walleyes, monster pike, and bruiser smallmouth bass and lake trout. Now, for the details.

Choosing the right lodge for your dream trip is important, but before even considering the exact destination, however, first think about the sort of experience you really want. Are you more of a do-it-yourselfer who enjoys the satisfaction of captaining your own boat and setting your own schedule? Or, is the full-service experience — where all you focus on is the fishing — more your style? There are benefits in going in either direction; the main thing is to choose the option that best suits you. Here's a breakdown of what you can expect.
American Plan
Most, but not all, fishing lodges across Canada refer to their full-service package as the "American Plan." This is the way to go if you're looking to have every need fulfilled — and nearly any reasonable request met — from the time your plane touches down until it takes you back to civilization.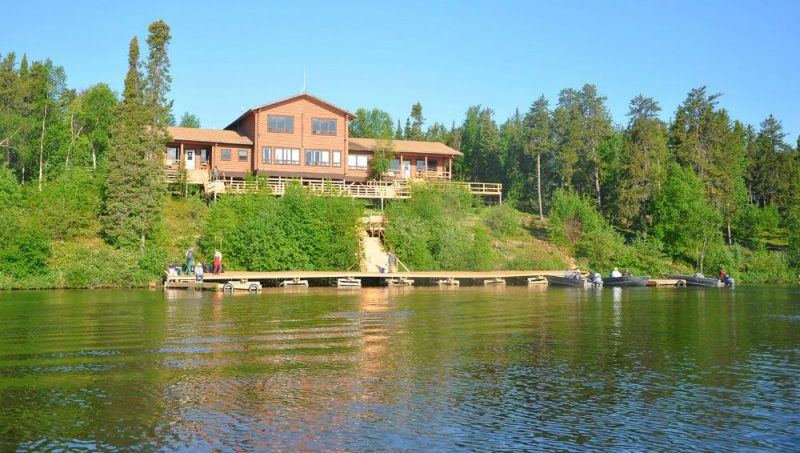 It typically begins with lodge staff members hustling your bags and gear from the dock or landing strip to your room or cabin while you visit the main lodge for a brief meet-and-greet and orientation with your fishing guide, and perhaps a quick bite to eat. From then on you need only think about fishing, because all your meals will be prepared for you — typically by a skilled chef and trained kitchen staff. Of course, your guide will cook fantastic shore lunches. Daily housekeeping service ensures your accommodations are tidy when you get off the water.
Days often kick off with an early morning knock on the door by someone delivering a steaming pot of coffee or tea to your room, and that's followed by a breakfast of your choosing — from cold cereal and juice to a full-on day-starter — in the lodge dining room. Afterward, it's off to the dock where your guide takes over, putting you in the best position to catch the species of your choice — and preparing a midday meal of the morning's catch along a scenic shoreline.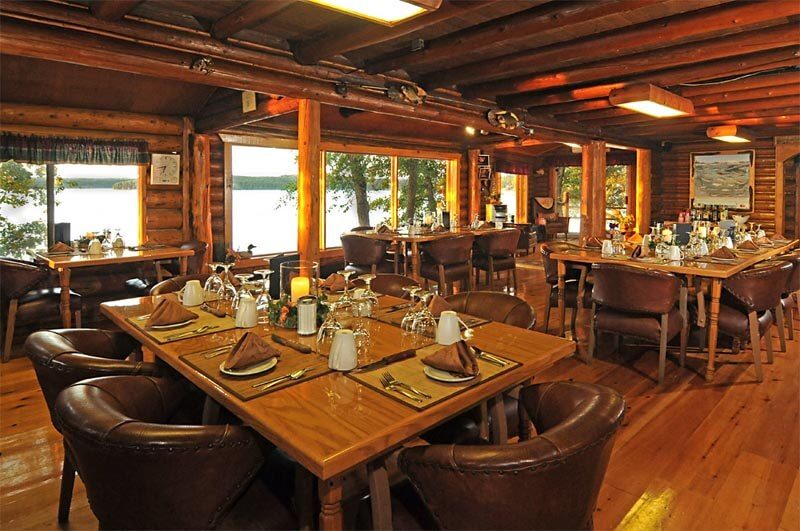 After a full day of fishing, you arrive back at the lodge, where you can relax for a spell before enjoying a 5-star evening meal in the dining room. Most operations feature a full bar, satellite TV, and a cozy lounge where you can sip an after-dinner cocktail or two while swapping stories with your fellow anglers.
Following the full-service path has its advantages; everything except setting the hook and fighting the fish is taken care of for you. And outside of a few extras — most notably liquor, tackle and souvenirs — it's all wrapped up in a no-muss, no-fuss package price.
Outpost Fishing
Many fishing lodges also offer an outpost option; some even specialize in it. An outpost cabin could be elsewhere on the same body of water as the main lodge, or located on an entirely different lake that may offer the opportunity to catch a species that isn't as prevalent in the primary lake. And although some operations offer guide and cooking services at one or more of their outpost camps, for the most part, it's more a do-for-yourself experience.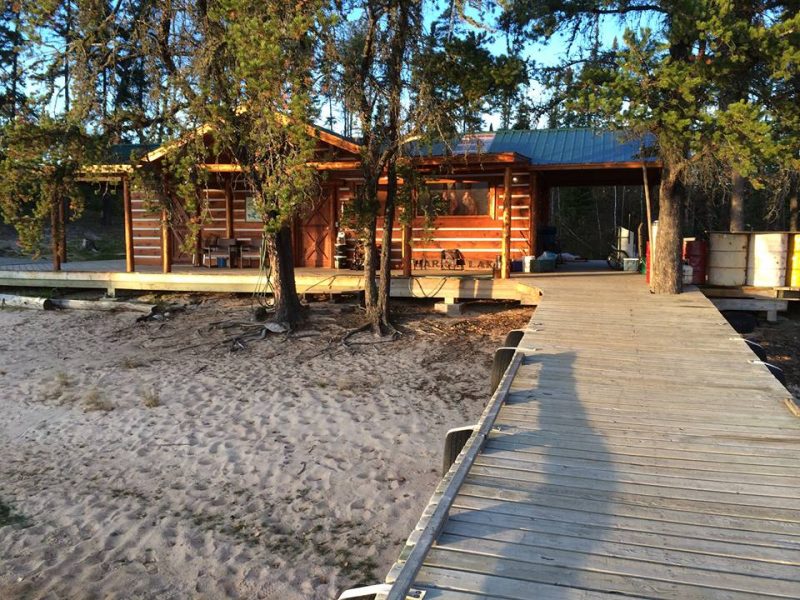 Cooking, dishwashing and tending the woodstove on a chilly evening are all part of the life at an outpost camp, but what anglers enjoy most is the ability to follow their own schedule — fishing or relaxing on shore, whenever it suits them — and that they are likely the only anglers on that particular body of water at the time.
There's also a deep satisfaction that comes with finding and catching fish on their own. Though the truth is that, unless the local weather flares up, it's seldom very difficult to locate cooperative fish on a remote lake that sees minimal fishing pressure during a season.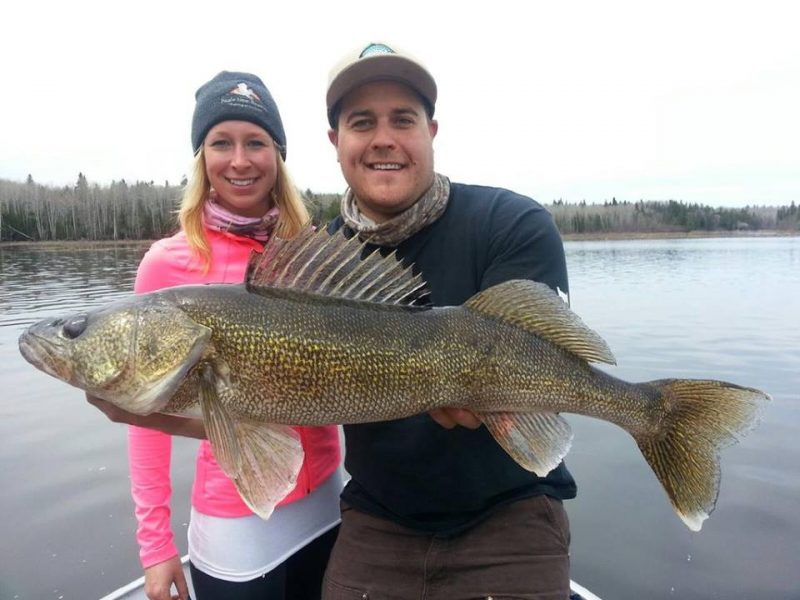 Another benefit, perhaps the most important to some fishermen, is that the outpost option is less expensive. Rate differences vary from lodge to lodge, but can be quite substantial. It's important to note, however, that the cost of your food, whether you bring it with you or pre-order it during the booking process, isn't covered in the package price.
With your sights set on a Manitoba fly-in fishing adventure, your choice between the full-service or outpost option is strictly a personal one. To help you get a better handle on each of them, we've highlighted four outstanding fishing lodges here. As the videos show, they all offer world-class angling and are solid candidates for any angler's dream trip.
Big Sand Lake Lodge
About 550 miles north of Winnipeg, Big Sand Lake Lodge is the only operation on the lake, and it offers access to 60,000 acres of prime fishing waters. Anglers on the American Plan stay in well-appointed deluxe cabins that feature both electric heat and a wood-burning fireplace, indoor plumbing and comfortable queen-size beds.
The lodge itself is a perfect spot to spend non-fishing hours, shooting pool, playing darts, surfing the internet or enjoying a cold one at the bar. And at meal time, the home-cooked meals served in the dining room are hearty and delicious.
Lake trout, northern pike, walleyes and Arctic grayling are the predominant gamefish species at Big Sand, and every year anglers catch numbers of trophy-class trout, pike and grayling. Some anglers opt to stay at one of four outpost camps, however, one of which is staffed with guides and a cook.
Bolton Lake Lodge and Outpost
At maximum capacity, Bolton Lake Lodge can accommodate up to 28 guests at a time, which allows them plenty of room to spread out on the 12- by 17-mile body of water while pursuing its abundant lakers, pike and walleyes. Fly out options are also available for brook trout.
Each of the modern and comfortable cabins is carpeted and fully heated, and commands a spectacular view of the lake. The main lodge, where the lodge's chef serves hearty breakfasts and multi-course evening meals, also serves as the social center where anglers can kick back in the lounge, or on the spacious deck to replay the day's fishing excitement.
Fishermen seeking a bit of solitude can choose to stay at Joint Lake, Aswap Lake or Kitchi Lake outpost where the accommodations are warm and comfortable, and pike and walleyes are thick.
Eagle Nest Lodge
Owned and operated by the Pedruchny family for more than 50 years, Eagle Nest Lodge is located on an island in the upper reaches of the Winnipeg River. Here, walleyes and northern pike, along with trophy-class smallmouths, are the primary quarry.
The lodge features five modern multi-bed guest cabins, along with the main lodge where the resident chef prepares top-notch meals that might feature prime rib one evening, and baby back ribs the next. Baked salmon or fresh walleye entrees are always available for guest who prefer an alternative.
A beautiful clubroom, complete with satellite TV, internet, pool and air hockey tables, dartboard, gym and lounging area is the headquarters for after-dinner relaxation and socializing. Plus, a separate on-site conference room is available for corporate retreats.
Jackson's Lodge and Outposts
Specializing in providing outpost fishing experiences in eastern Manitoba, Jackson's Lodge and Outposts offers a menu of 20 different fly-in options, all serviced by Adventure Air in Lac du Bonnet. Walleyes and northern pike are the primary gamefish, but anglers can find excellent smallmouth action at select locations.
Each outpost features a cabin designed to accommodate a maximum number of people, and includes enough boats for all anglers to fish in pairs. The outpost cabin on Black Current Lake, for example, holds six people and is equipped with a fridge/freezer, propane stove, hot-and-cold running water, fully equipped kitchen and more. Three 14-foot aluminum boats with 8-hp outboards, PFDs, paddles and anchors come with the package.
Some cabins hold four anglers, while others sleep up to 10. But booking a trip isn't complicated as Jackson's system is extremely flexible. They offer trips of as few as 1 day and as many as 7 days, for groups ranging from 2 to 24 people. One of the largest facilities, located on the Pigeon River's Amphibian Lake, is the 16-person lodge that can be booked as a deluxe outpost, or under the American Plan for the large group.
Full-service or do-it-yourself — each option offers its own set of benefits. You just have to decide which of them will deliver the Manitoba fly-in fishing adventure you want to experience.