For those of us working the 9-5 grind, getting out to our favorite fishing spot can be a challenge.  Aside for the slim hope that we can get a little evenings casting in, our beloved pastime is relegated to the weekends.  And that's only when household chores, kid's ball games, or Uncle Lou's 78th birthday party doesn't dissolve that little free time into a series of missed opportunities.
When we do make it out, we can trust to luck or go with a little technology to help us out.  Until recently, fishfinders were exclusive to boaters, but with the recent advent of castable fish finders we can finally harness the power of sonar from shore to make our time more productive!
There are a few offerings in the castable fishfinder market, most of which are pretty low end and feature poor.  Not to have us cheated out of the fancy equipment on our neighbors 20' Crestliner, fishing tech company Deeper has introduced a full featured, GPS enabled, castable fishfinder.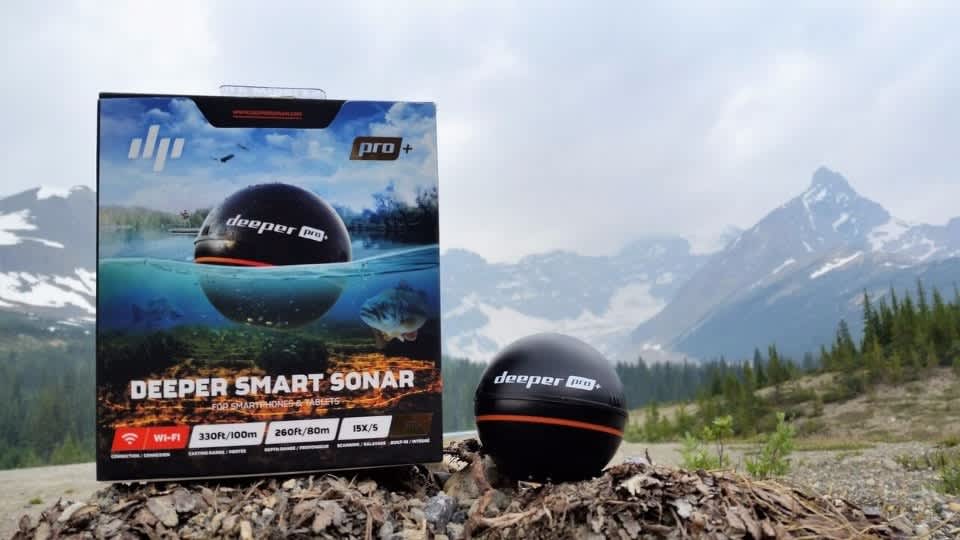 The Deeper Smart Sonar Pro+ has features akin to the latest Humminbird, Garmin, and Lowrance mounted units but ,costs less and doesn't need thirty grand worth of boat underneath it.  Just cast it out, reel it in, and check your smartphone for all the data you could want!
You will have to drop a couple hundred bucks to get the full feature model, significantly more than similar products.  But those products are only similar, not the same.  For one, most units use Bluetooth connectivity which can be finicky and lack any real range. The Deeper Smart Sonar series uses Wi-Fi and can broadcast a signal over a hundred yards.  The connection will also be far more stable, faster, and more secure.
Using the Deeper Smart Sonar Pro+ is a breeze.  Wirelessly connect it to your smartphone, cast it out and reel it in.  The software (IOS or Android) allows you to set for wide or narrow scanning, has a sensitivity setting to bypass murky water, and options to decide how you want your information presented.
Live broadcast allows you to see the lake's bottom hardness, depth, vegetation, underwater features, and FISH along its path.  If you fish from a kayak, you can simply set the Deeper unit in boat mode and start trolling until you find the spot you want.
If you have a favorite fishing spot, a feature exclusive to the Pro+ is the ability to create bathymetric maps.  Switch modes, wait a bit for the GPS to sync up and start fan casting.  The maps will be pieced together and saved in the app which can be viewed on your phone or sent to a computer for print out for intense study during those cold months you can't get out.

Speaking of cold months, the Deeper Smart Sonar series are true four season units to help out those crazy northerners when they get a pike craving in mid-January.  If that's you, here is how it works:  Bore a hole in the ice and drop in your Deeper unit.  It will tell you the depth, structure, and any fish present all the way down to 260ft.  However deep the fish want to hang out, you can find them!
The display can be left in a standard fishfinder view or setup more like an ice flasher.  You also have the bonus of having the lightest weight flasher possible with no need for cables or transducers all the while marking every hole you drill with the internal GPS.
Most of us aren't teenagers anymore and retirement is still a long way off, capitalize on the time you have now.  Make every cast worth it.  Check out the Deeper Smart Sonar Pro+ and see if it can't add a little more catching to your fishing.  Creeks, ponds, lakes (even that pay lake if you are desperate) are all out there waiting… Spring is finally upon us and I can hear the smallies calling, I am sure between me and Deeper we can find them.
Images courtesy of Deeper Sonar
What's Your Reaction?