SHOT Show 2019: New CMMG Resolute .350 Legend in Burnt Bronze Cerakote
Adam Scepaniak 01.26.19

It was only a couple days ago that Winchester announced the introduction of an entirely new caliber for hunters and shooters with the .350 Legend cartridge. We were right on the ball catching this news, but there is something we missed (or Winchester told a white lie). At the time of the release of the .350 Legend on January 21st, Winchester stated that they were the only manufacturer to have a firearm chambered in this round with their XPR bolt-action rifle. Well, it turns out CMMG has been working in conjunction with Winchester for some time to construct the CMMG Resolute AR-15 in a Burnt Bronze chambered in .350 Legend which hails from their 300-Series.
So Winchester told a white lie because they did not want anyone to steal their initial thunder… we will forgive them this time.

Now onto the Resolute rifle! The unique thing about the .350 Legend cartridge in an AR-15 platform is it utilizes nearly 100% .223 Rem/5.56 NATO components except for the barrel and magazine; everything else is the same. The barrel is different for obvious reasons and the magazines need to be different to ensure proper feeding of the cartridge. A traditional .223 Rem casing is 99% on the way to being the parent case for .350 Legend, but not quite. An actual .350 Legend casing is thicker near the rim and the base of the casing to properly contain the pressures of a .350 Legend round. As a result, tweaking needs to be done to ensure magazines feed this round properly into an AR platform.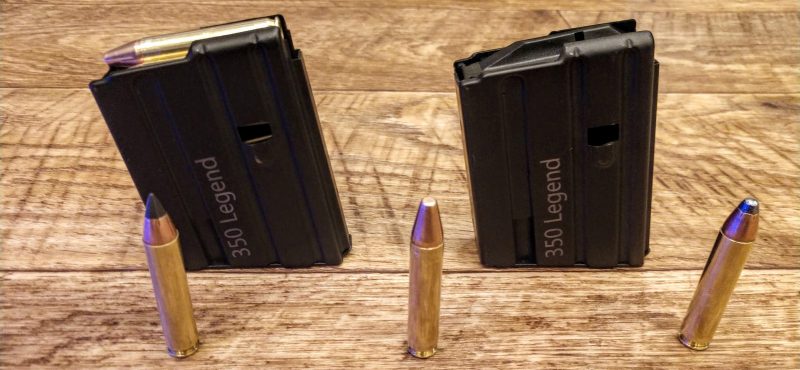 So enough about the magazines and the .350 Legend cartridge, how about this Resolute rifle? The Resolute coming out of CMMG's 300-Series means it is in their upper tier of quality, components, and build specifications. Those standards and materials can be read below as presented by
CMMG Resolute:
16.1″ Salt Bath Nitride Finished Barrel w/ CMMG SV Muzzle Brake
Geissele SSA 2-Stage Trigger & Magpul MOE Trigger Guard
MK4 Forged 7075-T6 Aluminum Receiver Set
CMMG Ripstock Buttstock & Magpul MOE Pistol Grip
CMMG Ambidextrous Receiver End Plate, Safety Selector & Charging Handle
CMMG M-LOK Free-Floating Handguard
Premier Burnt Bronze Cerakote Finish & "Resolute" Laser Engraving on Lower Receiver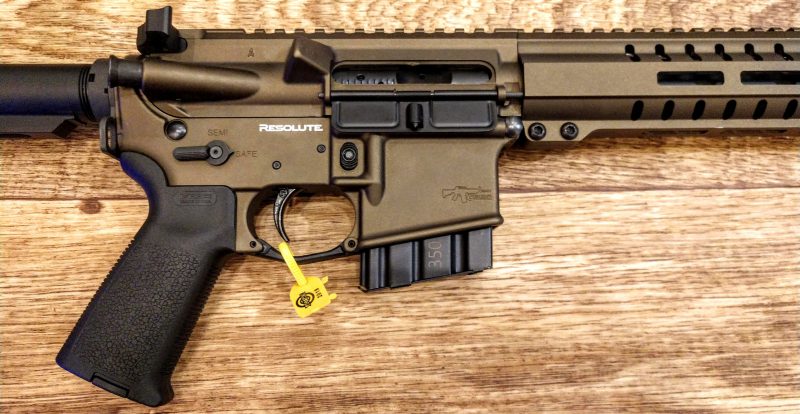 The CMMG Resolute rifle weighs in at 6 Lbs. 7 Oz. and a 32.7″ Overall Length. The barrel additional employs 4140 Chrome-Moly (CM) with a Direct-Impingement gas system. The MSRP out the gate is expected to be benchmarked at $1,549.95 which is right in line with their .300 Blackout and 5.56 NATO rifles.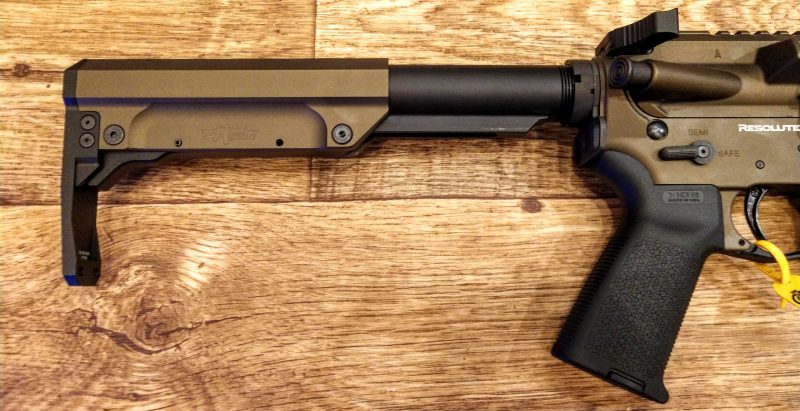 At the moment, CMMG has not given a hard timeline as to when these would become available at retailers. CMMG is typically pretty good about getting out new products so once the dust settles from SHOT Show and we all thaw out from winter we could expect to see these this spring. So, what do all of you think? Are you ready to bite the bullet on the .350 Legend cartridge? Would you be willing to dive in on a new caliber in an AR-15 platform like the CMMG Resolute? Let us know your thoughts in the Comments below! We always appreciate your feedback.