Henry Auctions off Rifle to Benefit the New Cody Firearms Museum
Adam Scepaniak 06.12.19

The Cody Firearms Museum has been under renovation for quite some time now, but it is getting very near to being completely renovated and opened back up to the public! To help the Cody Firearms Museum push through this last month financially, Henry Repeating Arms has teamed up with Baron Engraving of Trumbull, CT to auction off a one-of-a-kind rifle on Gunbroker. At the moment, the gorgeous New Model Original Henry Rifle has eclipsed $25,000 for a bid!
The rifle is a featured auction item on Gunbroker.com, item #816952721. Online bidding will close during the Grand Re-opening ceremonies at the Cody Firearms Museum on July 6, 2019. Anthony Imperato, President of Henry Repeating Arms, had these words to share regarding the one-of-a-kind rifle and helping out the Cody Firearms Museum:
"The Cody Firearms Museum is a must-visit for anyone interested in firearms or American history. It's truly an extraordinary collection, and we're very proud that we're able to be a part of the Grand Re-opening. Firearms play such an integral role in our nation's history, so we had to jump at the opportunity to ensure that this collection stays around for more generations to enjoy."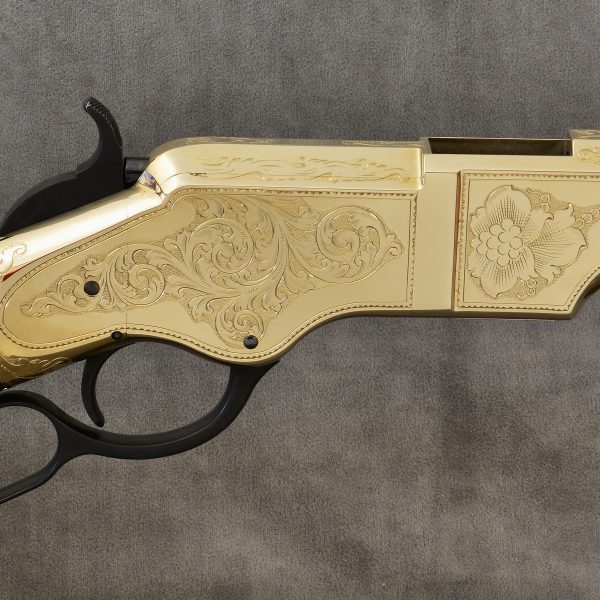 A special serial number of "01CFM2019" is to accompany this New Model Original Henry Rifle. It also boasts special engraving of a large grape leaf motif, a classic buck scene, and leafy scroll cuts which were all inspired by a Samuel Hoggson factory-engraved 1860's era Henry rifle found in the collections of the Cody Firearms Museum. In a Press Release from Henry Repeating Arms, they go into further details about the rifle being auctioned off:
"The New Henry Original Rifle is a line-by-line reproduction of the first lever action rifle ever put into production, which was patented by Benjamin Tyler Henry in 1860, except for concessions needed to utilize a caliber other than the now extinct .44 Henry Rimfire. It features a brass receiver and crescent buttplate, extra-fancy American Walnut furniture, and a polished blued steel octagonal barrel."
Once again, the auction is being listed on Gunbroker, will not expire until July 6th, and can be viewed HERE if you would like to potentially make a bid! This is truly a gorgeous rifle for a great cause. Have you ever been able to make it out to the Cody Firearms Museum yourself? What is one rifle that you would like to see on display if you were to go there? Let us know all of your thoughts in the Comments below! We always appreciate your feedback.