PrimaLoft Introduces P.U.R.E. – A New Standard in Manufacturing Technology
OutdoorHub Reporters 01.10.20

The dependable insulation company PrimaLoft has developed a brand new manufacturing process called PURE, the latest development in PrimaLoft's commitment to making more sustainable products without compromising its industry-leading performance.
PrimaLoft P.U.R.E. is a proprietary manufacturing technique that reduces carbon emissions by as much as 48%.
P.U.R.E., which stands for "Produced Using Reduced Emissions," moves to totally eliminate heat from the production process using air instead of heat to "cure and stabilize" the insulation. Traditional insulation manufacturing requires that fibers are thermally bonded by moving through a slow, high-heat oven.
"Over the past 4 years, we have been working towards manufacturing solutions that will drastically reduce carbon emissions. The result will make a significant impact for the environment," said PrimaLoft President and CEO Mike Joyce in a press release.
P.U.R.E. Manufactured PrimaLoft Gold Insulation
The initial insulation product being produced with P.U.R.E. manufacturing technology uses 100% post-consumer recycled material and has all the insulating and performance benefits of existing PrimaLoft Gold Insulation.
Converting the yearly production of PrimaLoft® Gold Insulation to P.U.R.E. manufacturing results in the following statistics: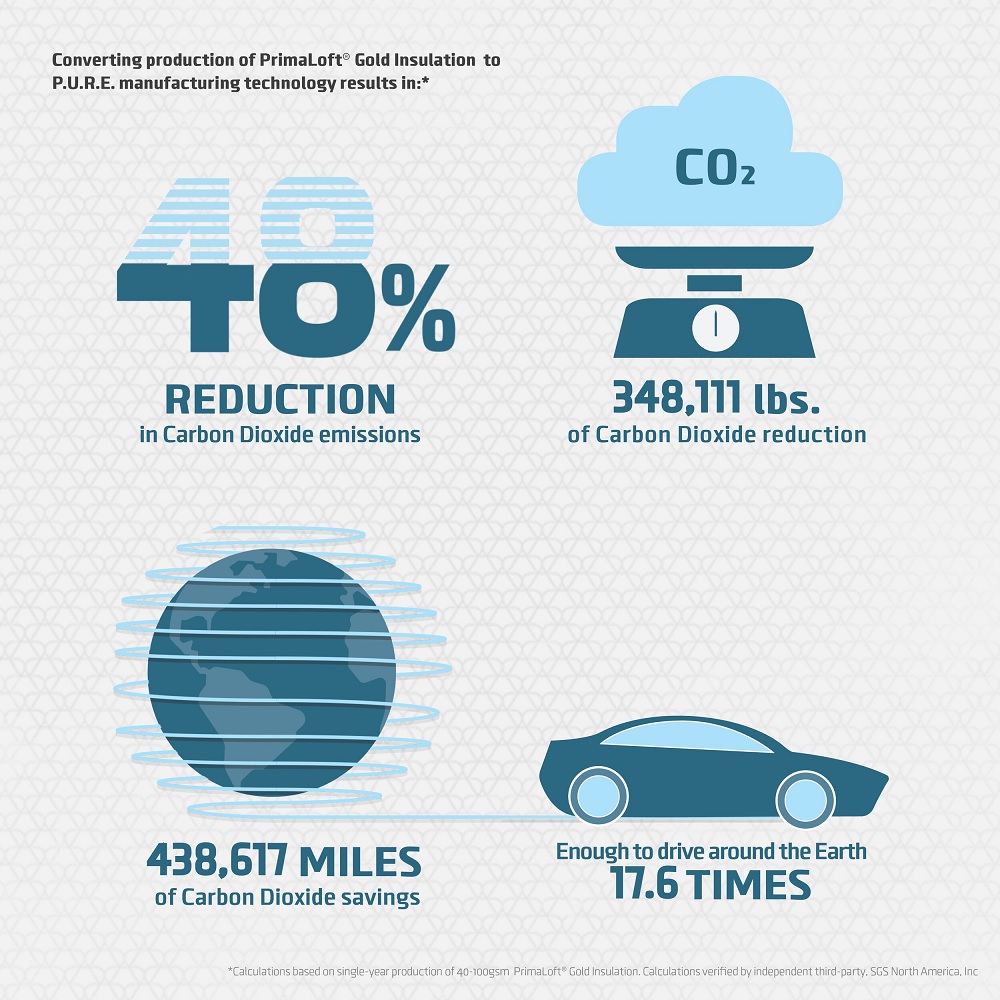 PrimaLoft says they plan on launching products produced with the new eco-friendly manufacturing technology in fall 2020. The outdoor clothing and gear company, Patagonia, will be the first brand partner to incorporate PrimaLoft P.U.R.E. manufacturing technology.