[ATA Show 2020] Mission Crossbows Sport the HHA Tetra XB for Precise Confidence
Adam Scepaniak 01.11.20

Mission Crossbows has been receiving ample demand for their Sub-1 series of crossbows which includes the Sub-1, Sub-1 XR, and Sub-1 Lite. To improve upon an already-good design they have worked in tandem with HHA Sports to engineer the Tetra XB Crossbow Sight Mount be compatible with all of their Sub-1 Crossbows. So whether you want to launch a confident Hail Mary at a bruiser buck, or an assured shot at a close doe, the Tetra XB Crossbow Sight Mount is meant to aid in all of your shots.
The MSRP for the Tetra XB Crossbow Sight Mount is currently benchmarked at $259.99 each. It also carries the HHA Sports Lifetime Warranty for anyone who wants to deploy one on their Mission Crossbow. The rest of the technical specifications can be read below as presented by HHA Sports:
Compact, low-profile design
100% machined aluminum components
Military spec, picatinny rail system
52 preprinted yardage tapes allow for to the yard accuracy from 20 to 100 yards
Full wheel clearance: No more shims or spacers needed for your cocking ropes
Light compatible: Fits optional 2500 Blue Burst Sight Light for rapid yardage adjustment in dense cover and ground blinds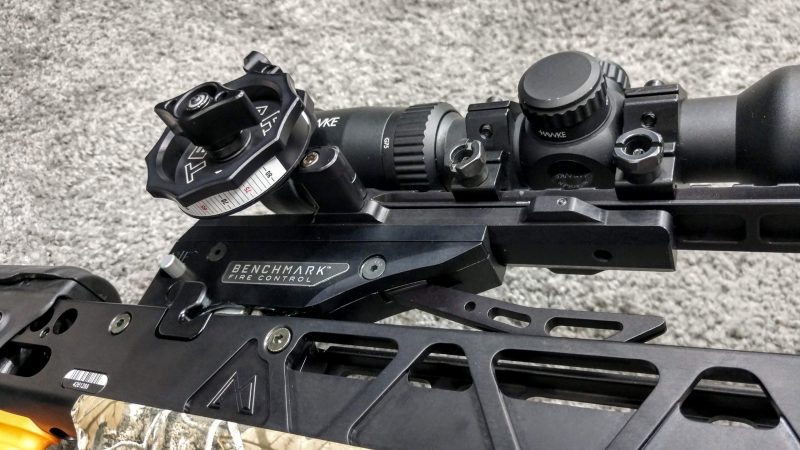 The beauty of this mount is that once you have your main crosshair inside your scope sighted in for 20 yards you simply adjust to the distance you are shooting with the pre-marked wheel on the side of the mount. The mount will elevate to the distance you are prescribing it to and no other adjustments are needed. So forget memorizing what the trapezoidal tree inside your reticle all means. Simply sight in for 20 yards, and adjust the Tetra XB Crossbow Sight Mount as needed.
"The crossbows of today are far more advanced than those of even 5 years ago. Scope technology has surely kept in step with this trend, and in many cases overcomplicated the process for the average user. While multi reticle scopes may shine for young eyes or when season changing decisions aren't on the line, choosing the right cross hair at 46 yards when Mr. Big has your heart racing comes with its own set of challenges. Enter the Tetra XB…

In most hunting situations, you generally have time and owe it to the animal to range it before pulling the trigger. Why not take 2 extra seconds to dial in, to the yard, and squeeze of the shot with the utmost confidence and leave the woods with your tag filled?"
Scopes nowadays have progressed so far in their technology that they can do everything short of brewing you your morning coffee. That can become extremely complicated in no time though so that is why HHA Sports and Mission Crossbows have worked to create something like the Tetra XB Crossbow Sight Mount. If you already own a Mission Crossbow, is this something you would be interested in? Let us know all of your thoughts in the Comments below! We always appreciate your feedback.