[SHOT Show 2020] BARRETT Rolls Out Mk/MRAD mil/civ Line
Eve Flanigan 01.22.20

Iconic .50-caliber rifle producer Barrett drew quite a crowd at SHOT Show 2020, with eyes on the MRAD DoD 300, a sniper rifle designed for and successful in bidding to become the new choice of US Special Operations Command (US SOCOM) forces. Its sister products for civilian are the Mark 22 and MRAD SMR (single mission rifle).
This rifle series is built on Barrett's AR-inspired MRAD platform, which stands for multi-role adaptive design. The Mk22 has an interchangeable stock and barrels, and was designed to meet or exceed the exacting standards of SOCOM for an advanced sniper rifle. Barrett also customized a suppressor for this rifle series, which shares the Mk22/Mark 22 names for its two consumer bases.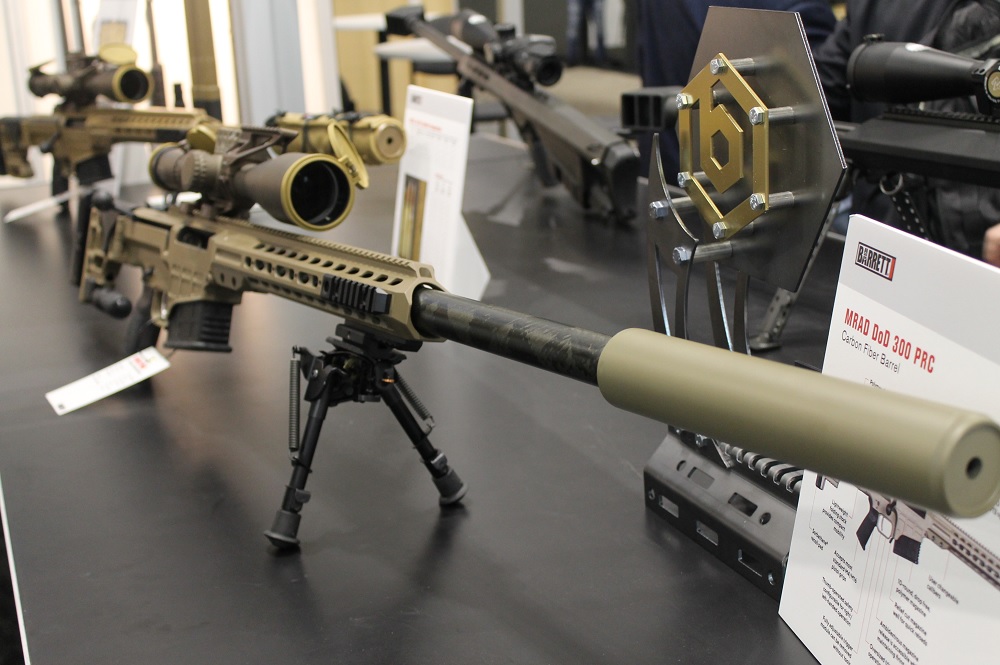 US SOCOM requirements for Advanced Sniper Rifles include:
Must be convertible to fire 7.62mm NATO, .300 Norma Magnum, and .338 Norma Magnum cartridges.
Must not exceed 17 lbs. with an empty magazine, but is ideally 13 lbs. or less.
Must not exceed 50 inches when fully extended, but is ideally 40 inches.
Must not exceed 40 inches when collapsed for transport, but is ideally 36 inches.
Must perform with at least 1 MOA accuracy for the 7.62 NATO and .300 Norma Mag at 300 yds. Ideally .5 MOA
Must perform with at least 2.5 MOA accuracy for the .338 Norma Mag at 300 yds. Ideally 1.5 MOA.
Must have a modular flash or sound suppressor
The MRAD and Mark 22 are milled from a single block of aluminum. The lower houses the fire control group, magazine well, and attachment points for the pistol grip and buttstock, which is foldable. The bolt is entirely protected by the upper, and aided by a polymer bolt guide.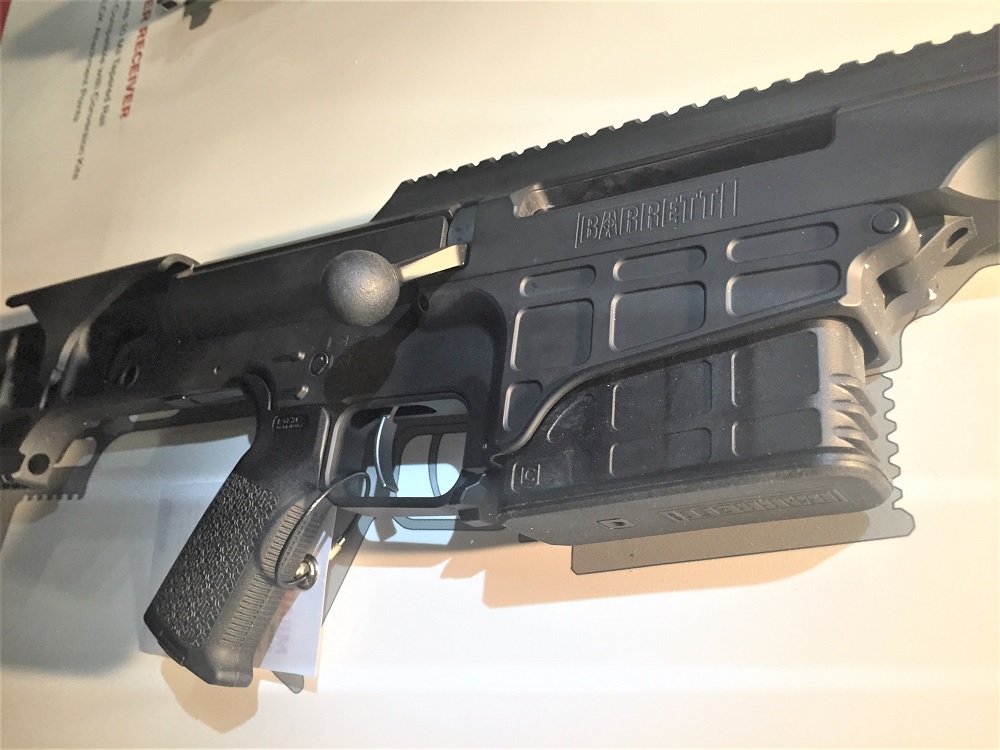 Efficiency is by design with the MRAD and Mark 22; only two part need to be changed in order to change calibers: the barrel, held in place by two torx screws and the bolt head.
The multi-caliber Mark 22 is available to the public as an "advanced sniper rifle system deployment kit" from Eurooptic.com. The kit includes the rifle, three barrels, and the following:
Pelican 1770 Protector Hard Case (58″x18″x10″)
Armageddon Gear Soft Case
Bore Guides for 7.62 and .300/.338
Stock Spacer Kit with 4 Spacers and Hardware
Cleaning Kit with Rod
Tool Kit with Torque Wrench, Bits, and Operator Spare Parts Kit
Five each; 10-Round Magazines for 7.62x51mm NATO, .300NM, and .338NM
Armageddon Gear Precision Rifle Sling
Harris Bipod
Armageddon Suppressor Cover
The Mark 22 as sold to the public does not include the suppressor; only a flash hider. It does have numerous features not necessarily included on the MRAD DoD 300s in military use. These include an M-LOK attachment system with attachment points at the 3, 6, and 9 o'clock positions and full length picatinny top rail.
The Mark 22 has a single stage trigger fixed at 2.5 pounds, finished with protective black coating. The buttstock of the Mark 22 has an incremental mechanical lock for adjusting comb height, adjustable recoil pad, and a bag rider covering a picatinny rail to allow for mounting a monopod. The Barrett Mark 22 Advanced Sniper Rifle System is coated in an exclusive SOCOM Coyote Brown finish.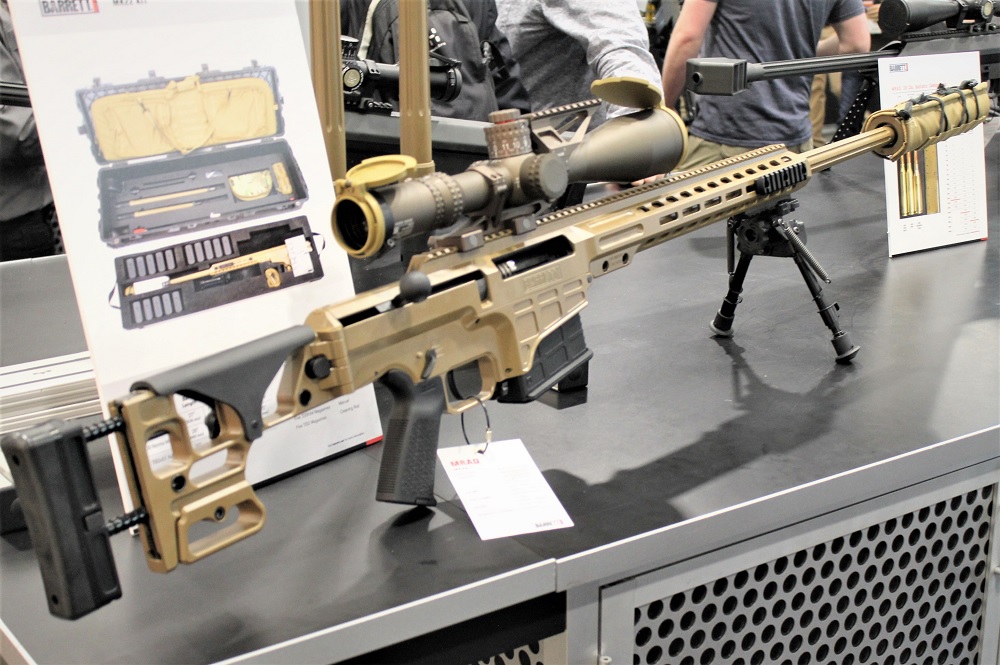 Barrett Mark 22 Specifications:
Weight: .338 Norma Magnum: 15.2 lbs., .300 Norma Magnum: 15.1 lbs., 7.62x51mm NATO: 13.9 lbs.
Rifle Overall Length: .338 Norma Magnum: 50.625″, .300 Norma Magnum: 49.625″, 7.62x51mm NATO: 43.625″
Action: Bolt Action
Trigger: 2.5 lb. Single Stage Trigger
Safety: AR Style Selector
Rifle Barrel Length: .338 Norma Magnum: 27″, .300 Norma Magnum: 26″, 7.62x51mm NATO: 20″
Rifle Barrel Twist: .338 Norma Magnum: 1:9.4″, .300 Norma Magnum: 1:8″, 7.62x51mm NATO: 1:8″
Rifle Stock: Folding MRAD Stock
Scope Mount: Full Length 10 MIL Picatinny Rail
Magazines Included: .338 Norma Magnum: (5) 10 Round Magazines, .300 Norma Magnum: (5) 10 Magazines, 7.62x51mm NATO: (5) 10 Magazines
Iron Sights: No
Caliber or Gauge: .300 Norma Mag
Handedness: Right Hand
It'll take a big check to cover the purchase of a Mark 22, which currently sits at $16,770.00.
Love the Mark 22 but only interested in a single caliber? Check out the MRAD SMR (Single Mission Rifle), based on the same design but with a fixed, single-caliber stock and barrel. Specifications are the same as above for the caliber of choice. These will join the Eurooptics lineup soon at a price currently unavailable.