[SHOT Show 2020] Bark & Bite! New ATI Milsport Billet AR-15 9mm Pistol
Adam Scepaniak 01.28.20

Out of all of the firearm manufacturers in attendance at SHOT Show 2020 American Tactical (ATI) might have had the most new products to debut compared to anyone else. This varied from components to magazines to completely new firearms for all of us to enjoy. One category of firearms that has blown up in the last few years has been pistol caliber carbines (PCC) or AR-15s chambered in affordable handgun cartridges. American Tactical looks to ride that trend with the unveiling of their Milsport Billet AR-15 9mm Pistol!
The whole point of the popularity of PCC firearms is their cheap fun in shooting rounds that are common to our counterpart handguns. If you have a firearm with an extremely expensive price-tag from the outset though that sort of defeats the purpose of cheap fun, right? Well, American Tactical has answered the enigma of an affordable yet quality 9mm AR-15 pistol. All of the specifications can be read below as presented by American Tactical:
9mm
5.5" Nitride Coated barrel w/ 7" M-LOK Rail
1: 10 Twist Rate
½" x 36 Threaded Muzzle
KAK Industry Flash Can
Accepts Glock-style magazines & ships w/ a 31-Round ETS (Elite Tactical Systems) magazine
Billet Lower Receiver & Aluminum Upper
Trinity Force TBA10 Breach Brace Pistol Stabilizer Stock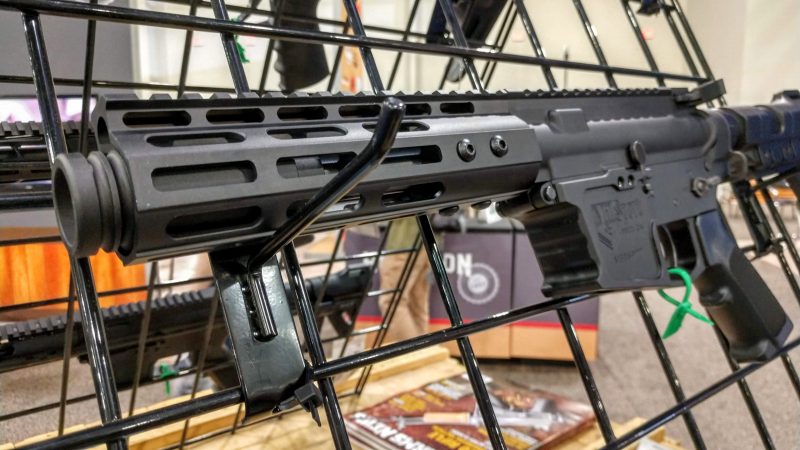 The Milsport Billet AR-15 9mm Pistol is 100% made in the United States and assembled in Summerville, SC by American Tactical.  It carries their Limited Lifetime Warranty in the extremely rare event you would ever need service. The current MSRP is $819.95 for the Milsport Billet AR-15 9mm Pistol. While handling the pistol in American Tactical's booth it had a really good balance to it. This aids in manipulating all of its controls with more ease, and the balance also makes this a very maneuverable PCC.
With the PCC market growing at an exponential rate and this American Tactical Milsport Billet AR-15 9mm Pistol punching in at a very affordable price-point, what do you think? Is this something that you would be willing to add to your collection for some cheap fun? Let us know all of your thoughts in the Comments below! We always appreciate your feedback.