[SHOT Show 2020] NEW Thompson Center Performance Center T/CR22 Rifles
Adam Scepaniak 01.28.20

Thompson Center, like numerous manufacturers in attendance at SHOT Show 2020, brought quite a few new products that were turning heads from the very first day. This included their NEW Performance Center T/CR22 rifles which are available in 6 different iterations; including multiple different colors of wood laminate stocks, barrel types (carbon fiber or stainless steel), and all of these offerings have threaded muzzles for the addition of your favorite brake or silencer.
The ergonomics on all 6 of the Performance Center T/CR22 rifles are phenomenal because of the thumb hole stocks which afford you a more upright pistol grip and better cheek weld to your sights. Being this is a Performance Center firearm, everything about it oozes match-grade quality and precision.
All of the specifications for the T/CR22 can be read below as presented by Thompson Center:
• Fully-machined 6061 aluminum receiver – with hole at rear to allow cleaning from breech
• Fully-machined stainless steel bolt
• Heavy contour stainless steel 18.375 ˝ carbon fi ber wrapped barrel
• 1:15˝ twist button-rifled barrel provides outstanding accuracy
• Built-in picatinny rail on top of the receiver for easy, secure mounting of optics
• Sculpted, laminated hardwood thumbhole stock for right hand shooters
• Large bolt handle provides easy cycling operation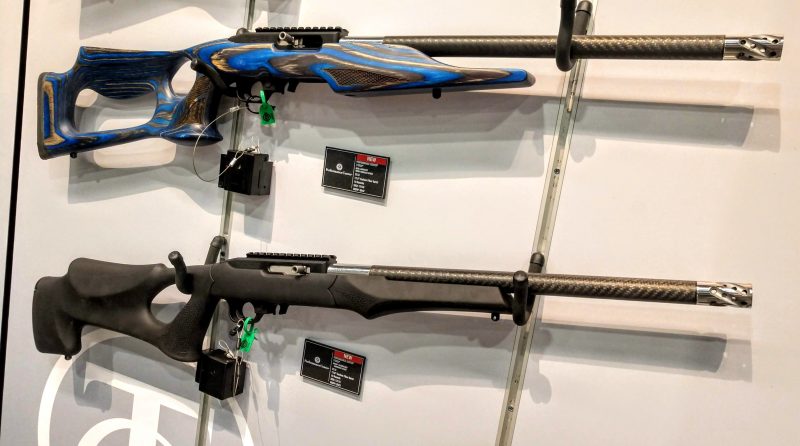 • Ergonomic stock designs promote a steady hold
• Easy-to-use push-button safety
• Crisp trigger right out of the box
• Easy-to-push magazine release lever
• Hand-filling forend with textured grip panels
• Threaded muzzle with ½-28 UNEF Threads-Performance Center® Compensator installed
• Sling swivel studs
• Compatible with most after-market 10/22® parts and accessories
The beauty of the Thompson Center Performance Center T/CR22 rifles is not only that they are of such high quality, but also that they are cross-compatible with all Ruger 10/22 aftermarket accessories and components. This gives any shooter endless possibilities to modify this rifle (if they so wish). Some other upbeat words from Thompson Center about these new rifles can be read below:
"The new Performance Center T/CR22 rifles feature a lightweight carbon fiber barrel and ergonomic stocks in multiple color options. Co-developed by Performance Center and Thompson/Center Arms™, the Performance Center T/C® T/CR22 rimfire rifles operate using the reliable T/CR22 semi-automatic rifle action and 10 round rotary magazine, while maintaining compatibility with most aftermarket 10/22® parts and accessories."
Unfortunately for all of our readers in New York, this rifle from Thompson Center is not legal there. The MSRP that shooters are looking at varies from $523 – $642 depending on which configuration trips their trigger. The final question that remains is what do you think? Is this something that you would be willing to invest in? Let us know all of your thoughts in the Comments below! We always appreciate your feedback.