[SHOT Show 2020] New Knives & Tech From CRKT
Russ Chastain 01.29.20

Columbia River Knife & Tool (CRKT) had a slew of new knives on display at the 2020 SHOT Show in Las Vegas last week. I dropped by their booth and got the rundown on their new items, and truth be told there's so much new stuff that it would be impossible to cover it all. Here's a look at the knives and technology that stood out for me.
Deadbolt
CRKT's new Deadbolt lock places a pushbutton over the knife's hinge point, which keeps your fingers out of the blade's path as it folds. When the blade locks open. it's held in place by a pair of steel protrusions on the internal "deadbolt" piece. It's strong AND easy to use.
This short video will show you how Deadbolt works:
Among the Deadbolt offerings, I liked the looks of the M40-03 shown here.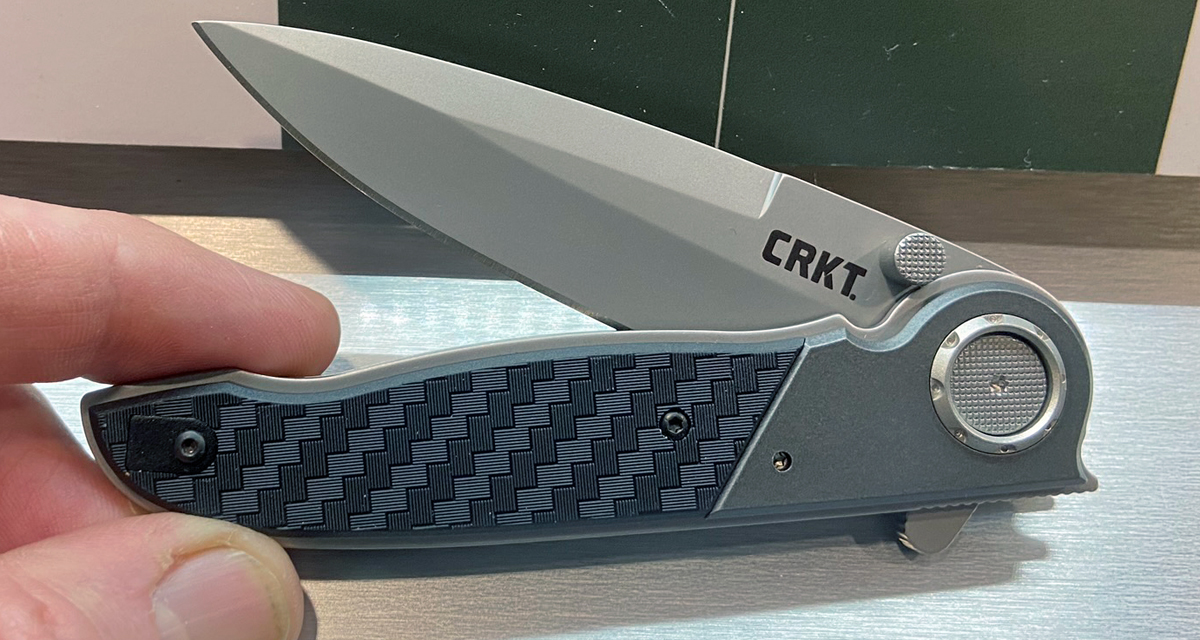 M40 is a Kit Carson design with flipper opening, IKBS ball bearing pivot, and a handle made of aluminum and glass-reinforced nylon. This one lists for $140 and weighs in at 4.2 ounces with a 3.45″ blade.
Kinematic
CRKT refers to Kinematic creator Joe Caswell as "somewhat of a mad scientist," and who can argue when they behold his brainchild?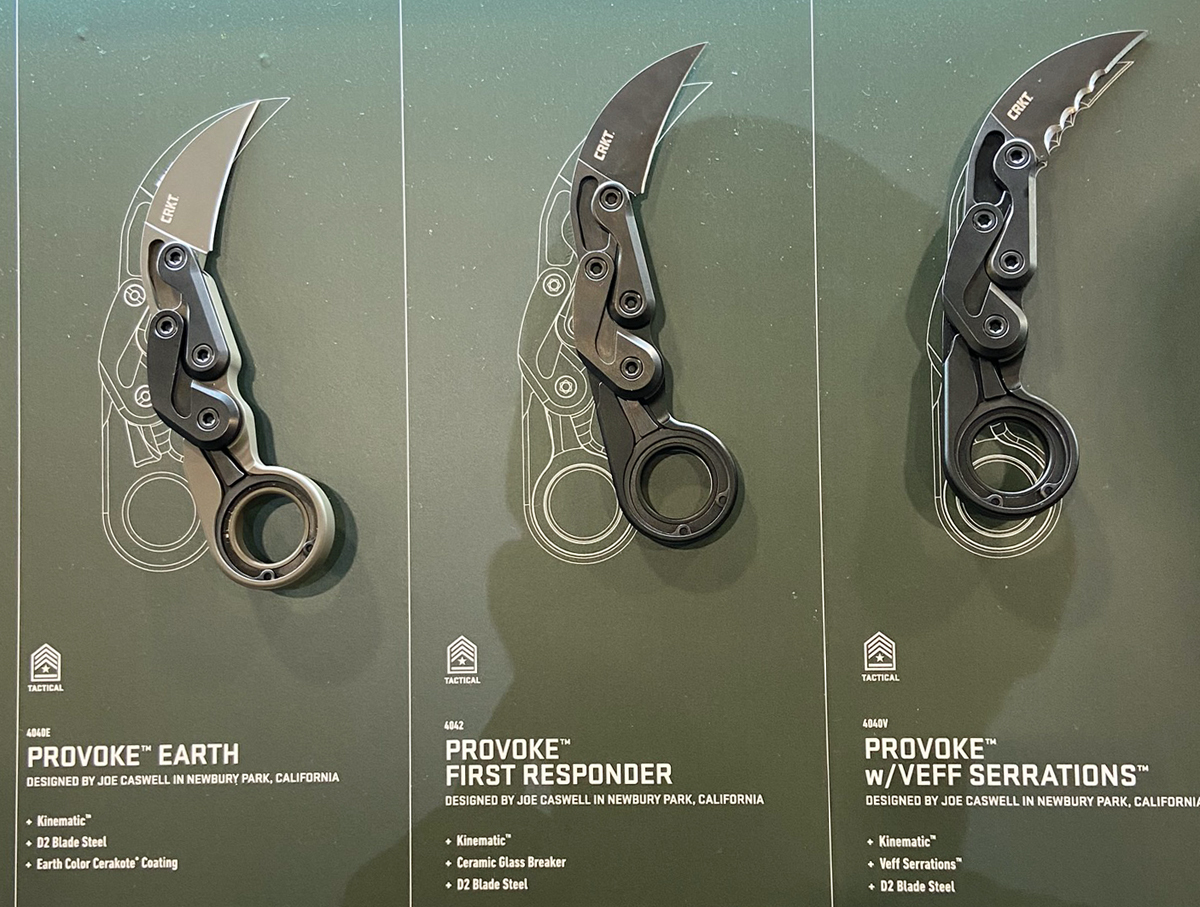 They're calling it "Provoke," and it's a folder of an all-new variety.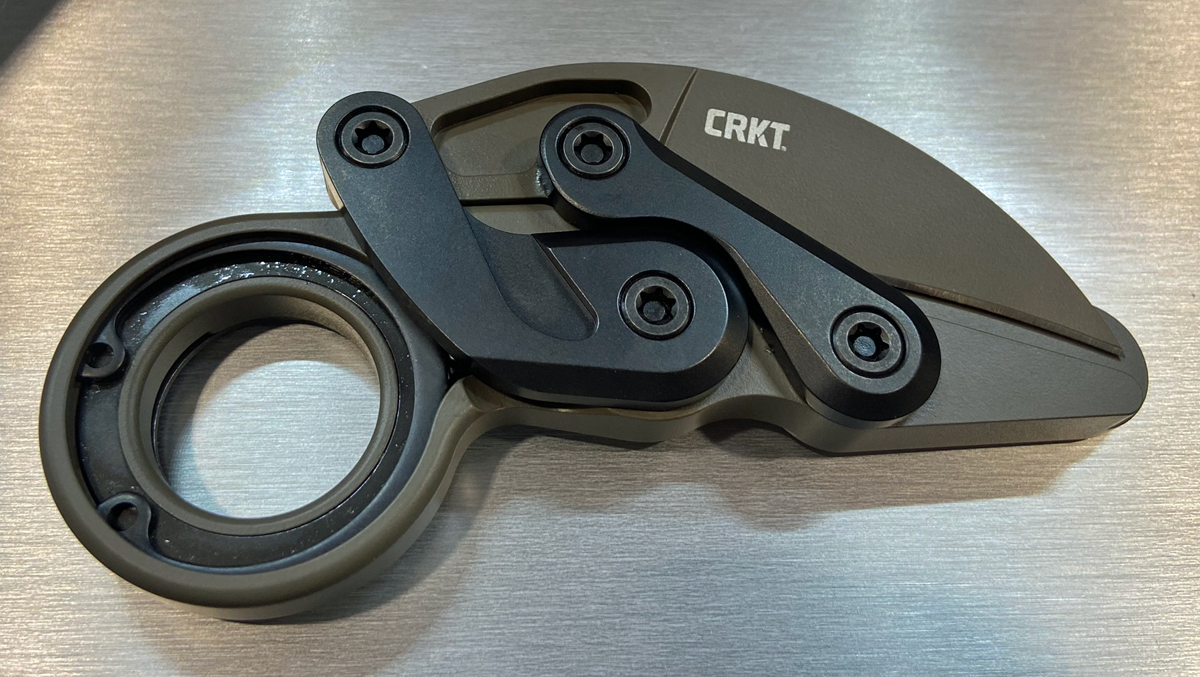 It's described as a "morphing karambit knife," and it locks open.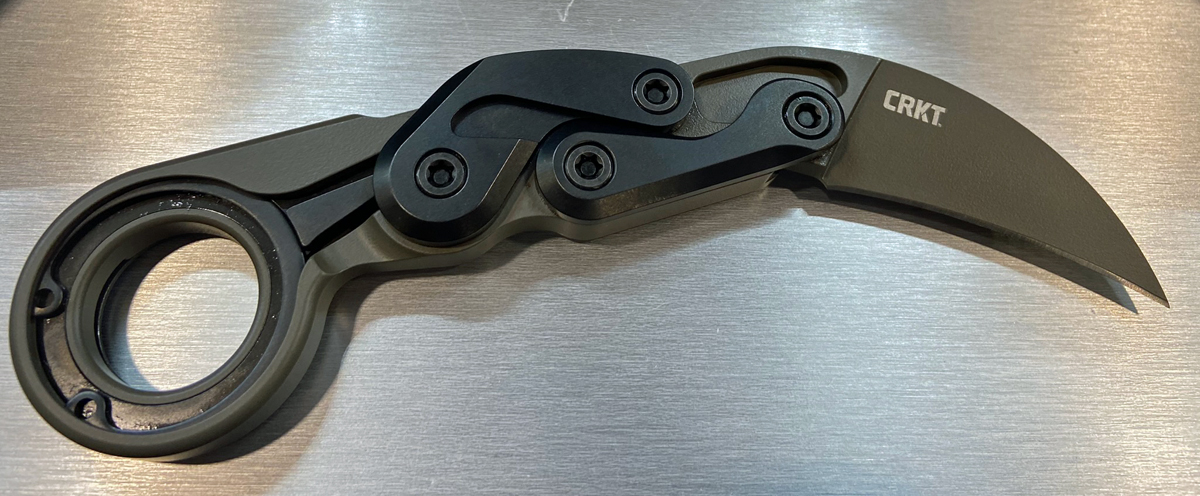 The Provoke Earth shown here lists for $200, and you can add a sheath for another $30.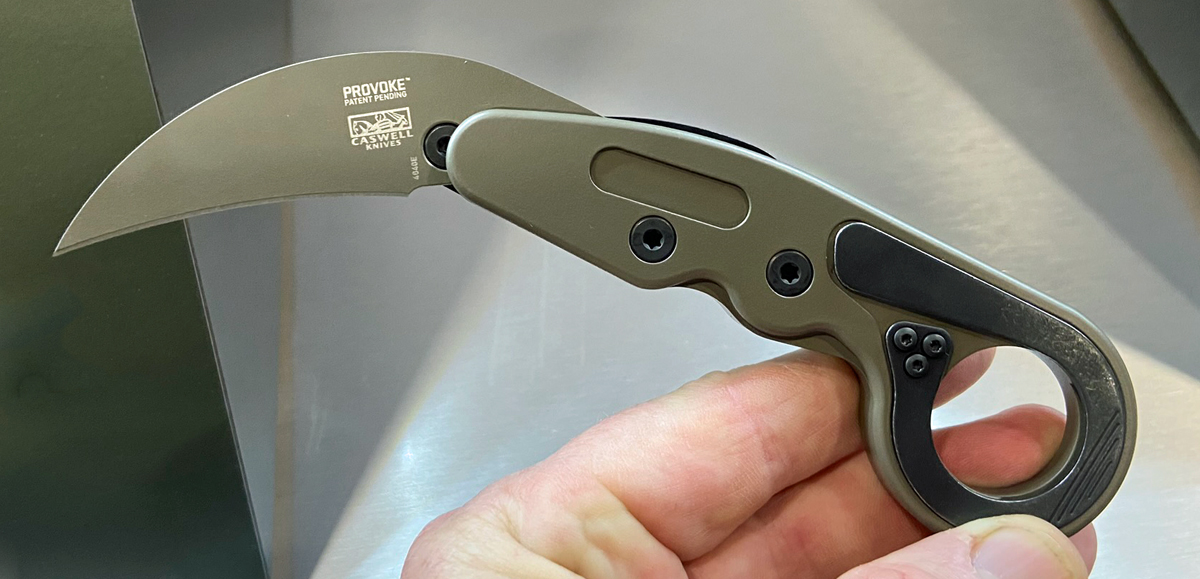 4040E Provoke Earth specs:
Blade Length: 2.410″
Blade Edge: Plain
Blade Steel: D2
Blade Finish: Cerakote
Blade Thickness: 0.209″
Overall Length: 7.250″
Closed Length: 4.960″
Weight: 6.1 ounces
Handle: 6061 T6 Aluminum
Style: Folding Knife w/Kinematic™
U.S. Patent No. D865,480
Psych
I liked the looks — and operation — of the Psych. This $99.99 folder was designed by Ken Steiger using CRKT's Glide Lock, which uses a sliding bolster to lock the knife open or closed.

There's a "safety button" next to one of the bolsters. After depressing that button, you can slide (or "glide") the Glide Lock bolster to unlock the knife.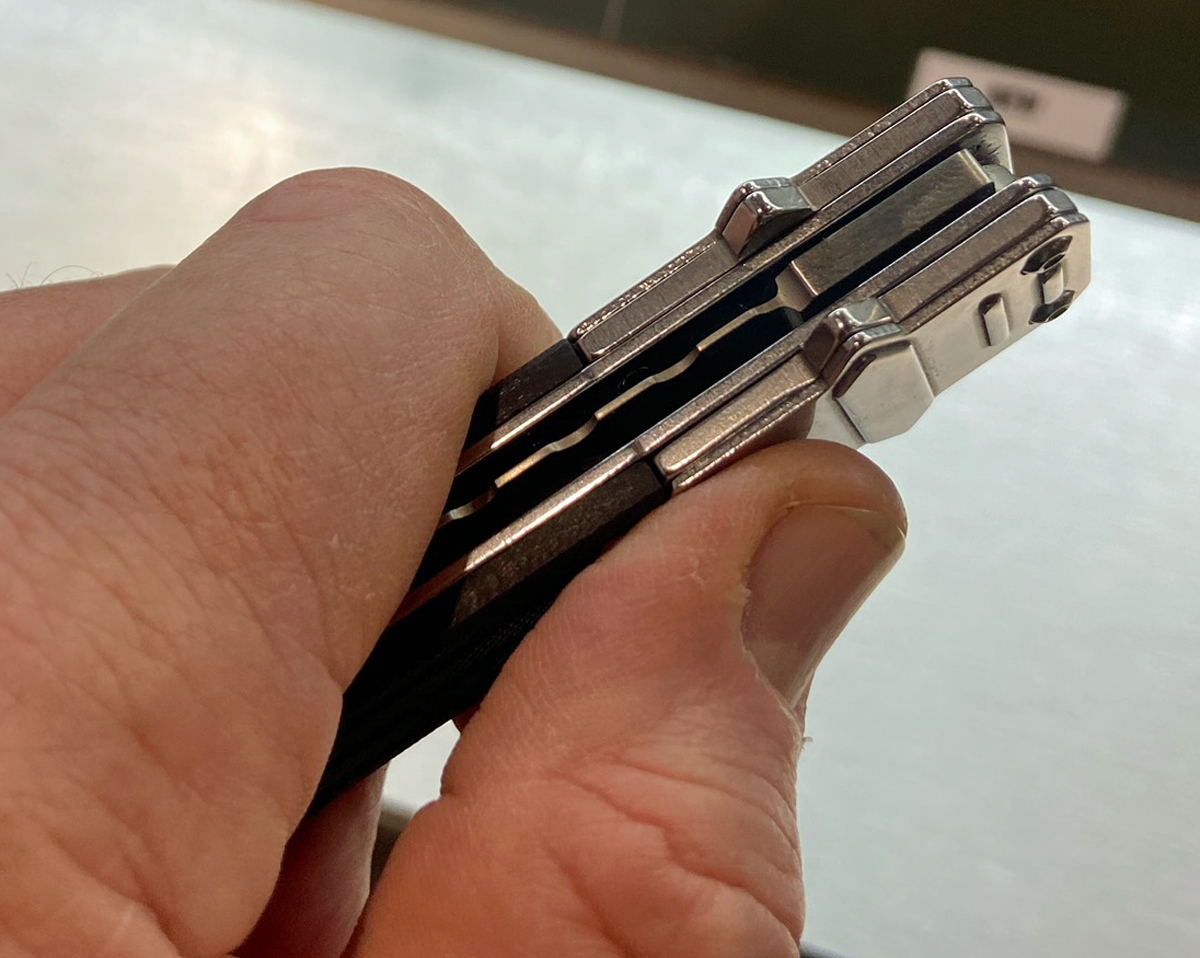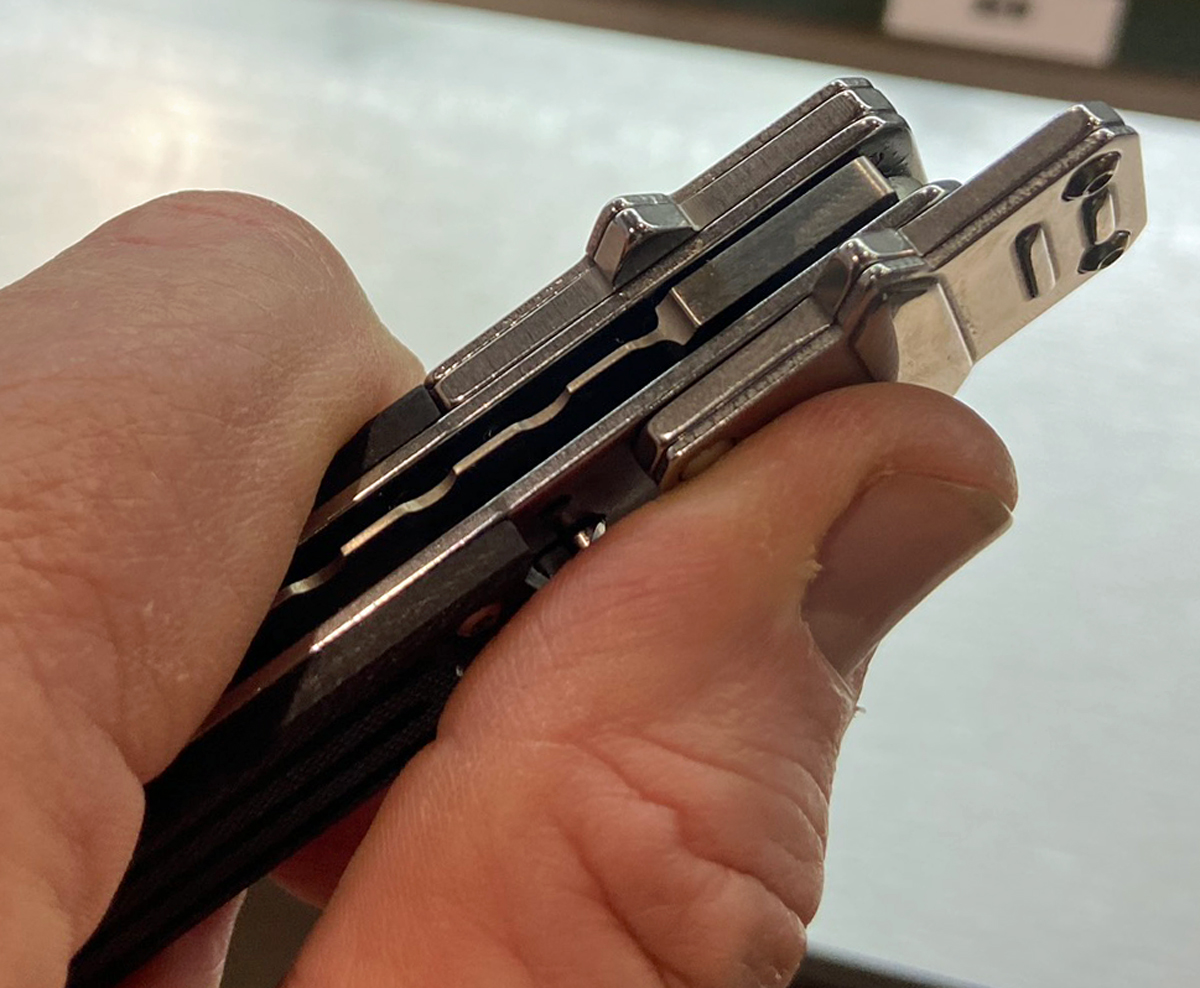 Then you are free to open the knife.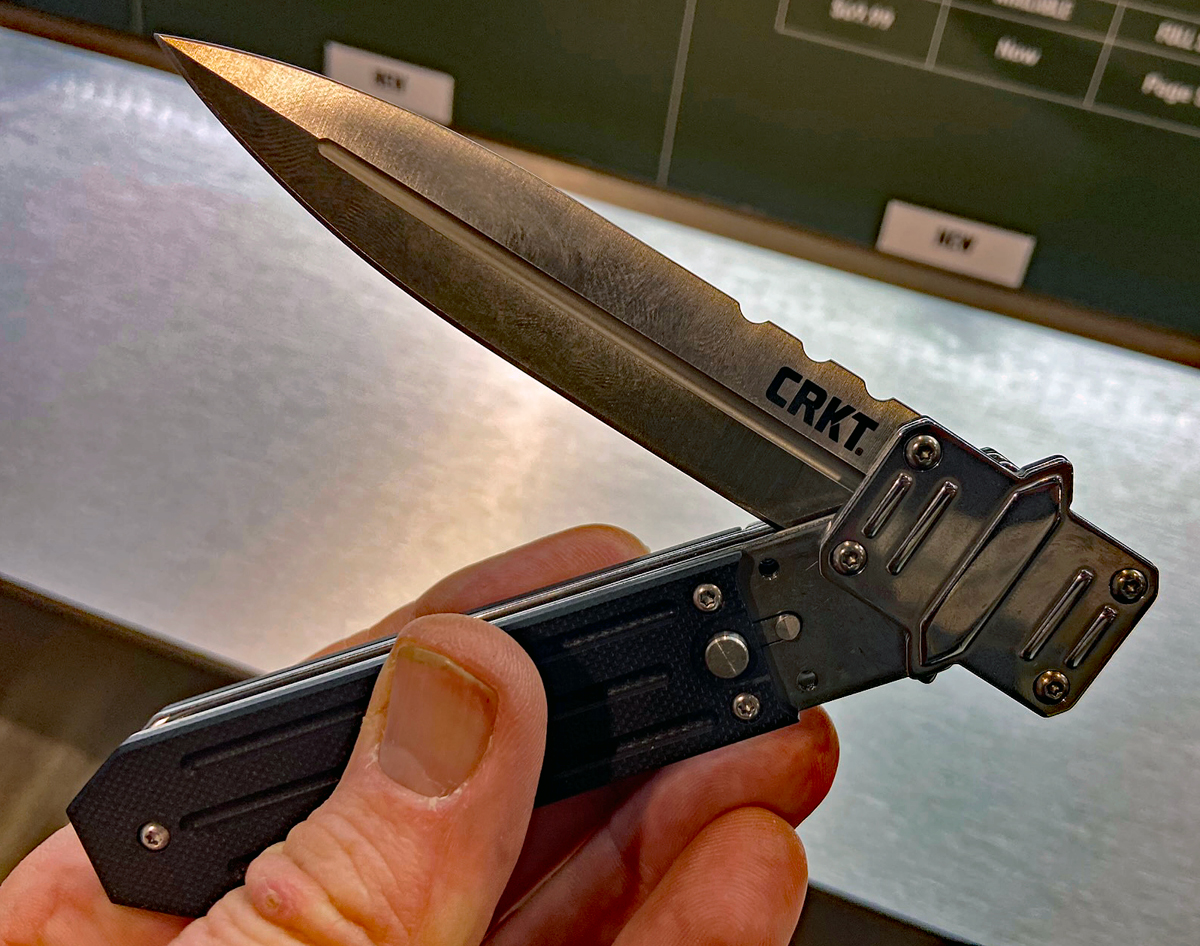 Once it's open and the daggerish blade locked, the Psych has a really cool look.

Overland
I found the Overland oddly appealing, though I don't normally go for unusual blade shapes. Aside from that, it's pretty much a ruggedly-built frame-lock folder that will probably outlast you and me both.

Overland's blade is made of 8Cr13MoV and is almost 3″ long.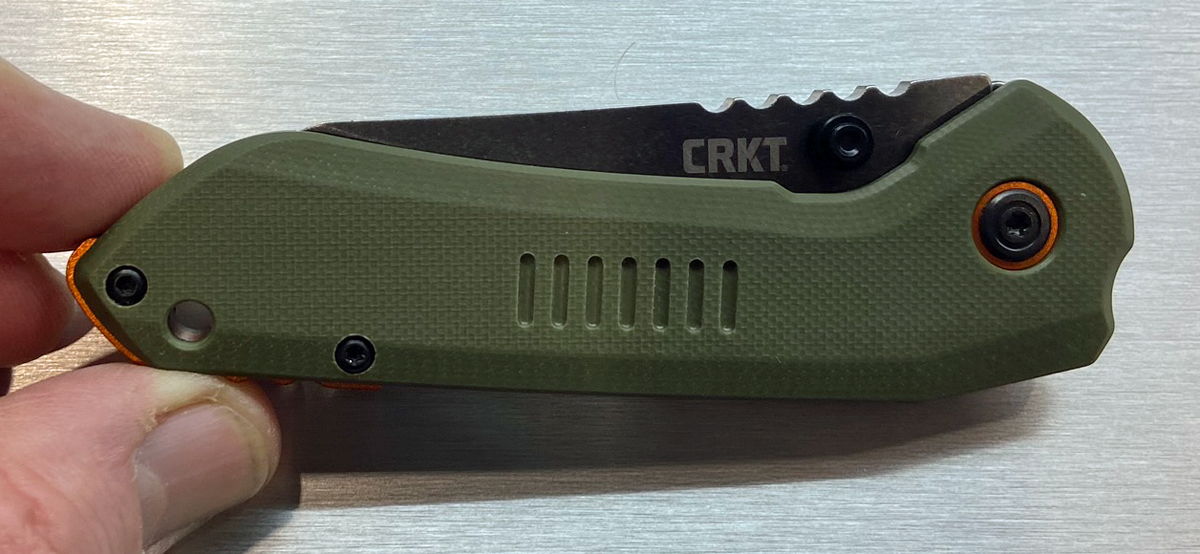 Open length is 7.38″, closed is 4.36″ and it weighs in at 3.6 ounces.

MSRP of the Overland, a T.J. Schwarz design, is $69.99.
Full Throttle
Finally, the CRKT Full Throttle is another good-looking $69.99 frame-lock folder, this time designed by Matthew Lerch. This one has CRKT's OutBurst spring assisted opening mechanism, so it opens like a dream.

Like the Overland, the Full Throttle's handle is G10 on one side and stonewashed on the other, and has a 8Cr13MoV blade.

Full Throttle's 2.9-inch blade is bead blasted. Open length is 6.88″ and closed length is 4.08″ while weight is 3.1 ounces.
And a Whole Lot More
As I said, CRKT has been busy, and there's a lot more to their 2020 lineup. Visit their website to learn more.