[SHOT Show 2020] Galil in the Wild! NEW ATI Galeo 5.56mm NATO Pistol
Adam Scepaniak 02.08.20

The Galil firearm, in all of its permutations, is romanticized across the world because of its reliability and its success as a military firearm. Most of the Galil firearms in circulation are outside of the United States and are difficult to bring to the US because of frustrating importation laws. To the delight of many shooters though, American Tactical has brought the Galil to the US with a NEW Galeo 5.56mm NATO/.223 Rem Pistol debuted at SHOT Show 2020!
This is an honest-to-goodness pistol with a brace so no NFA hoops need to be jumped through, but it does leave the door open for the end user to convert it to an SBR by adding a stock (if they so choose). It utilizes original Galil kits, but it has an American-made Galeo receiver and many other American parts to make it civilian legal. All of the specifications can be read below as presented by American Tactical:
Galil-Style Pistol built with Original IMI Galil kits & New US parts to be Civilian Legal
Caliber: 5.56mm Nato/.223 Rem
Barrel: 13″ Barrel w/ a 1:7″ Twist Rate
Brace: Blade Style Pistol Brace
Heat-Treated, Milled Galeo Receiver
Original Polymer Stock Set will show character
Uses Original Galil 30-Round Polymer Magazines and will accept all Aftermarket Magazines including Surplus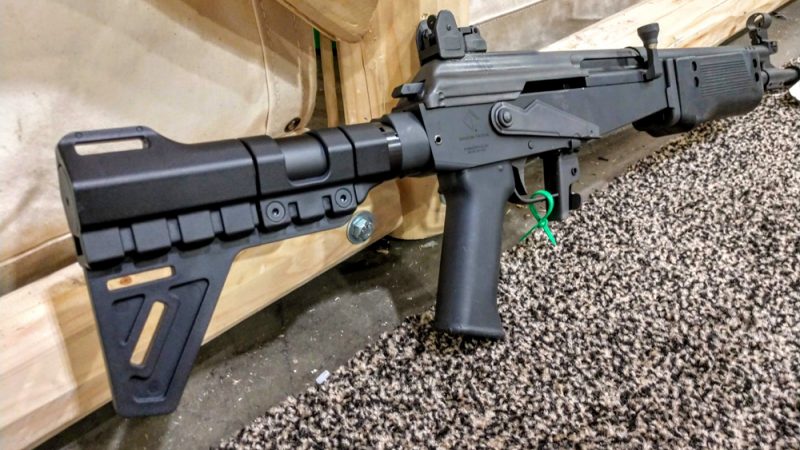 One of the exciting hallmarks of this firearm is the American-made milled Galeo Receiver built by American Tactical (ATI) in South Carolina. You not only have a truly American made product, but it is heat-treated and milled for much higher quality. The MSRP is $1,329.95 for the NEW Galeo 5.56mm NATO/.223 Rem Pistol. One distributor who has gotten their hands on some of these already is Atlantic Firearms. We did not have the opportunity to shoot the Galeo pistol at SHOT Show, but Atlantic Firearms has some footage of their 1st range experience.
As you can see from some testing completed by Atlantic Firearms, even when you are draining full magazines at the range this pistol looks to be very controllable with not much muzzle rise at all. In fact, while the individual from Atlantic Firearms was doing mag dumps you could hear him hitting steel (on likely a silhouette target from an unknown distance) on almost all of the shots fired. So, that is impressive! Atlantic Firearms goes on to outline some of the history of the Galil family of firearms and how the Galeo from ATI came to be:
"The Galil family of rifles are operated by a Kalashnikov-pattern gas-driven piston system. The blend of AK 47 reliability with the accuracy of the .556 / 223 round proved to be very effective in several desert conflicts. The Galil series of weapons is in use with military and police forces in over 25 countries & enjoyed by recreational shooters. There were three base Military models the Galil ARM, Galil AR & Galil SAR. The Micro Galil or MAR rifle was introduced in 1995 and primarily used by Israeli special forces. The current modernized version of this rifles series is the Galil ACE offered in many calibers."
As mentioned above, the Galil series of firearms have been in use for almost 30 years now, and are battle-tested and appreciated all over the world. Many people will be excited to hear that American Tactical is offering a pistol version for us in the US to finally enjoy as well! For all of our readers out there, what do yo think? Is this something you would want to add to your collection? Let us know all of your thoughts in the Comments below! We always appreciate your feedback.