[SHOT Show 2020] Rimfire Round-Up! NEW German Sport Gun 1911-22 Pistols
Adam Scepaniak 02.09.20

German Sport Gun (GSG) has been making accurate, fun 1911-patterned rimfire pistols for the better part of 6 years now, and that legacy has continued on into SHOT Show 2020. This stalwart rimfire pistol has enduring popularity and that is why GSG is trying to always make creative permutations of their 1911-22 so it is more widely accepted throughout the United States.
With models that vary from the mundane to the majestic, GSG tries to cater to what trips everybody's trigger. You can get their 1911-22 with a threaded barrel, standard non-threaded barrel, a Commander length slide of only 4.25″, and other variations as well. The basic characteristics you can come to expect are outlined below by American Tactical (ATI) who is the primary importer for the GSG 1911-22:
Single-Action, 3-Hole Skeleton, Steel Trigger
Ambidextrous Thumb Safety & Extended Beaver Tail Safety Grip (Includes 5 Safety Features)
Zinc Alloy Frame w/ CNC Machined Aluminum Slide
5″ Hammer Forged Steel Barrel (Threaded & Non-Threaded available)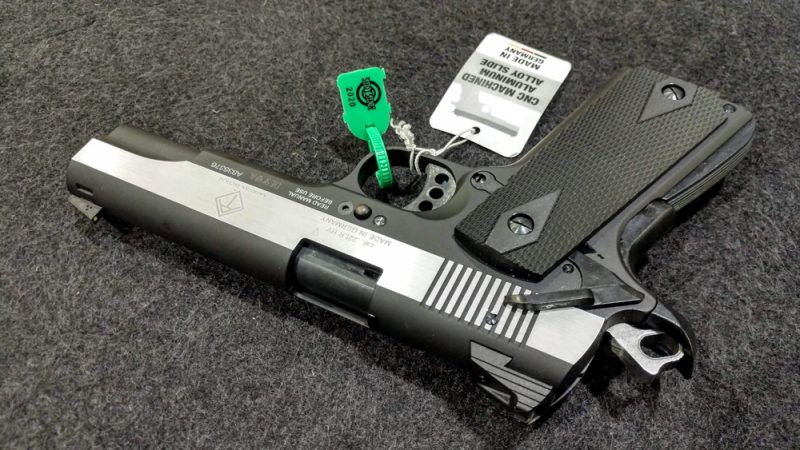 Threaded Barrels have a metric M9 x 3/4 T.P.I. (ATI offers a conversion adapter to 1/2″ x 28 T.P.I.)
Walnut Double-Diamond Pattern or Synthetic Grip Handles
Low Profile Fixed Rear Sight & Includes 3 Front Sights (Low, Med, High)
Compatible w/ Many Standard M1911 Parts
10-Round Magazine
All of the German Sport Gun 1911-22 pistols are not surprisingly manufactured in Germany, and as stated earlier, are imported into the US by American Tactical (ATI). All of these pistols carry a Limited Lifetime Warranty in the rare event that you should ever need repairs or warranty work completed on them. ATI shares a short quote from their website further elaborating on the GSG 1911-22:
"When John M. Browning invented his classic pistol in 1911, he could not have imagined that for over a century it would remain the standard of excellence in the industry and reproduced by almost every arms manufacturer in the world.

The .22LR version developed by GSG retains the 1911's classic uniqueness along with exciting new technology and features, including several safety functions to meet today's rigorous standards. From casual plinking to competitive shooting, the GSG 1911 belongs in the hands of everyone who wants an excellent pistol at a great price."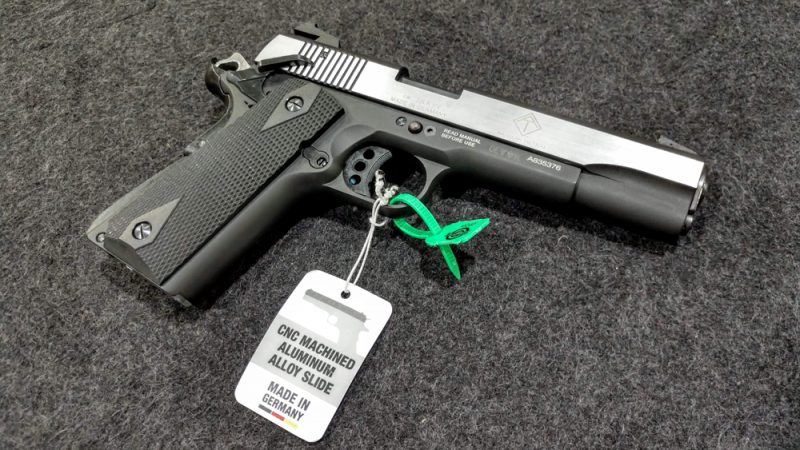 At the moment, you can have your pick of 7 different versions of the German Sport Gun 1911-22 with an MSRP that affordably floats between $319 – $329. There are even models that are legal in the ultra-restrictive states of New York and California. All of those models along with their associated MSRPs can be read below as presented by American Tactical:
GERG2210M1911 – Black with wood grip | MSRP $319.95
GERG2210M1911CA – California and NY legal | MSRP $329.95
GERG2210M1911T – Tan with wood grip | MSRP $319.95
GERG2210M1911G – Green with wood grip | MSRP $319.95
GERG2210M1911S – Two tone with black grip | MSRP $319.95
GERG1911ADOP – Black with black grip and faux suppressor | MSRP $329.95
GERG2210GSG9CA – Short barreled and California and NY state legal | MSRP $329.95
Because of American Tactical's importation efforts, we have a lot to choose from for GSG's 1911-22 pistols! Between all 7 current offerings, which one would you like to add to your collection? Is there a different variant you would like to see them produce entirely? Let us know all of your thoughts in the Comments below! We always appreciate your feedback.