[SHOT Show 2020] Power to Defend! NEW Winchester Silvertip Handgun Ammunition
Adam Scepaniak 02.09.20

When it comes to legendary hunting ammunition Winchester has produced some of the most recognizable names hunters could reach for on a store shelf. Understanding this, Winchester has taken their supremely popular Silvertip hollow point bullet and applied it to handgun cartridges for a new line of ammunition which was debuted out in Las Vegas at SHOT Show 2020.
This new line of ammunition utilizes their time-tested hollow-point in common and popular handgun cartridges for shooters to utilize for self-defense or possibly hunting in their favorite revolver and semi-auto sidearms. To begin with, Winchester is offering this ammunition in 8 different cartridges and grain weights. All of those options can be read below as presented by Winchester:
.380 Auto 85 Grain Silvertip Hollow Point | 189 Ft-Lbs | 945 FPS
9mm Luger 115 Grain Silvertip Hollow Point | 383 Ft-Lbs | 1,225 FPS
9mm Luger 147 Grain Silvertip Hollow Point | 333 Ft-Lbs | 1,010 FPS
.38 Special 110 Grain Silvertip Hollow Point | 218 Ft-Lbs | 945 FPS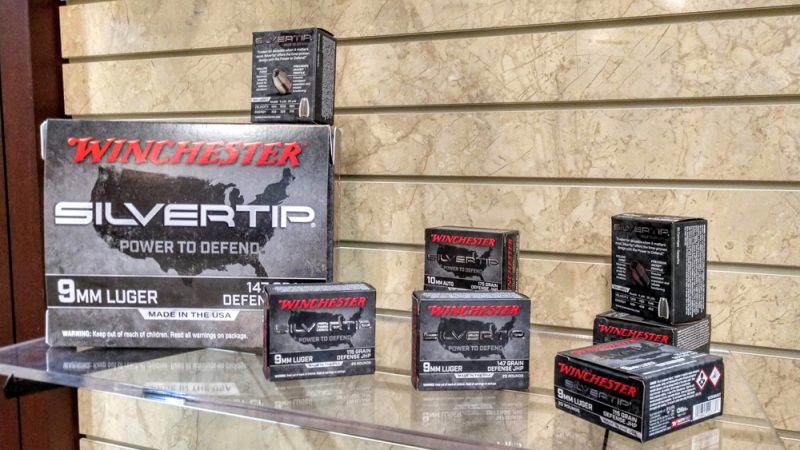 .357 Mag 145 Grain Silvertip Hollow Point | 536 Ft-Lbs | 1,290 FPS
.40 S&W 155 Grain Silvertip Hollow Point | 500 Ft-Lbs | 1,205 FPS
10mm Auto 175 Grain Silvertip Hollow Point | 559 Ft-Lbs | 1,200 FPS
.45 Auto 185 Grain Silvertip Hollow Point | 411 Ft-Lbs | 1,000 FPS
All of the Winchester Silvertip handgun ammunition is packaged in 20-count boxes, and at the time of this writing there are no MSRPs set yet so pricing may vary across ammo retailers. With brass cartridge casings and a silver hollow point bullet, they have all of the familiar traits many of us have successfully fired through our rifles for decades. Some of the other advertised characteristics according to Winchester can be read below:
Hollow Point provides Maximum Stopping Power for Personal Defense scenarios

Engineered Jacket Profile ensures Reliable Functioning, Precise Accuracy and Consistent Expansion
While there is definitely no shortage of quality self-defense ammunition on the market to day, if you are like me, it is always interesting to try new offerings and see how they stack up against some of the old stalwart, faithful loads we have always relied on. Is this new offering from Winchester something you would be willing to carry in your everyday carry (EDC) pistol? Let us know all of your thoughts in the Comments below! We always appreciate your feedback.