[SHOT Show 2020] Clobber a Gobbler with the ATI Nomad Grand Slam Shotgun
Adam Scepaniak 02.18.20

Even though most of the United States is currently buried in the middle of winter, spring is still just around the corner which brings us new hunting seasons, more favorable weather, and new firearms to sport in the field. One of those new firearms for 2020 that we were able to see at SHOT Show 2020 was the American Tactical (ATI) Nomad Grand Slam Single-Shot, Folding, Break-Action shotgun!
This shotgun, like its name implies, is only a single-shot shotgun, but you also get the utility of being able to break open the action and fold it in half for more compact storage on an ATV, backpack, or truck. The synthetic stock and forearm features full camouflage coverage and you have other qualities perfect for spring-time turkey hunts. All of the specifications as presented by American Tactical can be read below:
Chambered in 12 Gauge 3″, 20 Gauge 3", and .410 Gauge 3"
Single-Shot, Folding, Break-Open Action
Camouflage Synthetic Stock
Extended XX Full and Modified Choke Tubes
23″ Vent Ribbed Barrel w/ Fiber Optic Front Sight
Detachable See-Through Saddle Mount included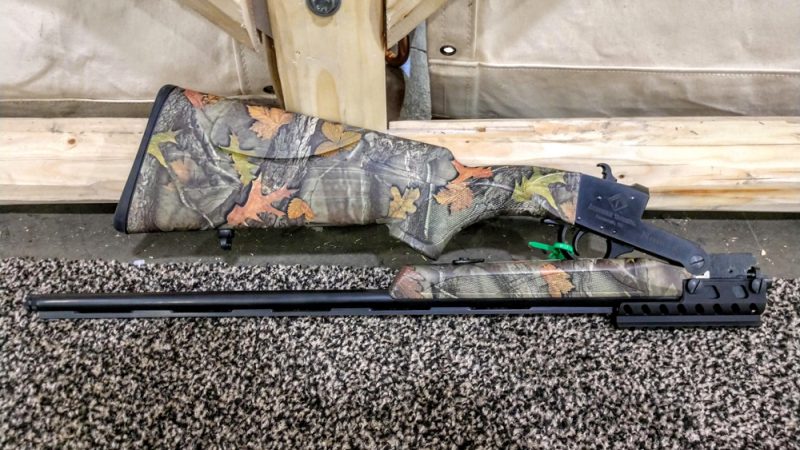 The ATI Nomad Grand Slam shotgun carries American Tactical's "Limited Lifetime Warranty" in the rare event you should ever need service work done on your firearm. The MSRP is currently set at $169.95 for either .410 Gauge, 20 Gauge, or 12 Gauge. For a limited time, American Tactical is allowing people to use the promo code "FREESHIPTRKY" to receive free shipping and special pricing of $159.95 for the Nomad Grand Slam! You would have to do this directly on their website though: www.Americantactical.us
With the ability to fold this shotgun in half for easy travel and storage along with fiber optic sights, camouflage, a saddle mount, and screw-in choke tubes it is one heck of a value at only $160 – $170. The only thing that remains is what do you think? Is this a shotgun you would be willing to bring out into the woods this spring in pursuit of a wiley ol' tom? Let us know what you think in the Comments below! We always appreciate your feedback.