[SHOT Show 2020] Ghost Gun?! ATI Transparent AR-15 Upper/Lower Receiver Set
Adam Scepaniak 02.18.20

We all know that the illogical term "ghost gun" was drummed up a long time ago by some politician who did not know what he was referring to in regards to firearms. Well, American Tactical might have the closest real world thing with their Transparent AR-15 Upper/Lower Receiver Set. This is exactly what it sounds like. They are in development with creating a matching set of an upper receiver and lower receiver that will be see-through for anyone who wants to see the inner workings of their AR-15 build.
While some shooters might unknowingly believe that this would be an easy undertaking, it actually is not. It is a difficult balancing act of getting the ratio of transparent polymers to stronger polymers to work in harmony. If you have a completely transparent polymer lower, it will be extremely brittle and likely break in one or two magazines of firing rounds. If you use darker polymer compounds it increases the rigidity, strength, and durability, but it obviously ruins the transparency (if that is what you are shooting for).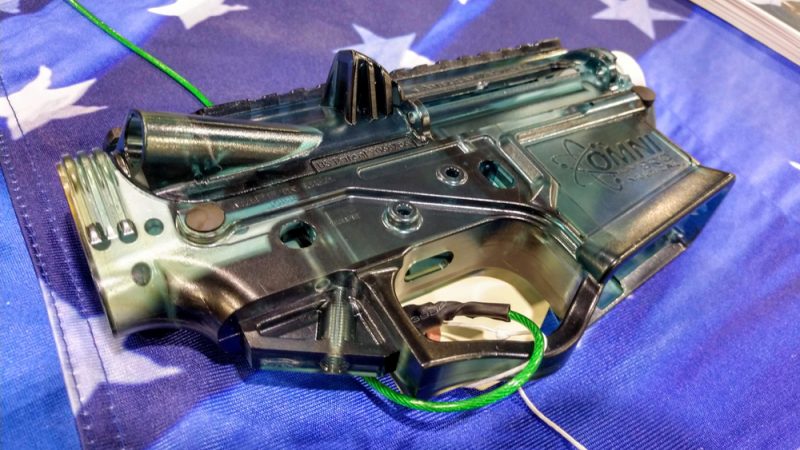 American Tactical has already proven that polymer lowers can be plenty strong in real-world applications with their Omni Hybrid series of lower receivers, but now they want to re-invent the wheel again with a Transparent AR-15 Upper/Lower Receiver Set. The tentative specifications for the Transparent AR-15 Upper/Lower Receiver Set can be read below as presented by American Tactical:
PPSU Polymer
Heat-Resistant and Transparent High-Performance Thermoplastic with Glass Fiber Reinforcement for added Strength
Available Colors: Smoke Grey, Smoke Red, and Smoke Blue
Variety of Colored Metal Inserts Available
Once again, this Transparent AR-15 Upper/Lower Receiver Set is in development and will be coming soon in 2020. The MSRP pricing has not been set at this time because the product is still in development. For all of our AR-15 aficionados in the reading audience, what do you think of having a transparent upper/lower receiver set for your next build? Is that something you would be interested in? Let us know all of your thoughts in the Comments below! We always appreciate your feedback.