Just in time for Independence Day, Savage debuts their new – ultra patriotic – Star Spangled Rascal rimfire .22 rifle. Paying homage to Old Glory, this little plinker features a badass American flag camo pattern, so you definitely want to add this one to your .22 collection! Plus, it's a perfect fit for patriotic young shooters.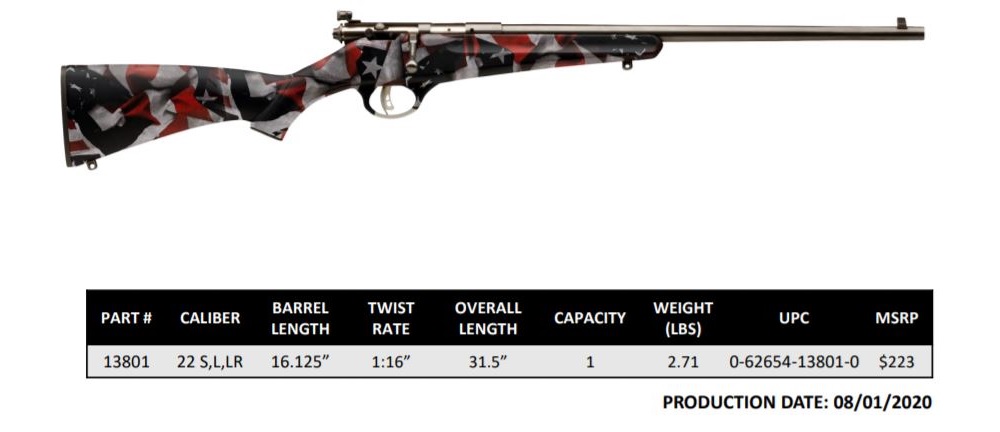 Patriotism and performance come together effortlessly with the new Savage Rascal offering. The Rascal is the industry's safest micro-rimfire. Shooters cock the rifle by lifting the bolt and unload without pulling the trigger. Paired with the American flag camo synthetic stock, the rifle builds superior shooting skills thanks to full-size rifle features, including adjustable peep sights and Savage's user-adjustable AccuTrigger.
"It is our responsibility to help teach firearm safety to the next generation of American hunters and marksmen," said Beth Shimanski, Director of Marketing for Savage Arms. "but that doesn't mean the tools we use to teach can't be fun. We're proud of our American heritage and we're showing that pride with these diminutive guns that are built to the same demanding standards as every other Savage."
The new Savage Rascal Red, White, & Blue makes a bold statement. Paired with the American flag camo synthetic stock, the rifle can help mentors build new shooters' shooting skills thanks to standard features that are notably absent on many small rimfires. The Rascal teaches accuracy and safety with the same tools teachers use themselves.
These new Rascals will start shipping this August. Visit your local Savage dealer and place your order today. Find your local Savage dealer at https://savagearms.com/where.
FEATURES:
Synthetic stock with American flag pattern
Manual safety
Unload without pulling the trigger
Adjustable peep sights
User-adjustable AccuTrigger
Feed ramp
Cocks by lifting bolt
Carbon steel sporter barrel
11.5" length-of-pull