Schizophrenic Department of Natural Resources (DNR) regulations have bass anglers up in arms about one of the hottest lakes in Minnesota's North Country, Lake Mille Lacs. A tremendous trophy smallmouth fishery, recent drastic changes have one primary goal in mind: improve the walleye population. At the risk of sounding like a Smothers Brothers sitcom routine with "Mom always liked you better," it seems the walleye has won that brotherly slugfest. Only here "Mom" is the Minnesota DNR.
Anglers, resort owners, area businesses, and tourists are all frustrated about the walleye experience on Mille Lacs. Not about catching, though, it is about keeping, and that is regulated by the state DNR. Bass anglers say 10-plus years of over-regulated and picayune slot limits on Mille Lacs, in part, have created the problem. Why penalize the spectacular bass fishery that has evolved? "There are lots of 18-plus inch walleyes in the lake but the tight slots have created only large fish—few keepers with historically tight regulations," shared George Liddle, homeowner on Mille Lacs and co-host of North American Fisherman Television.
Last year only a single trophy smallmouth could be a keeper. This year, the "release immediately" slot size is 17 to 20 inches. Possession per person is six with only one over 20 inches. That has bass anglers concerned for the balance of the smallmouth fishery—fearing it could be decimated, all to improve the walleye fishery. "It's frustrating because we don't have a walleye population problem on Mille Lacs, we have regulation and restriction problems on Mille Lacs," shared Liddle.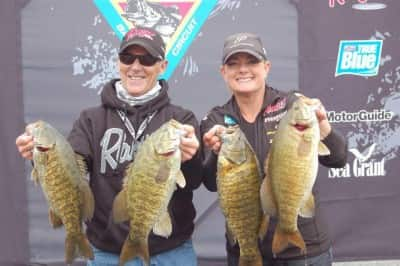 DNR officials definitely feel the weight of the criticism. Tribal gill netting attributes some of the blame. Perhaps, too, restrictive limits for over ten years may have inadvertently created the problem, even if the goal all along was to improve it.
Viewed primarily as a walleye lake, the DNR holds winter public meetings to discuss possible changes to regulations. Public input is welcome at that time as they discuss options. Problem is, they may have only heard walleye anglers in the conversation. The majority of past years' meetings centered on walleye regulations, not regulations as a whole on Mille Lacs. That is what surprised the bass anglers with the announcement of this year's drastic changes to smallmouth regs.
"Mille Lacs has intensive fish management," shared Dirk Peterson, DNR fisheries chief. "We have shared harvest with the bands that requires both parties to reduce predation on small walleye and competition for prey in the lake. Increasing harvest of both smallmouth bass and northern pike are two solutions to remove predation on the walleye populations."
Because smallmouth bass never had a protective slot in the past, most bass anglers did not pay attention to the call to attend meetings in February. That is when the DNR solicited local opinions. From there the rule-making process occurs.
"The opportunity to change the regulation now is not likely," shared Peterson. "This is a serious situation as we now experience a 40-year low abundance in walleye. We need to turn it around. There is still good fishing on the lake, however, our goal is to minimize predation on walleye."
Liddle claims the decision-makers have no data that smallmouth are walleye predators on Mille Lacs. "I'll tell you they aren't," added Liddle. "And the DNR has no data to back up that they are. Smallmouth bass are maybe in only half the locations on the lake than the walleyes," continued Liddle. "I'm worried going from one trophy-only keeper to a six-a-day limit, especially if launches move in on the small pockets that hold these fish, will really hurt the smallmouth population."
Will these changes, with good intentions, have unintended consequences? Will the DNR move from one problem to two?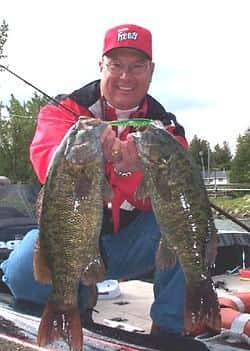 It does sound like a fun fishing day to get on a spot holding smallmouth and just nail them. Nothing better than the fight of a nice smallie, but anglers are great conservationists as a rule. We don't want to ruin a good thing, either.
Anyone would enjoy a vacation to target either smallmouth or walleyes on Mille Lacs. In spite of all this 40-year-low conversation going on, you will easily catch 50, 60, or even 100 walleyes a day. Really nice-sized walleyes, too, you'll just have to catch-and-release most. The possession limit for walleyes this year is two per person per day, keeping only walleyes in the 18 to 20 inch slot, except one could be 28 inches or more.
Jim Da Rosa has guided for smallmouth on Mille Lacs for eight years. "The DNR fails to realize this is a world-class smallmouth fishery," shared Da Rosa, "and should be managed as one." Check out www.fishsmallmouthbass.com.
A petition seeking signatures will help communicate to the DNR that smallmouth bass anglers do care about the population on Mille Lacs. You can sign the petition here, even if you are not a resident of Minnesota. http://savemillelacssmallies.com/sign-petition/.
Kind of like Mom putting a picture by a smallmouth on the fridge…finally.
K.J. Houtman is author of the award-winning Fish On Kids Books series, chapter books for 8-12 year olds with adventures based around fishing, camping, and hunting. Her work is available at Amazon and local bookstores. Find out more at fishonkidsbooks.com.
First image by George Liddle, second image courtesy Bear Solis Outdoors, third image courtesy Jim Da Rosa
What's Your Reaction?
[reactions id="319247"]