Beginning in August, the Pursuit Channel will introduce its newest tagline – "We Deliver the Outdoors" – through an ingenious brand-identity television commercial campaign starring the popular funnyman Fish Fishburne.  The commercials follow Fishburne as he rattles down the quiet streets of Glenwood, Alabama parceling boxed pieces of Pursuit Channel to the town's bucolic residents from the roll-door cargo vault of a superbly retro delivery van.
"The addition of a professional, approachable outdoorsman like Fish Fishburne as one of this network's primary spokesmen is representative of our continued commitment to quality outdoor programming," said Pursuit Channel Founder and CEO Rusty Faulk. "All of our loyal outdoor viewers will recognize Fish from his time as a television and outdoor event host.  In essence, Fish was project-ready for this network's new 'We Deliver the Outdoors' tagline, which recognizes and honors the spirit of passionate, salt-of-the-earth folks who share and enjoy our many outdoor blessings," Faulk concluded.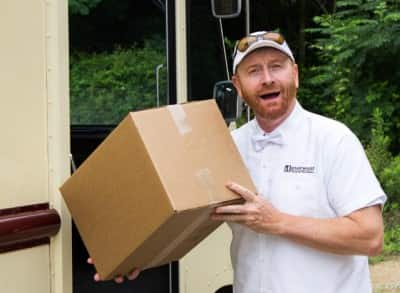 Decades ago, Fishburne joined the professional bass fishing circuit under the "Team Grandma" banner, honoring the contributions of his first sponsor, his grandmother, Kathryn Rounsaville.  Fishburne turned that into a 12-year career, winning B.A.S.S. qualifying tournaments and competed in four Bassmaster Classics.  He followed those successes to outdoor television, hosting the likes of ESPN's Bassmasters, ESPN Outdoor Radio, TNN's Go Fish and the Outdoor Channel's Ultimate Match Fishing series.  His television work has received positive reviews from the Chicago Tribune, the San Francisco Examiner, the Baltimore Sun and TV Guide.
Best of all, Fish, as he is known from New York to his native Tennessee, is a passionate youth recruiter for the out-of-doors, with the energy, timing and humor to be called one of the very best funnymen that the outdoor lifestyle has ever spawned.
"I'm a huge fan of the Pursuit Channel and I think this campaign delivers a clear message in an engaging and fun way," said Fishburne. "There were no actors used in these Pursuit Channel commercials; this is as real life, real people and as great outdoors as it gets."
Dallas, Texas-based 41 Entertainment has been charged with producing these brand identity announcements, which were created to highlight Fish's unique personality.  41 Entertainment has a rich history in the production of high-quality television.
Wm A. Landers, President of 41 Entertainment adds, "We at 41 are proud to be working with Fish and the Pursuit team in launching this new campaign. We are confident that this will be the furtherance of our successful working relationships."
Images courtesy Pursuit Channel
What's Your Reaction?
[reactions id="333357"]