From rod lockers, folding chairs, rod holders and new in-shelter lighting, Clam™ offers several new products to keep ice fishing gear protected and organized and anglers comfortable. Two Rod Lockers are new this year with a single and double-sided version. Fits eight or 16 rods plus the big outside pocket stores a tip up. The 600-denier super tough fabric, along with a rigid frame, protects gear during storage and transport. Three additional side pockets provide plenty of storage for tackle or accessories. The heavy-duty, adjustable carry straps offer comfortable, padded handles. Velcro straps in interior compartments keep gear securely in place for safety. Whether storing gear in the garage, the house or the truck, the Single or Double Rod Lockers offer top quality craftsmanship to keep gear protected and well organized.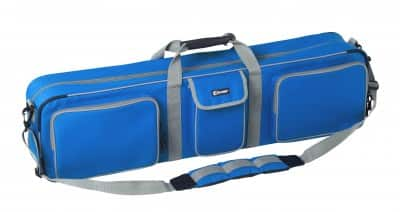 New this year, rod tubes are a great option for packing light and packing rods individually. Available in two lengths, 32-inch and 42-inch, the 2 ¼-inch diameter tubes protect an individual rod and the padded reel sleeve protects the reels while in storage or transport. An adjustable and removable shoulder strap, along with two gusseted and zippered pockets, makes wise use of space for organizing gear. Two Velcro straps aid hanging the rod tube from a canopy pole in the trap-style shelter providing value as a rod holder, too. The 44-inch version fits up to 42-inch rods easily. The MSRPs are $24.99 for the 30-inch version and $29.99 for the 44-inch version.
New rod holders in a single or four-position style offer in-shelter or wheelhouse application, and in the case of the single rod holder, bucket application when used with the bucket bracket. Made of strong polypropylene and steel, the single rod holder affixes to either bucket or directly to the shelter base. Both systems can flip 180-degrees to either lock the reel in a center-oriented position or open for full reel movement. The four-position rod holder can store rod and reel combos completely vertical or at an angle.  MSRP is $9.99 for the single and $19.99 for the four-position rod holder.
Clam's new Light Sticks offer a hands-free LED lighting system at center height of a shelter, mounted next to or directly in line with the pole system. Extremely bright with eight LED bulbs and 560 lumen output, Light Sticks last for days when hooked into a battery system. Flexible power supply with 7-, 8-, 9- or 12-volt batteries. Adjustable to the angle of your choice, the Light Stick comes in two different pole diameters to merge in perfectly with your shelter. Maintain all your fishable space by replacing a center pole or, attached with "S" hooks provided, the Light Stick nestles up tight and tucks out of the way to maintain full head room clearance.
The new Tri-Pod Chair is an ultra-light folding chair with a padded backrest. The clever, triangular chair seat is extremely comfortable and made of heavy-duty reinforced 600 denier fabric with a super-strong, powder-coated steel frame for stability. Carry bag included, the Tri-Pod Chair weighs only six pounds and is the perfect chair for both ice fishing and in a hunting blind.
"We pay attention to the details and all the different ways anglers spend their time on the ice," shared Nick Chiodo, Director of Marketing for Clam Outdoors. "That's why you see great accessories like these in our new products because we focus on every comfort and we know how important it is to take care of ice fishing gear and keep it all organized."
For more information on Clam Outdoors go to http://clamoutdoors.com.
Images courtesy Clam Outdoors
What's Your Reaction?
[reactions id="337671"]