The new Warrior shelter from Clam is designed for the angler that likes to mount their auger on the shelter and then sled or ATV to new spots. A special mount keeps the auger at the top of the gear yet securely fastened. Two metal brackets plus two straps provide security when traveling through deep snow or harsh conditions on the ice. Folding, padded bench seats fit two adults or one adult and two small children easily. The Warrior is designed for the stop-and-check-often angler as the auger is never buried, rather on top and easy to reach even when travelling.
"With the auger on top it is the first thing off to start drilling holes, even before removing the cover," shared Steve Geertsen, President of Clam Outdoors. "Our industry-leading engineering team did a great job on this product. The bench seat is perfect for families, too."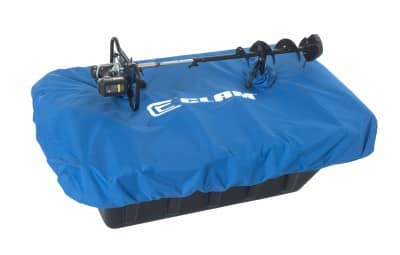 A custom travel cover is included as well as Rapid Pole Slide Extreme (RPSX) spreader poles. The fishable area is a whopping 20 square feet with center height of 74" and a full set up size of 90" x 58". Manufacturer's Advertised Price is $529.99.
New this year is the entry-level Fish Trap™ Tundra shelter, appealing to the price-sensitive shopper that still needs a little more room than a single-person Fish Trap. This instant portable two-person fish house is made with 600-denier fabric, two adjustment covered bench seats and Rapid Pole Slide Extreme (RPSX) spacing system. The house measures 96"x73" when set up with a center height of 75" providing 30 sf of fishable area. The MSRP is $399.99.
"Even though this is an entry-level shelter, the Tundra is every bit as good as any Fish Trap product," shared Geertsen. "We just simplified the interior to make it more affordable. An angler can add upgrades at a later time. There's plenty of fishing room in front of your feet."
For more information on Clam Outdoors go to http://clamoutdoors.com.
Images from Clam Outdoors
What's Your Reaction?
[reactions id="337699"]