Merino specialist Icebreaker has unveiled its first ever hunting and fishing collection. Icebreaker pioneered the merino wool clothing outdoor category in 1994, and its new hunting and fishing layering system is designed to cope with rigorous wear regardless of weather conditions and exertion levels.
The Fall 2013 product line consists of base layers, mid layers, jackets, socks, and accessories for men and women. Mossy Oak's Break-Up Infinity® camo pattern is offered throughout the collection. Unlike synthetics, Icebreaker merino is an 'active' fiber that works to keep your body at its ideal temperature in all conditions – whether you're stationary hunting from a tree stand at the end of the season, or hunting in open country in mid summer.
Icebreaker merino combines all the best performance qualities of traditional wool, synthetics, cotton and everything else you've even worn hunting or fishing:
Warm in the cold. Icebreaker merino uses moisture absorbed from the environment to generate warmth, and its crimped fibres create millions of air pockets that prevent body heat from escaping. Thin merino layers work together like a single lightweight garment, locking in heat when you're walking through snow to your favourite hunting spot or sitting by a riverbank on a gusty day.  Stay warm, and stay in the game.
Cool in the heat. In warm weather, Icebreaker merino pulls moisture to the fabric surface to evaporate before it becomes sweat. You'll keep your cool even after a hard hill climb.
Comfortable. Traditional wool itches because its coarse fibers push into your skin, but ultrafine Icebreaker merino fibers bend without itching or prickling. They're as soft as silk.
Dry. While cotton holds rain or sweat against the skin, leaving you feeling chilled in the cold or clammy in the heat, Icebreaker merino can absorb 30% of its own weight in moisture before you even start to feel wet. Nothing ruins a fishing trip in winter faster than getting wet, but you'll stay dryer and warmer in Icebreaker merino.
Odor resistant. Icebreaker merino resists odor naturally, without chemicals. You won't smell after a day – maybe even a week – in the field, and your scent will be masked to prey.
Freedom of movement. Icebreaker merino moves with your body and gives you maximum flexibility, whether you're holding a rod or a gun. You'll have full range of motion, especially when you're taking a shot.
Quiet. Icebreaker merino is a silent fabric that stays close to the body. There's no swishing or rustling while you walk, even when you make sudden movements.
Low bulk. Icebreaker merino gives you warmth without weight. Thin layers won't weigh you down, especially when you need extra precision to pull back a bow or flick a rod across a stream. And as Icebreaker merino packs down to nothing in a backpack, it won't add to your load.
Easy care. Once you're home from the woods, just throw your Icebreaker merino in the washing machine. It dries in a flash on the line.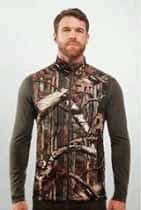 To layer Icebreaker, start with a thermal base layer for warmth and comfort. Choose from long and short-sleeve tops, zip-neck tops, pants and leggings. There are camis and boy shorts for women, and boxers for men.
Next, add a highly insulating mid layer. The Sierra range of vests, zipped tops and hooded tops for men and the Cascade range of vests, zipped tops and hooded tops for women are made from Icebreaker Realfleece – nature's alternative to a synthetic fleece. Brushed merino Realfleece gives all the warm of a heavy sweater but without the bulk.
Our warmest-ever mid layer, the Legend Long Sleeve Zip for men, also made from Realfleece, is ideal for ice fishing or late season hunting.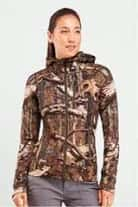 Over your mid layer, add a protective outer layer to keep wind and rain out and warmth in. The durable Kodiak Hood for men and Arctic Hood for women combine Realfleece with nanotechnology to repel water, mud and blood.
Finally, accessories to protect your extremities. Icebreaker's extensive range of hunting and fishing socks keep your feet cool, dry and odor-free in the outdoors. The range includes hiking socks, liners and mountaineering socks – perfect inside a boot or a wader.
Icebreaker socks have smooth seams and advanced construction features to prevent the blisters and chafing that might slow you down over a long day by the river or in the field. We're so confident our socks are the most comfortable on the market that we offer a lifetime money-back guarantee.
Icebreaker gloves and mittens keep hands toasty, but are thin enough to feel the pressure on a trigger, while non-itch beanies, balaclavas and neck chutes prevent warmth escaping from the head.
Images courtesy Icebreaker
What's Your Reaction?
[reactions id="341666"]