DoubleTap Defense, LLC, a firearms design and manufacturing company, announces the addition of new calibers for the patented DoubleTap Tactical Pocket Pistol to include the .410/.45 Colt and the .40 S&W. DoubleTap Defense will unveil the new calibers at the 2013 NASGW Expo & 40th Annual Meeting in Grapevine, Texas.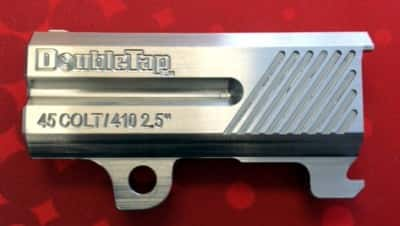 The new .410/.45 Colt and .40 S&W calibers will beavailable in the DoubleTap pistol model and as a Barrel Conversion Kit. The new .410/.45 Colt caliber for a 2.5-inch cartridge has become a popular self-defense and home protection cartridge readily available and affordable for the average citizen. The new calibers expand the variety of ammunition that can be used on the aluminum or titanium 5/8″ slim, no-snag frame and allow customers a greater choice in preferred ammo usage for their personal protection.
DoubleTap Tactical Pocket Pistol .410/.45 Colt and .40 S&W MSRP:
.410/.45 Colt T

.40 S&W T

.410/.45 Colt A

.40 S&W A

Frame:
Titanium
Titanium
Aluminum
Aluminum
MSRP:
Non-Ported $729.00
Non-Ported: $729.00
Ported: $799.00
Non-Ported $499.00
Non-Ported: $499.00
Ported: $569.00
Images courtesy DoubleTap Defense
What's Your Reaction?
[reactions id="348041"]