Meprolight – a leading manufacturer of electro-optical and uncooled thermal sights and devices, fire control systems, LRF, and night vision solutions for military, law enforcement, and civil applications – will present its portfolio of solutions for the first time at Defense & Security 2013, taking place in Bangkok, Thailand, November 4-7, Israel Pavilion, Booth # G-41.
The company will display its electro-optical sights and uncooled thermal sights and devices, laser range finders (LRF), and night vision solutions.  Among the solutions to be spotlighted are:
MESLAS – MESLAS is a compact, lightweight, programmable, multi-function, fire-controlled sniper's riflescope 10×40 system that incorporates a single-pulse laser rangefinder operating in an eye-safe spectral range (invisible to night vision devices), a sniper's telescope, and a fire-control computer. When measuring distance, it automatically calculates the elevation angle according to the ranged target accurate adjustability.  The robust system withstands all environmental conditions as well as shocks and vibrations, and offers optional measurements of temperature, humidity, and axis angle sensor for ballistic calculations.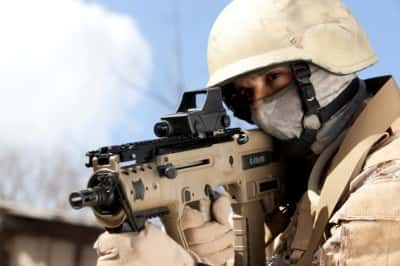 Red Dot Weapon Sights – MEPRO M5 is a compact and lightweight, multi-purpose red-dot sight weighing less than 300 grams, specifically optimized for "both eyes open" shooting. Enabling thousands of hours of operation, the energy-efficient sight uses a single "AA" battery and features an auto shut-off mechanism. An ideal solution for light machine guns, assault rifles, and sub-machine guns, the M5 features an enlarged 33 x 20 display with an option for 1 or 2-MOA red-dot aiming point and four variable brightness settings for use in every type of tactical scenario.
The MEPRO 4X is a compact and lightweight (350gr) combat 4x day scope with wide field of view and auto shut-off after one hour. Utilizing a quick release Picatinny adaptor, this MIL-STD sight provides five different brightness settings for target acquisition in any tactical situation, and is fully adapted for the MEPRO XT4 clip-on.  Energy-efficient, the sight operates with a single standard battery and is equipped with a unique energy saver feature for extended operation.
The NOA XT4 is a compact and lightweight, dual-use, uncooled Thermal Weapon/Surveillance clip-on with less than 3 seconds start time. Designed for Armed Forces and Law Enforcement Special Forces, it provides easy thermal clip-on for mounting in-line with a combat 4x day scope or used as a handheld surveillance device. Enabling remote control operation, it includes a motion sensor for advanced power saving.
According to Benny Kokia, VP Marketing and Sales at Meprolight, "We are very happy to participate at Defense & Security 2013 in Thailand. We welcome cooperation and look forward to expanding our activities in this region.  Meprolight invests heavily in R&D in order to provide solutions that stand the test of today's modern battlefields, and answer the needs of our customers to their full satisfaction."
Images courtesy Meprolight
What's Your Reaction?
[reactions id="349420"]