These Realtree camo slippers by Payless will keep your feet warm and cozy while showing off your passion for the hunt. Available in both men's and women's styles, these camo slippers are ideal for lounging around home or hunt camp.
Men's Grant A-Line Slipper – Cozy and durable enough to wear outside, this Realtree MAX-4 A-line slipper from Rugged Outback features a faux suede upper, twin gores for easy on/easy off, fleece lining for warmth, padded insole, and durable outsole.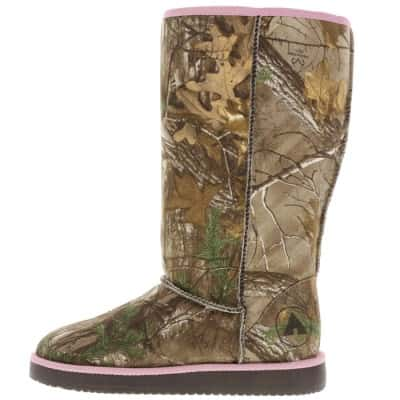 Men's  Mitchell Camo Moccasin Slipper- This Realtree AP Black moccasin slipper features a faux suede upper, traditional boat shoe design with interlaced stitch details, soft faux shearling lining and padded footbed for comfort, and a lightweight, flexible outsole.
Men's Montrose Aftersport Slip-On – This sporty Rugged Outback slip-on, available in Realtree AP Black, features a soft faux suede upper with roomy round toe, twin elastic gores for easy on/off, breathable mesh lining, a padded collar and insole for comfort and a lightweight outsole.
Women's Regan Flat Boot— This laid back favorite from Airwalk, available in Realtree Xtra, features a tall shaft for warmth and style, soft textile suede with raw seams, cushiony faux shearling lining and a lightweight 1″ outsole.
Images courtesy Realtree
What's Your Reaction?
[reactions id="355894"]