Gun Guy Radio travels to Granbury, Texas this week for a tour of the Bond Arms factory and an interesting and entertaining interview with its President, Gordon Bond.  Since it was founded in 1995, Bond Arms has revolutionized the double barreled handgun.  This gun is not your grandfather's Derringer.  Bond Arms has perfected the modular design of this type of handgun and now they are producing the highest quality, stainless steel handguns with interchangeable barrels, custom grips and even handmade holsters.  Although originally designed as a snake gun, Bond Arms handguns now come in a variety of configurations with barrel lengths from 2.5 to 4.5 inches and in calibers from .22LR to 3 inch .410 shotgun shells.
Steve Remy and Reed Snyder spent the entire day at the factory with management and, more importantly, with the skilled craftsmen that build these entirely American made handguns.  According to Gordon Bond, "We've modernized the Derringer and made it safer…. We make a great product, but we really see that there's much more potential.  We strive to have the best customer service that we possibly can."  Bond Arms is on track to fulfill that potential with the development of the Back Up, which is a black frame, with thin, black rubber grip and matte barrels, which is to serve specifically as a back up gun.  The Back Up will be available in several calibers including .45 ACP, .38/.357, and 9 mm.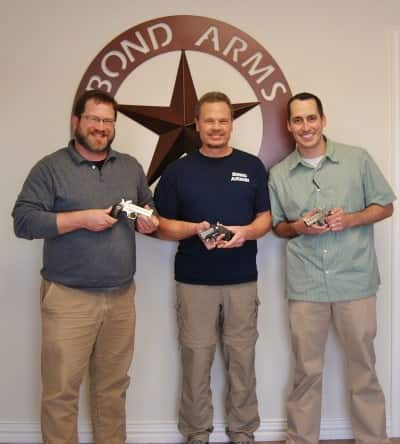 For the Product Spotlight this week, Brownell's Paul Levy tells GGR listeners about the MGW Sight Pro sightmover.  MGW has made gun specific sight movers for quite sometime, but the Sight Pro is a universal sight mover that is capable of moving virtually any handgun sights.  The Sight Pro is used with small shoes that will be used for a specific type of gun. Although this is a product intended for gunsmiths and armorers, it can be used by anyone who is willing to read the directions and watch the YouTube instructional video.  Paul has full confidence in this MGW product, "It's a really impressive tool, especially for a universal tool."  Enter the monthly Brownell's Product Spotlight Giveaway by going to www.gunguyradio.com/winner.  The next giveaway will be five winners of the Brownell's BVL tactical flashlight.
Lastly, the firearms industry's biggest event is just around the corner.  During the SHOT Show, GGR and other shows across the Firearms Radio Network will be putting out an avalanche of video content on a dedicated website.  Many of the FRN personalities will be on location in Las Vegas, Nevada for the entire show. FRN will have an unprecedented amount of content, from product launches to industry insider interviews.  Stay tuned for the web link where all of this information will be made available.
Gun Guy Radio has reached a major milestone this week with its 100th podcast.  There are so many people at the Firearms Radio Network that have helped make this possible, but the most important contributors are our listeners.  Anyone can listen to this episode at www.gunguyradio.com/100/ or subscribe to the show on iTunes to listen to any of the ninety nine prior episodes.  Visit the Firearms Insider Community at www.firearmsinsider.tv.
Image courtesy Gun Guy Radio
What's Your Reaction?
[reactions id="357017"]