MINOX presents a new line of the successful ZA models from their riflescope range. Designed and engineered in Germany and assembled in the USA, the new ZA 5 HDs are specifically geared to the needs and requirements of the hunter and shooter.
They offer an exceptionally high degree of precision, quality and reliability; all are equipped with the Rapid Target Acquisition system, and HD glass, with some models also available with illuminated reticles.  The new ZA 5 HDs are ideal for all forms of hunting and shooting, offering users an even faster target acquisition at the crucial moment when needed.
Equipped with a 30mm or 1" inch tube (model dependent) and a 5x magnification range, the ZA HD line of riflescopes are suitable for all applications and budgets. The RTA system enables the user to quickly assess the full field of view and to find the target, thus ensuring that full concentration is maintained on the target.  The RTA also provides a significant reduction in vignetting of the light beam on the field of view, creating a clear image and an undisturbed full field of view.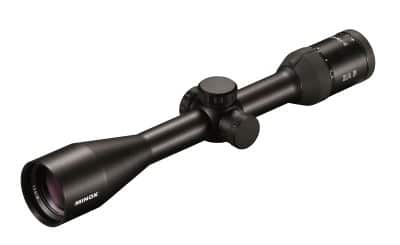 Models of the new ZA 5 HD line featuring an illuminated reticle are equipped with a brilliant red dot in 6 levels of brightness within the precise reticle, with off steps in between each intensity setting. Thus, the illumination level can be conveniently pre-set correctly.
An extended eye relief of approximately 4 inches (100mm) offers a great benefit for users who wear glasses and also when using magnum calibers.
All new ZA HD's come complete with variable zoom settings and easily adjustable eyepieces.  MINOX's proprietary M* coating, (a coating of 21 layers adapted to the different wavelengths of visible light) and HD glass facilitates high contrast, crisp detail and natural color rendition.  The special HD glass used in all models allows anomalous partial dispersion, which improves color correction and higher rates of light transmission.
The high quality optics and reliable precision mechanics are protected by a shock resistant housing, composed of aviation-grade anodized aluminum. Argon gas purging prevents fogging and reduces corrosion on the inside of the scope.
Image courtesy MINOX
What's Your Reaction?
[reactions id="358089"]