Skull Bound Scent Products presents Pro/Field Staff Team
Pro Staff Manager Becky Lou Lacock is pleased to announce the SKULL BOUND SCENT PRODUCTS TEAM! Several years ago Skull Bound TV Host Jana Waller  was asked to field test some scent products and with incredibly successful results, she agreed to endorse a line of scent control and attractants labeled "Skull Bound Scent Products".  Chris Dale of Persist Scents,  has been moving forward with a full line of unique products to be used on various types of hunting and trapping. "The results of this product line are unprecedented in my experience in the field of over 20 years! " Jana Waller, Host Skull Bound TV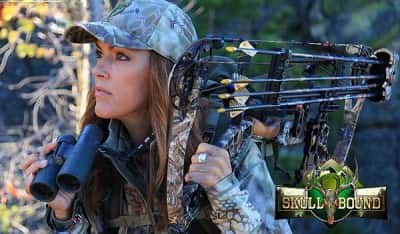 Pro Staff Jana Waller of Montana
Jana Waller has been a hunter and angler for over 30 years, hunting all across the U.S., Africa, Canada and Alaska. Earning a Bachelor's degree in Public Relations and Marketing, Jana has blended her passion for hunting and conservation with her communications background, actively promoting women in the outdoors and undeniable relationship between hunters and conservation.
Jana has also appeared on numerous national television shows, including ʻInvasion Of' on Animal Planet, Outfitter Bootcamp on Outdoor Channel, and Ammo & Attitude on NBC Sports. Currently, Jana is hosting and co-producing her own hunting adventure show Skull Bound TV on The Sportsman Channel which is in it's third season.
A ʻBONE-IFIED' skull artist, Jana has been painting and beading European skulls for over a decade for hunters across the country. She donates many of her skull creations to her conservation chapters to raise money to protect and preserve our herds, habitat and hunting heritage.
Jana is an active member of Rocky Mountain Elk Foundation, Safari Club International, Mule Deer Foundation, National Wild Turkey Federation, Sportsman For Fish & Wildlife, and the The National Rifle Association. Residing in Montana, Jana is also finds time to do some freelance writing. Her articles have appeared in Bowhunter, Predator Xtreme, Rack Magazine, Petersen's Bowhunting, Mule Deer Foundation Magazine, Turkey Country, Texas Bowhunter's Journal, Buckmasters, as well as online at CNN.com, Women's Outdoor News.com, Bowhunting.net, and Womenhunters.com.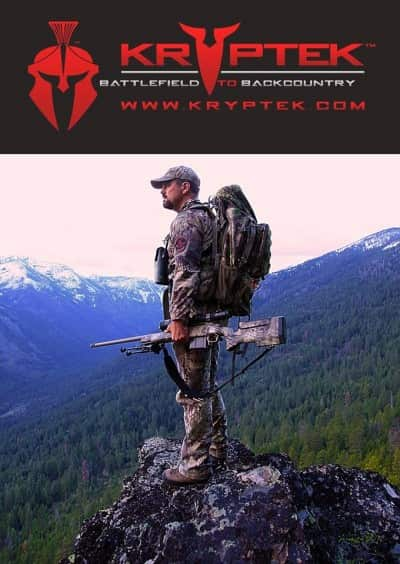 Pro Staff Jim Kinsey of Montana
Jim Kinsey, A.K.A. SKULL BOUND TV's "Cameraman Jimmy," has been in the filming community now for over fifteen years, and has contributed footage to clients needing unique content for their vision and broadcast productions. His work can be seen in Steve Baldwin feature films as well as Nat Geo's Ultimate Explorer; and on the History channel, Discovery Network, and Animal Planet. Currently Jim is the Executive Producer of Skull Bound TV, which airs on the Sportsman Channel's Big Game Wednesday Night Block.
When not filming, Jim writes feature articles about his hunting adventures for Sports Afield magazine, Safari Club International, Bowhunter, Rack, Buckmasters, Petersen's Bowhunting, and Bowfisher magazine. You can read many of his articles online at Outdoorhub.com, the Sportsman channel blog, PredatorXtreme.com, and his own website, KinseyHD.com.
"I have helped develop several shows that are currently running on Direct TV, Dish Network and Cable. Working as a Director of Photography and Executive Producer over the last 15 years has prepared me for anything in the broadcast arena." — Jim Kinsey – Kinsey HD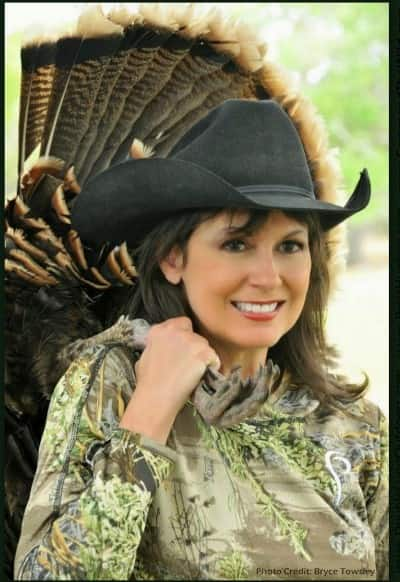 Pro Staff Becky Lou Lacock of Texas
Becky Lou "Becky Lou Outdoors" has been active in the Outdoor Industry for several years, and has successfully established personal and professional relationships with many leaders in the industry. She works closely with many organizations and manufacturers across the nation to effectively promoting their products and services. Becky also volunteers for programs and workshops that teach and inspire women about outdoor activities.
Becky Lou is passionately involved in the media by writing various articles, product reviews, and making television appearances. She is currently co-host of Double Lung Outdoors TV. As a professional outdoor writer, she has been published by renowned media outlets in print and online such as InterMedia Outdoors, Game & Fish Magazine, Sportsman Magazine, and OutdoorHub.com.
Becky Lou is ProStaff manager of Skull Bound Scent Products team, and she also serves as Pro/Field Staff with several companies including Commando Call Products, Sure-Loc,  HerCamoShop.com, Prois Hunting Apparel and Trophy Bag Koolers.
"I learned early on in my hunting experiences, that scent control was very important. "After all the hard work and effort I put into hunting, the last thing I want a deer to do is BLOW my hunt! Scent Control just makes Sense!" –Becky Lou Lacock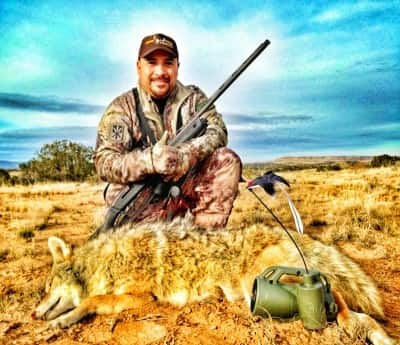 Pro Staff John Serna of New Mexico
John Serna has been hunting with family and friends all his life.  As a young adult, John took his passion for hunting to new levels but investing time and effort toward the development of his skills. But he will be the first to state that he is not a trophy hunter, he's just a hunter. John shares his passionate hunting lifestyle with others through his Gameface Addiction apparel line and Gameface Addiction TV.
John is a US Armed Forces veteran, a father, a husband, and a working professional.  Somehow, he finds time to hunt nearly every month of the year in multiple states. This is the great part of John's hunting story, how he integrated hunting into his family lifestyle and manages his time and budget to ensure he always has time to hunt. Just "being there" is the most important thing to John. "If you're there in the middle of it all and you've done the work, you have a chance. You can't ask for more than that.  But being there in the experience is worth the trip every time.  If the Lord blesses you with an animal, that's even better." — John Serna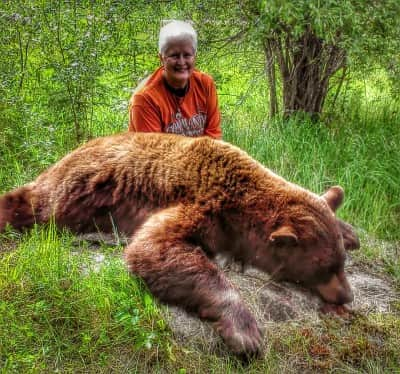 Field Staff Pat Hendrixson of Indiana
Pat grew up in Missouri. Being an only child on a farm, she considered herself a tomboy. She would spend her spare time playing baseball with the boys at school, riding her horse, or squirrel hunting with her single shot .22 rifle. Later in life she moved to Kentucky for a few years, then became the proud owner of property in the state of Indiana, with lots of acreage that allowed her to continue her hunting and outdoor activities.
Pat is very supportive of all conservation efforts, and has served as President of the local NWTF (National Wildlife Turkey Federation) since 2006. She has harvested many different species including whitetail deer, mule deer, moose, bear, caribou, elk, antelope, and waterfowl. She also holds three NWTF World Slam Titles.
Pat has always believed that proper scent control was very important to avoid detection in the field, and stands firmly behind the quality and effectiveness of Skull Bound Scent Products. "With all these animals using scent control is very important to cover your scent either from the animal detecting you or to keep them from alerting others of your presence. Skull Bound all the way!" –Pat Hendrixson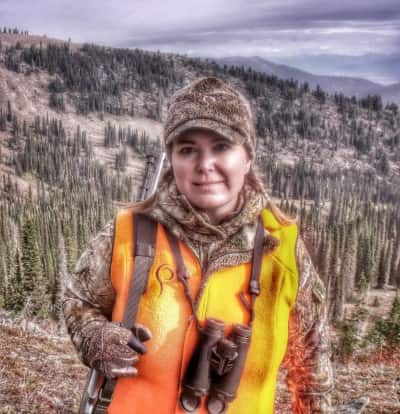 Field Staff Shannon Rasmussen of Idaho
Shannon Rasmussen resides in a quaint Idaho community, surrounded by picturesque mountains, with her husband Shane, and their three sons, Tyler, Mason, and Cooper. Shannon was inspired to hunt by her husband, and, with there three sons, hunting and the outdoors has become a very significant part of her life. She has successfully harvested bull elk, mule deer, whitetail deer, as well as participating on many black bear hunts with her husband. Notably, Shannon successfully harvested 222" mule deer that was featured on the cover of Eastman's' Hunting Journal Oct/Nov 2012 edition.
Shannon is also a writer. She has had stories published in MDF magazine, and was pictured in Boone & Crockett's Fair Chase magazine. She contributes to several blogs, and has been featured on many websites including Prois Hunting & Field Apparel for Women, and BearHunting.us.
She is a member of The Mule Deer Foundation, a volunteer for the Hell's Canyon Chapter of the Rocky Mountain Elk Foundation, and is on the Event Staff for Prois Hunting & Field Apparel for Women.
Shannon spends free time fishing the many beautiful lakes, rivers, and creeks in Idaho. She also enjoys competing in 3-D bow shoots, a hunting style she picked up after several years of joining her husband on his bow hunting adventures and deciding it was time for a new hunting challenge. "I am a huge fan of Skull Bound TV and Jana Waller. She is such an inspiration to female hunters, and I am incredibly honored to be associated with The Skull Bound Scent Products." — Shannon Rasmussen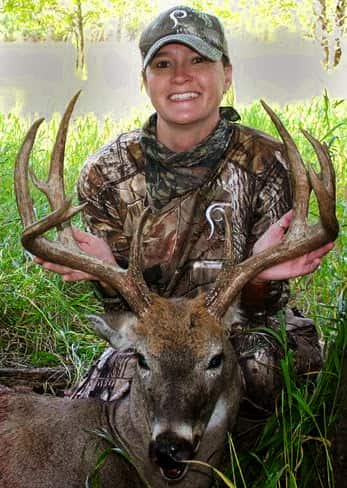 Field Staff Kim Blaskowski of Montana
Kim Blaskowski was born and raised in wonderful wilds of West Virginia, and has remained a ridge runner her entire life. In 2008, Kim and her two children made a major move west to Montana, where she met her husband, Chris, who sparked her passion for bow hunting. For their "huntingmoon," the two traveled to South Africa in 2011 and harvested 10 animals on a 10 day bow hunting safari. If that doesn't say they love to hunt, then what does?
In 2012 Kim qualified as staff member to several organizations including Prois, Simmons Shark Broadheads, Rocky Mountain Athlete, and BowTech Archery. Kim also serves as a regional representative for Montana Bowhunters Association. "I don't claim to be the best shot with a bow but I love the challenge of hunting with one!" –Kim Blaskowski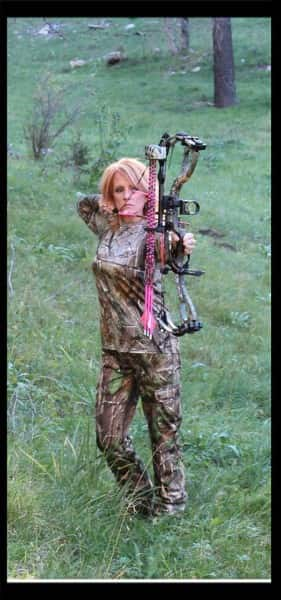 Field Staff: Helen Butt of New Mexico
Helen lives for hunting, fishing, and life in the great outdoors. Her father instilled a love for the outdoors by including she and her siblings on hunts for quail, duck, wild hog, and rattle snakes. Helen and her husband are committed to passing their love and passion for hunting and the outdoors to their two boys. Helen has hunted with firearms for most of her life, and has picked up the bow for an added challenge.
She is currently a member of NWTF, RMEF, and NRA and are active in the local Youth 4-H Shooting Sports and Hunter's Education Instruction for the New Mexico Game and Fish Department.
Helen believes Scent Control is vital when hunting. "Turkey hunting has been one of my biggest challenges getting back into hunting, and next to an elk, believe it or not, a turkey is right up there on my bucket list! This year will be my first year bow hunting. I believe Scent Control is vital while hunting! I got to use Skull Bound Scent Products recently and can testify that it is AMAZING!" — Helen Butt

Field Staff Allyson "Ally" Cherry Neal of Tennessee
As her father's only daughter, Ally grew up around guns, hunting, and fishing with her two older brothers. Living in Montana for ten years, Ally and her family traveled throughout much of Montana, Wyoming, and Idaho hunting elk, mule deer, whitetail deer, turkey and pheasant.
Later moving to Tennessee, Ally suffered a serious accident that forced her to take a "life break". Once she fully recovered, Ally moved on with her life, and now is married with two beautiful children.
"My goal is to bring other women and children closer to enjoying the outdoors. Whether it is at shows or aiding them in hunts, just seeing the joy on their face is a wonderful feeling in its own. The peace and tranquility of being outside in the woods is worth it all. Every hunter may miss, but if you don't make the attempt, you're missing a lot more!! " –Allyson "Ally" Cherry Neal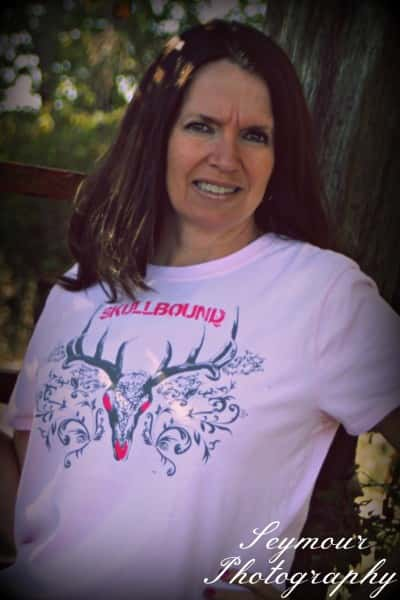 Tina McAllister of Missouri
Tina lives in Clinton, MO. Being an avid hunter and fisher, she has the best of both worlds living between Truman Lake and Lake of the Ozarks; with private, public, and conservation ground for hunting.
Tina grew up in a family where hunting was a way of life, and after her kids were grown, she decided to take her outdoor activities to another level. In this new effort, hunting and outdoor activities are a family event, to include her parents, sister, children, grandchildren and husband. Tina has spread her enthusiasm by encouraging everyone she meets to try hunting or fishing. She also loves cooking, tractor pulling, and studying wildlife.
Tina has been a sales representative for Skull Bound Scent Products since early 2013 and is a stanch believer and supporter of the products quality and effectiveness! "Our family gets great enjoyment in taking someone that has never hunted or been never been fishing and teaching them how, and then seeing them get there first catch or kill."  –Tina McAllister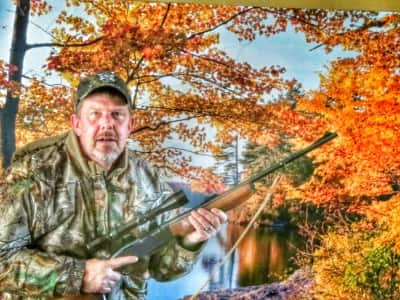 Joe Jakubik of Illinois
Joe and his wife Renee have owned Smart Targets LLC for the past four years. Through their business they have successfully developed and marketed their own products, as well representing many other companies and products. Originally focusing mainly on tactical firearms, Joe has broadened his horizons and established many close relationships within the outdoor industry.
Joe grew up in Northern Wisconsin spending most of his time at a hunting and fishing resort owned by his Uncle. Joe went along with his Uncle on many deer hunts even before he was old enough to hunt. Joe began waterfowl hunting later in life, but his true passion is deer hunting. "Whether it be bow or rifle, there is no greater rush than watching a deer come in and waiting for just that right moment to take the shot!" — Joe Jakubik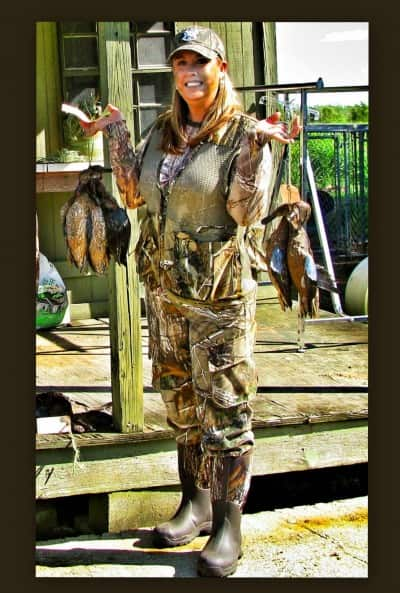 Renee Jakubik of Illinois
Joe and his wife Renee have owned Smart Targets LLC for the past four years. Through their business they have successfully developed and marketed their own products, as well representing many other companies and products. Renee grew up in the outdoors, participating in lots of camping, fishing, and hiking, but she is a relatively new-comer to hunting. She went on her first hunt this year in Louisiana and bagged several teal.
Renee now plans her year around the next hunt be it waterfowl, hogs, or deer. Her enthusiasm is contagious, and she is always ready for the next adventure. Though she is a natural waterfowl hunter,  her goal is to experience all aspects of the hunting. "Joe and I have begun distribution of Skull Bound Scent Products and we are extremely excited about working with everyone to promote it to the world! Skull Bound Scent Products are great and we are excited to be a part of it." –Renee Jakubik
Check out our full line of products at Skull Bound Scent Products/Persist Scents and follow us on Facebook at Skull Bound TV and Skull Bound Scent Products.
Images courtesy Becky Lou Lacock
What's Your Reaction?
[reactions id="363242"]