Comfort, durability and efficiency have now hit the water as Millennium revitalizes the marine industry with innovative products you've been waiting for.
Knowing that comfort is essential for enjoying a day on the water, Millennium Marine has designed the patented comfortMax Seat for years of solid use. Each seat is constructed with a breathable fabric that is UV-resistant for protecting your product from such elements as sun, rain and the morning dew, all the while preventing unwanted mold, mildew and dry rot often experienced by the competitors' products.
If a folding chair back is what you are looking for, then look no further than the B100. If lumbar support is what you desire without the folding chair back, the B200 affords you just that.
Lean and cast all you want with the B200 and B300 while experiencing better visibility, a flatter fold than the competition and a mount designed to fit any boat seat pedestal. From their lightweight 19.5lb aluminum frame to the 400lb seating capacity, the Millennium Marine B100, B200 and B300 provide a construction and design unlike anything you've yet to experience. Better yet, all seats come with a 3-year warranty, although it's doubtful you will need it.
Similar to the B100, the SW100 by Millennium Marine has all the great features found in the B series with enhancements vital to saltwater fishing equipment, such as anodized aluminum construction to provide added protection against the elements.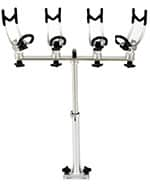 While the Millennium Marine seating is in a league by itself, you don't want to overlook the R100 fishing rod accessory constructed of anodized aluminum. Great for salt and freshwater, this design easily accommodates four rod heads with its 24″ crossbar and its smooth and easy pole angle adjustment. The patented Spyderlok Technology ensures tight, secure locking angles enabling you to enjoy your time on the water, whether you are pushing or pulling crankbaits, long lining or trolling at your desired speed.
To put it simply, from the 360-degree rotation and rod holders, to the spider-rigging design found in the R100, this piece of equipment is outfitted to handle whatever you throw at it. The easy two-knob removal,and the tool-free instructions are added bonuses only making the M100 better. And one can't forget to mention the flush-to-the-carpet mounting plate design, forever ridding you of painful stumped toes.
Millennium Marine, just when you thought time on the water couldn't get any better. For more information visit www.millenniummarine.com.
Images courtesy Millennium Marine
What's Your Reaction?
[reactions id="365503"]