Hunters across North America have experienced firsthand what true innovation means in waterfowl ammunition ever since Winchester Ammunition developed the Blind Side line. In 2014, Winchester Ammunition will expand its high velocity lineup with new offerings in both 12 and 20 gauge.
"Higher velocities mean shorter leads are necessary for fast-flying waterfowl," said Brett Flaugher, Winchester Ammunition vice president of marketing, sales and strategy. "We want to give the consumer what they want, and that's why we're expanding this popular waterfowl load."
For 2014, the new Blind Side ammunition will be offered in the following gauges, shell lengths and shot sizes:
| | | | | |
| --- | --- | --- | --- | --- |
| Gauge | Shell Length | Oz. Shot | Velocity | Shot Sizes |
| 12 | 3½" | 1 3/8 | 1675 | 5 |
| 12 | 3" | 1 1/8 | 1675 | BB |
| 20 | 3" | 1 1/16 | 1475 | 3, 6 |
Blind Side ammunition combines ground-breaking, stacked HEX™ Shot technology and the Diamond Cut Wad in the most deadly Winchester waterfowl load available. The HEX Shot pellets, shaped much like dice, literally stack together inside the shell, resulting in up to 15 percent more pellets in every shell.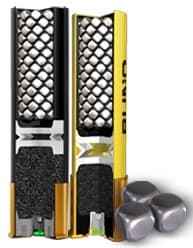 Loaded with 100 percent HEX Shot, hunters get more pellets on target, a larger kill zone and more trauma-inducing pellets than ever before – meaning quick kill shots. The shot is designed to hit waterfowl like high-velocity tumbling bricks – preventing over penetration and maximizing energy deposit and knockdown shock within the bird.
With a company heritage dating back to 1866, Winchester Ammunition was there for the taming of the American West, the Allied Forces' victory in World War II and through the years, millions of fond memories made in the great outdoors. Known as The American Legend™, Winchester is a global leader in sporting, law enforcement, military and personal defense ammunition production. Winchester continues to raise the bar with new products like Long Beard XR turkey and Defender personal defense ammunition.
Images courtesy Winchester
What's Your Reaction?
[reactions id="366729"]