Pheasants Forever (PF) and Quail Forever (QF) recently announced the recipients of its annual No Child Left Indoors® national awards. The distinction is presented to one PF chapter and one QF chapter for their efforts in introducing youth to the outdoors and bringing along the next generation of hunters and conservationists. Chapters honored were the Mississippi Longtails Pheasants Forever chapter based out of Dakota County, Minnesota, and the Central Nebraska Quail Forever chapter, based out of St. Paul, Nebraska.
Pheasants Forever's No Child Left Indoors initiative is the organization's national effort to engage youngsters in outdoor activities such as hunting, fishing and shooting. "Our youth programs are truly a grassroots effort. Last year our chapters held events that reached 50,000 youth in communities across the country," said Cheryl Riley, Pheasants Forever's vice president of education and outreach. "We can't recognize enough their dedication to getting the next generation outdoors."
The Mississippi Longtails Pheasants Forever Chapter
Aside from the chapter's annual contribution to habitat restoration, the Mississippi Longtails have been a leader in youth programs since their founding in 1994. They are actively involved in hosting outdoor youth days, family fun shoots, firearms safety classes, youth mentor hunts, and working with schools on conservation and habitat. In 2012, they received the Minnesota Youth Chapter Award, and along with sponsoring two high school trap teams in Minnesota, they have helped the Hastings High School trap team raise over $100,000 for their MidwayUSA Foundation team endowment. They are currently assisting an additional five high school trap teams.
Most recently they have launched the first high school trap team youth chapter in Minnesota, which will be a model for the country. According to Pete Soukup, the Mississippi Longtails' chapter president, the chapter has discovered that being involved in youth activities has strengthened their chapter ranks as well as created youth conservation leaders.
The Central Nebraska Quail Forever Chapter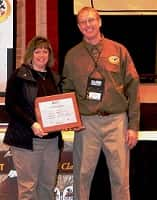 Since its beginning in 2009, the Central Nebraska Quail Forever chapter has spent $75,000 on habitat projects and sponsored three youth dove hunts. What makes the chapter particularly outstanding is that it conducted the organization's first-ever youth pollinator habitat project last April.
Their project enlisted the help of the chapter's local 3rd grade class to hand plant a two-acre pollinator habitat project on Leonard A. Koziol Wildlife Management Area.  The chapter worked with the Nebraska Game and Parks Commission and Prairie Plains Resource Institute to do the site preparation and provide native prairie plugs.  Prior to planting, the chapter purchased conservation curriculum for the entire class of approximately 60 students, so they could learn about the basics of upland habitat and the importance of creating habitat for wildlife.  In addition, they provided each student with a Quail Forever t-shirt and "Whistler" youth membership.
The project was so successful that the chapter intends to make this an annual event, increasing the size of their original pollinator planting each year.  This particular project helped shape Quail Forever's National Youth Pollinator Habitat Program and will serve as a model for other chapters to conduct pollinator projects across the country.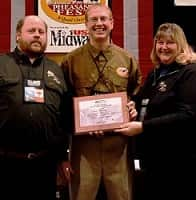 In addition to the chapter awards, Pheasants Forever and Quail Forever announced the first-ever No Child Left Indoors Leadership Award, which was presented to Fred and Lisa Magers of the Illinois Pioneer Pheasants Forever chapter. The husband and wife team started their chapter's youth group, named the Illinois Pioneer Young Guns, in 2008. At its first event 30 youth attended, and today, they have a mailing list of 650 youth as well as an average attendance of over 70 kids per event at their 10-14 events per year.
Other accomplishments include hosting a youth habitat project of over 100 acres, hosting FFA trap shoots and recently starting a scholastic team. In their spare time, each operate their own business, and together have raised two sons, both of whom are Eagle Scouts and actively involved in working with youth programs.
Images courtesy Pheasants Forever
What's Your Reaction?
[reactions id="367836"]