Uncle Josh, the original manufacturer of Pork baits has kicked things up a significant notch by creating a new and improved series of pork baits made out of pork fat and 100 percent natural ingredients. The baits get their scents from leeches, minnows, and real night crawlers providing a lure that caches fish like live bait with none of the problems of live bait.
A few of the benefits include: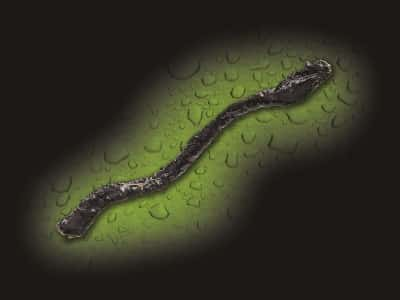 Spend more time fishing and less time rebating hooks
No need to worry about crawlers, minnows, or leeches dying. Pork bait is the "live bait" that never dies yet tastes and fishes like live bait.
One pork bait can catch dozens of fish saving time and money for the angler
Pork Bait takes up less space than live bait
Pork bait can be transported into Canada
Forget about dirt getting ground into your boat carpet
Available in crawler, minnow, and leech flavors
100 percent biodegradable
Made in USA
Pork baits can be cut to "match the hatch"
Because Pork baits stay on the hook longer, anglers have less "down time". There is no more trolling with the end of a live crawler bitten off. This leads to more productive time on the water.
Pork Baits are easy to rig, so the kids can bait their own hook, with no "icky" worm slime
Kurt Kellogg, owner of Uncle Josh, said they created the new Pork baits as an alternative to live bait.
"We wanted a product that catches fish like live bait but doesn't have all the hassle and cost of live bait," Kellogg said. "Let's face it, a juicy crawler will catch about anything that swims- we wanted that type of fish catching ability in a product that is much more user-friendly. Our Pork baits are made with real crawlers, minnows, and leeches but they never die, stay on the look A LOT longer, and are easier to rig."
Images courtesy Uncle Josh
What's Your Reaction?
[reactions id="368137"]