The West Coast SxS racers making up Team ITP combined to earn four total podium spots this past weekend at both the Best In The Desert Mint 400 race in Nevada, and round three of the World Off-Road Championship Series in Arizona. SPR Racing / ITP pilot Dave Lytle won the 850P class at the Mint 400 outside of Las Vegas, while Branden Sims earned a third-place podium finish in the 1900P (Pro) SxS class. In Lake Havasu, Ariz., ITP WORCS racers Kyle Melville and Alfredo Ramirez finished second and third in the SxS 1000 class and Adam Levings took second in the SxS 850 ranks.
"I was happy to see Dave Lytle and ITP Bajacross tires on top of the Mint 400 850P class podium and Branden Sims earn another hard-fought desert podium with the ITP Ultracross tires. In all, we had two teams finish in the top five of both the 1900P and 850P classes using ITP tires," said Pat McGuire, Public Relations / Race Support. "We had a tougher time in the WORCS Pro class race, but to come away with a sixth and two second place finishers in two other classes, with Melville and Levings, is something to be pleased about."
BITD Mint 400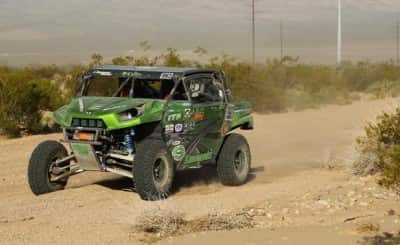 A record number of side-by-side vehicles participated in the 2014 Best In The Desert Mint 400 race in Las Vegas, Nev. More than 50 SxSs, in two separate classes, joined the fracas in the two-lap, 200-miler grouping that featured a total of four classes.
The highly competitive and talented 1900P class saw Lonestar Racing / ITP pilot and 2014 King of the Hammers Pro class runner-up Branden Sims drive to an impressive third-place podium finish (ninth overall in the segment) on 30-inch ITP Ultracross tires. Finishing two spots behind Sims on the same tires, was the No. 1917 Can-Am / ITP / Murray Racing Maverick of Derek Murray, who battled with the leaders for much of the race. Two additional ITP-supported squads also finished in the top 12 of the 1900P ranks. Bush Racing / ITP pilot Brian Bush was eighth, while Dragonfire Racing / ITP racer Lacrecia Beurrier was 11th.
SPR Racing / ITP Teryx pilot Dave Lytle put together a stellar ride to win the 850P class in the same two-lap category. Lytle, who ran 28-inch Bajacross tires on his SxS, ended up 26th overall among all the category competitors. Renee Hudson (Hudson Racing / ITP) used the same 28-inch Bajacross tires on her Kawasaki to earn fourth in the class and a 41st overall run.
WORCS 3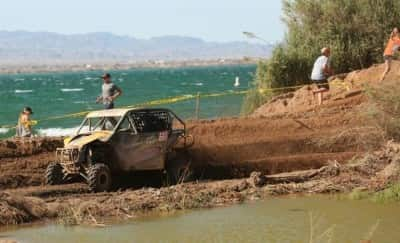 Round three of Rocky Mountain ATV / MC WORCS circuit, presented by Dirtwheels and Motoworks, was held on a revamped course at Crazy Horse Campground in Lake Havasu City, Ariz. A record number of 79 SxS racers in eight classes, took on rough and choppy track complete with sand, lake scenery, wind, as well as a wicked lagoon jump.
The top ITP team finish in the deep and talented SxS Pro class went to Dean Price, who piloted his Polaris to a sixth place finish. Can-Am / ITP / Murray Racing Maverick racer Dave Martinez put in a great race in his new SxS, climbing from 24th to 12th by the end of the race. Del Amo Motorsports / ITP racer Pablo Veglia took 13th and IMG Motorsports / ITP racer John Pacheco was 15th in a class that featured 38 participants.
Veglia's teammate Kyle Melville did very well in his Del Amo Motorsports / ITP-backed Maverick SxS. He took second overall in the SxS 1000 class, running 28-inch Black Water Evolution tires, against 28 other entrants. He was joined on the podium by fellow ITP racer and third-place finisher Alfredo Ramirez, who ran 27's on his Polaris. Shawn Viola and Dallas Hash, also part of the ITP team, finished fourth and sixth, respectively. The final podium finish for WORCS went to SxS 850 class competitor Adam Levings, who took second using 26-inch Bajacross rubbers on his RZR 800.
Images courtesy ITP Tires
What's Your Reaction?
[reactions id="368579"]