Minn Kota/Talon pro Brett Hite is on fire. So much so that you could easily make the statement that he is one of the best bass anglers in the country right now.
Just look at what Hite has done so far in 2014. Competing on both the B.A.S.S. Elite Series and FLW Tour, he currently leads the Angler of the Year standings on both circuits. He also has already qualified for the 2015 Bassmaster Classic at Lake Hartwell and appears to be a shoe-in to qualify for the Forrest Wood Cup.
Out of the gate, Hite won the opening FLW event at Lake Okeechobee in Florida in February. He followed it up with a sixth-place finish at the FLW tournament on Lake Hartwell. And then in the season-opening B.A.S.S. Elite Series tournament on Lake Seminole in Georgia, he amassed a whopping four-day total of 97-pounds 10-ounces to capture the title and $100,500 in prize money.
According to Hite, the keys to his phenomenal start are simple, "Momentum and confidence," stated the veteran pro from Phoenix, Arizona. "Those two factors are big in any sport and the same goes for fishing. That's why I really wanted to start the season off with good momentum."
Hite also prides himself in being versatile. He doesn't always fish with the crowd. He likes to do his own thing.
For instance, at his victory on Lake Seminole, his game plan was different than most of his competitors. "I had made my mind up before getting to the event I wasn't going to try to sight fish like a lot of the other guys," said Hite. "I was going to concentrate on those migration areas where fish were moving in and out to spawn. I targeted pre-spawn and post-spawn fish."
Besides having confidence in his own abilities, Hite said he has great confidence in the equipment he uses.
"I don't want to be second guessing myself wondering whether or not my equipment is going to break down," he commented. "I want to know every product I use is going to perform at the highest level."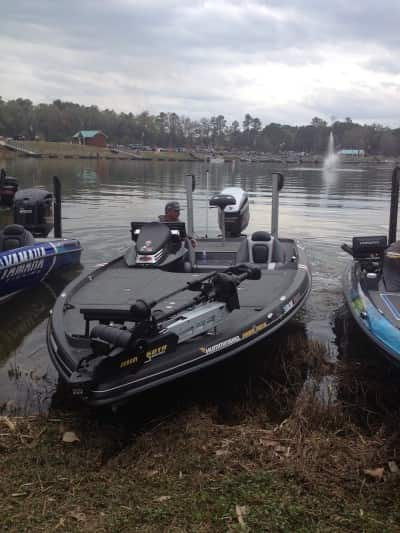 That's why Hite was excited when he was given the opportunity to use Minn Kota's new Fortrex 112 bow-mount trolling motor this season. It's the most powerful motor in the marketplace and provides him with what he describes as controllable power.
"Fortrex is the heart and soul of my boat," said Hite. "Having efficient power is a huge advantage. You don't need full power all the time, but it's there instantly when needed."
Hite said the most surprising thing about the Fortrex 112 is that even with all that power, there is virtually no torque in the steering even when running wide open. But quickly added, with the extra power, he didn't have to keep the motor at full speed all the time.
"Even when I'm fighting the wind, I can run the motor at about 80 percent and have all the power I need and save on my battery charge," said Hite.
And wind was a big factor at Lake Seminole. He said he was able to get from spot to spot quickly and efficiently. He also said that when he got to a spot, that is where his two Talon shallow water anchors became a contributor to his success.
"When I put the Talons down, I wouldn't get blown from my spot and that is critical," said Hite. "If you get blown off your spot seven or eight times a day and have to crank up your big motor or trolling motor to get back to the spot, that costs a lot of casting time. And for me being able to make more casts than my opponents is huge."
Hite added that having the ability to anchor quickly with the Talons using his remote footswitch provides him with excellent boat positioning. It also gives him stability in choppy water when reeling in a fish or fixing gear.
Hite is one of the few bass pros fishing both major tournament circuits this season.  His schedule can be a bit of a grind. He is currently in a stretch where he will compete in six consecutive tournaments without a break. But that's alright with him.
"I do well when I fish a lot" said Hite. "You can ask any fisherman and they'll tell you the more they fish, the better off they are. This schedule is just going to improve my fishing."
And that's a scary thought for all the competitors fishing the B.A.S.S. and FLW tournaments this season, knowing how well Hite has already done in 2014.
Image courtesy Minn Kota
What's Your Reaction?
[reactions id="368672"]