When riders line up on the grid for the opening round of the Moto3 World Championship on Saturday in Qatar a total of five teams and 10 riders will be onboard the KTM RC 250GP bike. Pre season IRTA Official Tests have indicated the season will be hard fought and tight among this lineup of talented your riders.
Pre-season IRTA Official Tests have indicated the season will be hard fought and tight among this lineup of talented young riders.
Pit Beirer, Head of KTM Motorsports came away from the third and final round of official tests at Jerez last week with a very positive impression. "Everything was great. We have had a good pre-season preparation and the final tests in Jerez went well. This year we will have ten KTM factory bikes on the grid and everyone of them is ready to fight for the title again."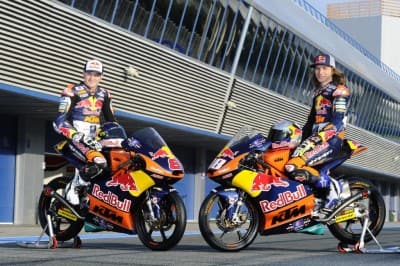 Since the introduction of Moto3 in the 2012 season, KTM riders have secured both world titles. German rider Sandro Cortese won for the Red Bull KTM Ajo Factory Team in the first season.  Last year the title went down to the wire, finally being decided in the last race for the talented Spaniard Maverick Viñales. Viñales slipped past Red Bull KTM Ajo's Luis Salom in the points, denying the seven-times race winner the title. In the 2013 season KTM riders won every round of the championship, surpassing even their stellar effort the previous year!
KTM remains the brand to beat in 2014, and it will be riders of the 'Made in Austria' KTM RC 250 GP machine that will have a target on their backs. Meanwhile the three rounds of official IRTA tests were a clear signal that the competition has never been tighter with other brands and teams determined to level the score. For race fans and teams, this sets up challenging and thrilling scenario for the coming season.
The Red Bull KTM Ajo factory team has two new riders who have performed well in the pre-season tests. Jack Miller of Australia topped the time sheets in the final round of tests in Jerez and says: "I've trained hard for many years and I believe I am prepared."
Joining Miller in the factory team is 2013 Red Bull MotoGP Rookies Cup champion Karel Hanika of the Czech Republic, who has already been grabbing the attention with strong performances on the track during tests.
Hanika has been given the task of learning in his rookie year but nevertheless was third fastest rider after nine sessions and three days of tests in Jerez last week. Both riders have drawn praise from team manager Ajo for their hard work and dedication and both will be out to prove a point in the opening GP in Qatar. Miller rides with the start number 8 and Hanika with number 98.
SKY Racing Team by VR46 come with the credentials of backing by one of the world's most outstanding MotoGP champions, Valentino Rossi, who still rides with the number 46. His two young Italian riders, Romano Fenati and Francesco Bagnaia have both shown form during tests and will compete on the KTM factory bike. Fenati and Bagnaia are racing with numbers 5 and 21.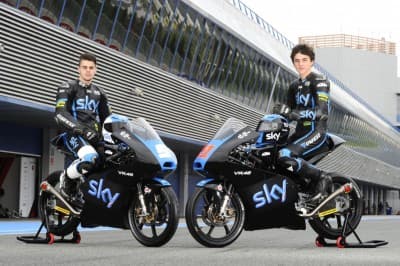 Junior Team GO&FUN Moto3 also have their Italian riders on the KTM factory bike. Both Niccolo Antonelli and Enea Bastianini have been in the mix during pre-season. Bastianini was a strong finisher in the 2013 Red Bull MotoGP Rookies Cup, finishing fourth overall at the close of the season. Antonelli races with start number 23 and Bastianini with 33.
Calvo Team riders are again on board the KTM RC 250 GP bike and are fielding a rider with a prominent name. Spanish rider Isaac Viñales is the cousin of Maverick, the 2013 Moto3 World Champion and rides with start number 32. Brazilian Eric Granado is on bike number 57 and Czech rider Jakub Kornfeil, fourth fastest at the end of the final three days of tests, is on the KTM with number 84.
Hafiq Azmi of SIC AJO KTM competes with number 38 and is the latest of a generation of hungry young riders from Malaysia.
KTM Racing is looking forward to a great season of racing and wishes all riders on the KTM Moto3 factory bike the very best!
2014 Moto3 World Championship Calendar
March 23: Round 1 – Qatar  (Losail)
April 13: Round 2 – Circuit of the Americas
April 27: Round 3 – Argentina
May 4: Round 4 – Spain (Jerez)
May 18: Round 5 – France (Le Mans)
June 1: Round 6 – Italy (Mugello)
June 15: Round 7 – Catalunya (Barcelona)
June 28: Round 8 – Netherlands (Assen)
July 13: Round 8 – Germany (Sachsenring)
August 10: Round 9 – Indianapolis
August 17: Round 10 – Czech Republic (Brno)
August 31: Round 11 – Great Britain (Silverstone)
September 14: Round 12 – San Marino (Misano)
September 28: round 13 – Spain (Aragon)
October 12: round 14 – Japan (Motegi)
October 19: Round 15 – Australia (Phillip Island)
October 26: Round 16 – Malaysia (Sepang)
November 9: Round 17 – Spain (Valencia)
Images courtesy KTM Racing
What's Your Reaction?
[reactions id="368710"]