Fresh off an FLW win on Lake Okeechobee, Brett Hite went into the recent Bassmaster Elite on Lake Seminole with positivity and determination. "One of my goals has been to win both FLW and BASS events this year," says Phoenix, Arizona-based pro Brett Hite.
Consider that To-Do List entry checked off in red ink. First, an FLW win on the Big-O and now, a BASS win on Seminole, the latter guaranteeing his spot in the 2015 Bassmaster Classic on Lake Hartwell this coming February. Considering Hite hasn't simultaneously fished FLW and BASS events since 2005, the accomplishments are even more significant.
And it wasn't even close on Seminole. Hite weighed a giant 25-15 stringer on Sunday for a 97-10 total weight, some 13 pounds in front of Todd Faircloth's second place.
"I was fishing a Chatter-style bait in shallow grass in main lake areas, not up creeks, pockets or canals, which is a little bit different than what everybody else was doing. So I had pre- and post-spawn fish coming to me that were migrating using the banks as a highway."
Given Seminole's conditions, Hite credits two specific technologies for the competitive edge: Humminbird Bow 360 and LakeMaster mapping.
"Normally, I would parallel a grass line and cast right down the edge. But thanks to a harsh winter all the grass on Seminole was subsurface so you couldn't see it. It's not like Okeechobee where you can see grass lines with the naked eye. Bow 360 became my eyes."
He adds that the majority of Seminole's migrating bass would only hit baits presented along shallow water toward the bank and then retrieved over grass breaks.
"Bow 360 let me position at a 45-degree angle and stay ten feet off the grass line, all the while seeing in front and behind the boat for any grass anomalies that might hold fish. Like a big clump of grass in the shape of a point, an indentation or simply the affirmation of where there's grass and where there isn't. It was huge. I also know that I spooked far fewer fish knowing exactly where the good spots were in the grass. I also wasn't unknowingly running my Fortrex into money spots, blowing out fish. Once I saw good grass on 360 it was Talons down and game on."
Although Humminbird 360 Imaging can survey an area 150 feet in every direction around the boat, Hite found an 80-foot range perfect for locating the grass edges he knew held fish. "Since most of these fish were shallow, I was really just trying to find the grass edges, which it shows so well, exactly how they're drawn out underwater."
Hite says LakeMaster high-definition mapping was the second big component to his win.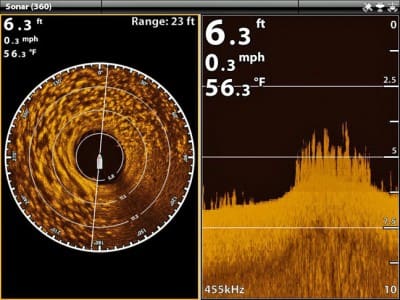 "Basically, I needed 5 to 8 feet of water and still be a casting distance from the bank. So much of the lake is not like that. Just being able to drive down the lake and see the contour lines in high-definition was awesome. On the first day of the tournament I had a giant stringer by 1:30 and I went practicing, just running down the lake looking at LakeMaster map. And one of the best areas I found on the whole lake was practicing during game time. I pulled up there just because it looked right on my map."
At the time of this story, Hite was practicing for the Bassmaster Elite event on the St. John's River. "St. John's is going to be a spawn deal, so having 360 to help me find holes in the grass and maybe that spawner that not everybody is going to see could be huge. Then, at the tournament after that, FLW on Sam Rayburn, it's going to be a shallower wood and grass bite – and 360 picks up wood really, really well. I can't wait."
Hite says he's adding yet another Humminbird 1199ci HD SI to his boat, bringing the total up to two 1199s in the back, two on the bow. "After using Bow 360 the past couple of events, I realize I need two 1199s on the bow. One unit dedicated to 360, the other to 2D and mapping. You want to know how deep you are, where you are on the map, and what's ahead of you and all around the boat. Awesome system."
Hite is jazzed to fish another Bassmaster Classic. "The Classic is the biggest thing in fishing. I've been there twice. Nothing compares. I love Hartwell and have done well there. You can fish deep, shallow, clear water, stained water. It's going to be an awesome event with my favorite kind of fishing – winter and pre-spawn bass. Could be another situation where my electronics knowledge proves the edge I need."
Image courtesy Humminbird
What's Your Reaction?
[reactions id="368851"]