Team ITP ATV racers participated in the season-opening round of the 2014 Mtn. Dew ATV Motocross National Championship series in Georgia, coming away with four class victories and 13 total class podium finishes. BCS Performance / Can-Am / ITP Pro Josh Creamer finished fourth in the highly anticipated Pro class opener at Aonia Pass Motocross Park.
"We had a good start to the season with three ITP riders scoring a total of four overall wins," said Pat McGuire, Public Relations / Race Support. "To also record fourth, sixth and ninth in the super-fast Pro class was pleasing, too. We have a talented group of racers this year, from 50cc all the way up to the Pro ranks, and hope to take these positive results from the first round and improve upon them in Tennessee."
After a long winter break, the 2014 Mtn. Dew ATV MX Nationals kicked off its nine-race, eight-state circuit with a stop at Aonia Pass MX in Washington, Ga. With good weather and plenty of entrants, including a Pro class with a full gate of 20 racers, team riders were excited to showcase their newly honed skills, ATVs as well as roost the compeititon with their ITP tires.
ITP had a total of five racers in the Pro class. They came away with fourth, sixth, ninth, 14th and 16th. Creamer led the way, tallying 3-4 moto scores, which was good for fourth overall. The former Pro class champion ran up front in both motos with his ITP Quadcross MX2 front and Quadcross MX rear tires. Using the same tire setup, JB Racing / ITP racer Jeffrey Rastrelli recorded a 7-6 combo to earn sixth overall, matching a career best, which he set last year. Creamer's teammate, Ronnie Higgerson equaled a career-best ninth-place finish with his ITP-shod Can-Am. ITP racers also tallied eighth, 10th and 12th in Pro-Am action Sunday.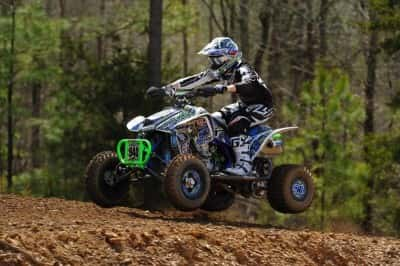 The four class victories for Team ITP went to Root River Racing's Dylan Tremellen, Megan Manshack and Noah Mickelson, who won two class overalls on the weekend. Tremellen earned a convincing overall victory in the 450 A class with a 1-1 moto sweep. Manshack, who also competed and took 10th in 450 B, won the Women's class by taking the top spot in both motos. Mickelson recorded one moto win in each class, but had great moto scores of 1-2 (Schoolboy Jr. Open 13-15) and 3-1 (SuperMini 12-15) to win both overalls.
Second-place overall finishers for ITP at round one included JB Racing's Logan Peters (50 Single Speed 6-8), Grayson Eller (Schoolboy Jr. 13-15), Westley Wolfe (Schoolboy Jr. Open 13-15) and Root River Racing's Sam Rowe (Open A). Third-place class podiums went to Wolfe (Super Mini 12-15) and JB Racing's Maddison Guyer, who took third in both the Schoolboy Jr. (13-15) and Schoolgirls 13-17 classes.
Alex Gillete in the 450 B and Tyler Peters in the Schoolboy Sr. (14-17) each tallied a third-place finish. ITP-backed riders earning fourth place in their classes, included Schoolboy Jr. Open (13-15) pilot Blake Sarver of JB Racing / ITP and Rowe (450 A).
Round two of the AMA-sanctioned ATV MX series is April 4-6, at Muddy Creek Raceway in Blountville, Tenn.
Image courtesy ITP Tires
What's Your Reaction?
[reactions id="369663"]