The incredibly popular tungsten line of Pro Tackle jigs from Clam grows to "XL" size with the Dave Genz Drop XL and the Dave Genz Dingle Drop XL. The Tungsten Tool is designed for extracting mini-tungsten jigs from feisty fish, with soft needle-tip points that won't damage paint finishes.
In 1/32 oz. and 1/16 oz sizes, the XL comes with larger eight- and 10-hook sizes, perfect to bait with Maki plastics, eurolarvae, waxis and spikes when fishing for crappie, perch, bluegill or trout. The larger hook gives more options to anglers who want a larger tie-eye, whether for aging eyes, cold hands or larger-diameter test line. The wider gap with a large barb keeps maggots and minnows on—providing fewer dropped fish. A 45-degree angle helps achieve a good set and works best for up-feeding fish and anvil top-of-the-mouth hook ups. The non-chip, enamel paint is available in six fish catching colors: gold, chartreuse/blue glow bar, chartreuse/pink glow spot, glow white, glow red and white/green glow bar.
"The larger hooks are stronger and allow for a compact presentation with multiple wax worms or minnows," said Dave Genz, The Godfather of Ice Fishing and Clam's Ice Team Pro Staff. The wire diameter is larger and stronger in XL baits. "That allows better hook ups on bigger fish, and allows using bigger pieces of plastics without increasing the size of the jig—just the size of the hook with the XL."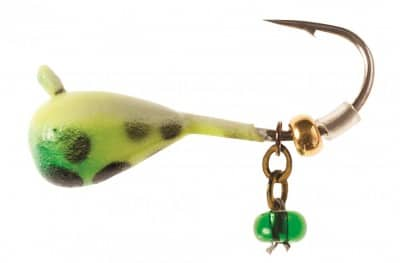 The Dingle Drop XL comes in a 1/32 oz weight with a #10 hook size in the same six color schematics. All the improvements in the Drop XL are found in the Dingle Drop XL, plus the dingle ball fish attractor provides additional movement within movement. "This was really built by consumer demand," continued Genz. "As anglers target bigger panfish, the beefier hooks with a wider gap were needed in this popular new line of tackle."
The tungsten series of jigs in the Clam Pro Tackle line all boast higher density, which helps to get the bait down into position sooner—even through slushy holes. The extra large size helps when dealing with wind and current conditions as well as structure like weeds, brush and timber. Improving feel and detecting bites sooner are reasons many ice anglers have moved exclusively to Pro Tackle tungsten, which is 30% heavier than lead.
The rubber-dipped tips and handles on the new Tungsten Tool make it the ideal accessory to Pro Tackle jig or spoon ice anglers. The tips prevent damage or chips to the highly acclaimed and sought-after tungsten gear, keeping it in good shape and back down the hole for the next one.
For more information on Clam Outdoors go to http://clamoutdoors.com
Image courtesy Clam Outdoors
What's Your Reaction?
[reactions id="386962"]