Roomy, easy to set and easy to store, the Vista Thermal for two to three anglers and the Six Pack 1660 Mag Thermal hub-style shelter for five to seven anglers, join the roster of Clam's full thermal shelters. Great for keeping the family warm and comfortable in even the harshest winter conditions, these two new full thermal options will be a huge hit for the new ice season.
A full thermal skin on the Vista Thermal hits an attractive, family-fishing price point of $319.99 MSRP. The super-tough 600-Denier fabric and Full Thermal Trap Technology retains heat and reduces condensation for a comfort on the ice with 36 square feet of fishable space. Super-duty construction of 11mm flex-tested poles and the sturdiest hub assemblies in the marketplace, means the Clam shelter will last for years of fun. The oversized skirt makes for ample snow banking to reduce drafts, and convenient ice-anchor straps fit in the four new strap pockets. Ice anchors included. Set up size is 72"x72" with a center height a whopping 84" and only weighs 39 pounds. The oversized carry bag makes repacking at the end of the day a breeze. The Vista Thermal packs small but fishes big.
"We test the thermal and know that it increases the temperature inside a shelter by 25 degrees. Ice fishermen get it now," said Steve Geertsen, President and CEO of Clam Outdoors. Thermal shelters market share increased significantly the last few years and Clam certainly heard from anglers that they wanted even more thermal options. "Customers told us they wanted a thermal version of the most popular portable shelter and a thermal version of the best family shelter. That's what these two new items cover."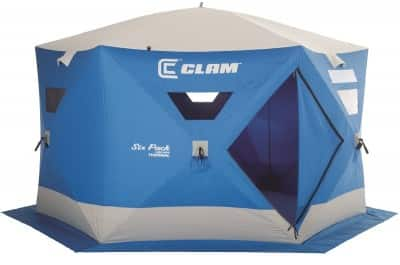 When ice fishing adventures are a big event, you need the Six Pack 1660 Mag Thermal to keep the whole crew toasty and warm. "Anglers asked for the popular 1660 in full thermal," said Geertsen. "We listened."
With a whopping 94 square feet of fishable area and 90" (7 ½ feet) of center height, the Six Pack 1660 fishes five to seven anglers comfortably. The super-tough 600-total-Denier fabric utilizes advanced Full Thermal Trap Technology to retain heat while keeping condensation at bay. Same sturdy design of 11mm, flex-tested poles and triple-layer corner pockets, along with the largest hub assemblies in the industry, make this a sturdy ice shelter even in windy conditions. Six convenient ice anchor straps and new strap pockets assist to keep it anchored securely, as does the oversized skirt for snow banking. Big and roomy and now fully thermal, the MSRP of $499.99 makes this a big deal for groups or families who like to get out all winter. "When you want to get the crew out ice fishing, you need a shelter that's roomy and warm so everyone is comfortable and happy," said Geertsen. "This is the right shelter for even the harshest winter conditions."
For more information on Clam Outdoors go to http://clamoutdoors.com.
Images courtesy Clam Outdoors
What's Your Reaction?
[reactions id="386970"]