From a wallet-sized plastics organizer to a deluxe flasher bag that will protect your expensive electronics, five new SKUs in the Clam line will have anglers streamlined and protected come winter. The smallest of the products is the Soft Plastics Wallet. Literally the size of a wallet, the lightweight 600-Denier outer shell measuring 3.5" x 5", holds 10 sealable, clear pockets to organize soft plastics and could fit in a jeans pocket. MSRP $9.99.
Still pocket-sized for a parka pocket, the Small Soft-Sided Tackle Organizer includes a mesh pocket with a small jig tackle box and a binder of five clear, sealable bags for soft baits. It is easy to use, and a Velcro enclosure keeps it all snug and together. The 5"x4.5" organizer's MSRP is $14.99.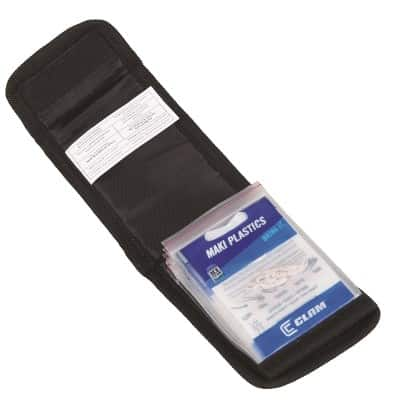 A little bit larger at 9" x 9.5" is the Soft Plastics Holder with an MSRP of $19.99. Loose packages of soft plastics drive ice anglers crazy, especially because they are always on the move. The efficient solution is a two-ring binder, covered in 600-Denier outer shell that contains 10 clear, PVC sheets. Each sheet has four pockets providing 40 unique storage locations for the soft plastic bait packages. Easy to grab just one, if needed, and keep the go-to bait close by for the moment, or trade it out when the pace slows down. The exterior handle makes grabbing on the go easy, and the zippered enclosure keeps everything secure, even on the long runs via snowmobile or quad.
Packing up to a four-inch depth, the Dual Compartment Soft-Sided Tackle Bag is easy to use and extremely practical in organizing lots of gear. Five zippered pockets are part of the 600-Denier outer shell and inside covers, and the two-ring binder system comes with 10 clear, PVC sheets with two pockets per sheet. A padded exterior handle makes grab-and-go easy and comfortable. A mesh pocket on the inside holds a 5 ¼" x 7 ¼" clear tackle box for jigs and other small terminal tackle, with adjustable sizes to make room for larger spoons or slip bobbers. MSRP is $24.99.
Most important of all, Clam has addressed ice anglers' concern to protect and care for their electronics while keeping mobility a top priority. The new Deluxe Flasher Bag from Clam is designed to protect and carry today's important electronics, whether en route to the next spot by snowmobile or quad or just hole-hopping with a quick get-up-and-go. The clear PVC viewing window keeps everything completely inside the 600-Denier nylon shell in the iconic Clam blue color. The hard-plastic bottom and impact-shielding foam keep the computerized parts protected from bumpy rides over ice-packed ridges, or just many uses in-and-out of the vehicle. The internal strap keeps the flasher securely in place and the padded shoulder strap and handle make transport a breeze. Four exterior pockets allow stowing gotta-have items nearby. MSRP is $59.99.
"Ice anglers like to keep their stuff organized and protected, and these different products all have a role to fill," shared Nick Chiodo, director of marketing for Clam. "The flasher bag is really going to be a big hit. It gives confidence that you're protecting your electronics even in the harshest travel conditions, and it just picks up and moves easily from hole to hole. The other storage options will keep tackle and tools, especially the Maki soft plastics all together."
For more information on Clam Outdoors go to http://clamoutdoors.com
Images courtesy Clam Outdoors
What's Your Reaction?
[reactions id="386986"]