Leupold & Stevens, Inc. is pleased to announce the selection of Scott Cain as Vice President of Global Sales. Additionally, W. Wilson Timothy has been promoted to Director of Tactical and International Sales.
"Scott is a true sales professional who excels at building brands and delivering dynamic growth, and Wilson has already brought tremendous results to our organization.  We believe that we now have one of the best sales leadership teams in the industry," said Bruce Pettet, President and CEO of Leupold & Stevens, Inc.
For more than twenty years, Cain has led sales organizations in the wholesale sporting goods industry. A proven leader in sales strategy and key account management, he has delivered dynamic growth for some of the most influential and trend-setting brands in the industry. Most recently, he was with Collective International, a brand management company operating in the action sports, technical athletic, snow hardgoods and mixed martial arts markets. An avid hunter and shooter, he has also worked as a volunteer firefighter and first responder for the past decade in his community outside of Denver.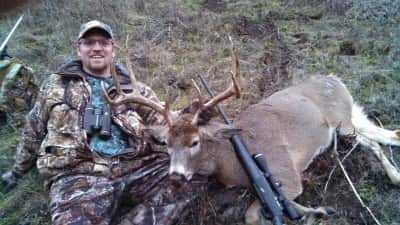 Timothy, a shooting sports and tactical industry veteran, has driven significant growth in international markets since joining Leupold & Stevens in 2012. His prior experience includes being international sales director for Europe at ATK.
In addition to these leadership appointments, the company is also pleased to announce that three of their outstanding key account managers will become Regional Sales Managers: Janos Jeszenszky for the Western region, Kelly Streiff for the Midwest region and Jay Montrose for the East coast. Each of these sales leaders brings significant experience helping customers and dealers of all sizes compete in the hunting, shooting sports and outdoor markets. Their efforts are supported by H&G Marketing, the award-winning sales and marketing agency that was recently named agency of record for Leupold & Stevens for all sales in the United States.
"These key staff appointments make our company and brands more competitive in the marketplace. Ultimately, with this solid internal team, combined with H&G Marketing's support in the field, we are better positioned to deliver timely, world-class customer service to all of our key partners," Pettet said.
Contact:
(800) LEUPOLD or (503) 526-1400 • Fax:  (503) 352-7621 • www.leupold.com
Images courtesy Leupold & Stevens, Inc.
What's Your Reaction?
[reactions id="388893"]