Team Earns Eight Wins, More Than 20 podiums at Series Finale
Team ITP racers won eight classes, tallied 21 podiums and officially wrapped up six class championships at the finale of the 2014 Mtn. Dew ATV Motocross National Championship series held in Hurricane Mills, Tenn.
"We had a big weekend at Loretta's in Tennessee, winning several classes and earning almost two-dozen podiums. More importantly, Jeffrey Rastrelli captured the Pro-Am championship with an impressive double-moto sweep and four other racers took home five amateur class titles," said Pat McGuire, Public Relations / Race Support. "Josh Creamer also proved ITP tires are versatile and offer lots of traction even in poor conditions. He grabbed the holeshot and second-moto victory in the Pro class on Saturday, despite the horribly muddy track. It was a good way to end the year."
The Can-Am Dirt Days event was held in high humidity at the popular Loretta Lynn's Dude Ranch MX facility, which was soaked by intermittent rain showers. Seventeen Pro and Pro-Am racers competed on Saturday and Sunday, respectively. With the Pro class already determined at the previous round, the focus shifted to finishing strong for the top pilots of Team ITP. And because the Pro-Am class and some of the amateur class championships were still too close to call, the fans and racers were both glued to fences.
Josh Creamer (BCS Performance / Can-Am / ITP) has had a challenging season, but looked to end the year on a high note. The former national champion did just that as he earned his first podium of the season with a stellar 4-1 moto scorecard. The moto two win (and holeshot) was his first in nine rounds. In fact, in addition to being a big confidence builder the win was impressive because Creamer dominated on soggy track. He ended up finishing sixth place in the Pro class standings.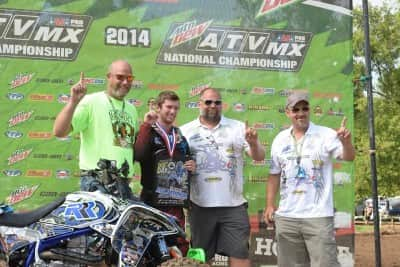 Finishing one spot behind Creamer in the season standings was Jeffrey Rastrelli (JB Racing / Cheerwine / Can-Am / ITP). Rastrelli made huge strides this year in the Pro class, having earned his first podium at round seven, but took ninth at Loretta's. He was sixth in moto one, but finished outside the top 10 in moto two due to a crash. However, on the season, he notched seven top-10 finishes and placed in the top-five four times. Rastrelli also earned the 2014 Pro-Am class championship with an impressive 1-1 moto sweep at Loretta's. The Tennessee win was his third in the class this year. He ended up winning by 18 points.
Sean Taylor (Root River Racing / Motowoz / ITP) and Silas Lamons (Jay Huckabey Racing / Suzuki / ITP) both competed in the Pro ranks at round nine. Taylor scored his best finish of the year with sixth overall (9-6), to capture the No. 10 spot in the final point standings. He also scored a third-place podium finish in the Pro-Am division to earn fourth for the year. Lamons took 12th (13-11) in the Pro class.
Amateur class racers notched seven wins at the finale for Team ITP. Dylan Tremellen (RRR / Rage ATV / FTR / Motowoz / ITP) won the Production A and 450 A classes with 1-1 moto sweeps. He is also the 2014 Production A class champion and runner-up in the 450 A class. The 450 A title was earned by "Factory" Sam Rowe, who finished second in the class and the Open A class at the final round. Rowe (RRR / Rage ATV / FTR / Motowoz / ITP) also won the Open A class title. Megan Manshack capped her championship season with another 1-1 moto sweep in the Women's class and her best finish in the 450 B ranks, taking second overall. Haedyn Mickelson (RRR / ITP) won the 450 B class and took third in Open B. Westley Wolfe (Greg's ATV / ITP) notched two wins at Loretta's, taking the top podium spot in both the Schoolboy Sr. (14-17) and Schoolboy Jr. Open (13-15) classes. Noah Mickelson won the Super Mini (12-15) class for the third time in 2014 to ensure he would go home with the No. 1 plate and class championship.
TEAM ITP – Loretta's Podiums
Pro: Josh Creamer (2nd)
Pro-Am: Rastrelli (WIN, 1-1), Sean Taylor (3rd)
450 A: Dylan Tremellen (WIN, 1-1), Sam Rowe (2nd)
Open A: Rowe (2nd), Dalton Hicks (3rd)
Production A: Tremellen (WIN, 1-1), Hicks (3rd)
Women: Megan Manshack (WIN, 1-1)
450 B: Haedyn Mickelson (WIN, 2-1), Manshack (2nd)
Open B: H. Mickelson (3rd)
Schoolboy Sr. (14-17): Westley Wolfe (WIN, 1-1)
Schoolboy Jr. Open (13-15): Wolfe, (WIN, 2-1), Noah Mickelson (2nd), Blake Sarver (3rd)
Schoolboy Jr. (13-15): Grayson Eller (2nd)
Schoolboy Sr. (14-17): Eller (3rd)
Schoolgirl (13-17): Maddie Guyer (3rd)
Super Mini (12-15): N. Mickelson (WIN, 2-1)
Team ITP – 2014 National Champions
Pro-Am: Jeffrey Rastrelli (3 wins, 194 points)
450 A: Sam Rowe (5 wins, 200 points)
Open A: Rowe (2 wins, 174 points)
Production A: Dylan Tremellen (5 wins, 192 points)
Women: Megan Manshack (7 wins, 210 points)
Super Mini (12-15): Noah Mickelson (3 wins, 183 points)
For complete results and championship points from the 2014 Mtn. Dew ATV Motocross National Championship Series, visit www.atvmotocross.com.
Media Contact:
Pat McGuire
Public Relations & Race Support
Email: pat.mcguire@carlisletire.com
Images courtesy ITP Tires
What's Your Reaction?
[reactions id="389706"]