Lee and Tiffany Lakosky work extremely hard and spend countless hours making their very successful television show, "Crush with Lee & Tiffany." When it's time to pattern and hunt a mature buck on their Iowa farm, an important tool for success is a good trail camera.
It was only natural that Lee and Tiffany teamed with Wildgame Innovations to produce their own line of trail cameras. The Crush line of trail cameras offers three models that provide hunters of all levels with the latest technology to help bag a trophy buck.
"It's like the deer have their own reality show," says Lee Lakosky. "Cameras are a crucial part of successful hunting, and Wildgame Innovations has given us valuable insight into knowing what is out there so we can be better prepared to BBD!"
Micro Crush 10X Game Camera
The Micro Crush 10X Game Camera delivers 10 Megapixel images with a flash range of up to 75 feet. The FlexTime+ Time Lapse Technology captured images at predetermined intervals and compiles the day's images into an easy-to-view video while capturing motion-triggered events, as well.
The camera takes wide-angle images that include the time, date, moon phase, location and photo count. The Micro Crush 10X operates on eight AA batteries and an SD/SDHC card of up to 32GB (both sold separately). The camera can also be used with the Wildgame EBX external battery pack (not included). It comes with a USB cable, FlexTime Software CD and bungee cords for mounting.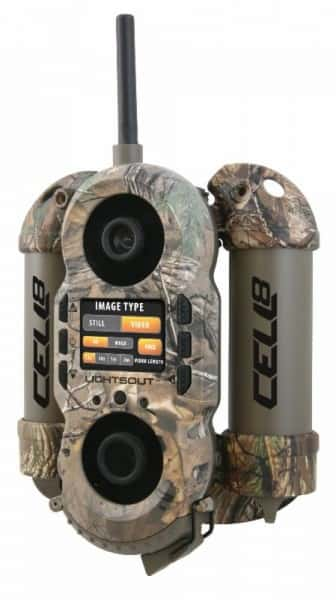 Crush 10X Lightsout
The Crush 10X Lightsout Game Camera is a great option for hunters who prefer their camera to be completely undetectable. With 60 high-intensity infrared invisible LEDs, the Crush 10X will take very clear 10MP images or up to 30 seconds of 720p HD video with audio. Flextime+ timelapsetechnology is included, so you can set predetermined intervals to take images rather than only be activated by motion. The rapid 1-second trigger speed will capture an image of a deer up to 70 feet away. An external view screen helps with viewing images and initial set up. The adjustable sides will adjust to help the camera hug any tree you mount it to. The Crush 10X works off of 12 AA batteries and can use up to a 32GB SD card. It comes with a USB cable, adjustable bungee cords and Flextime software CD.
Crush Cell 8
The Crush Cell 8 trail camera wirelessly connects to a cellphone through text or picture messaging and email. Now, your trail-camera can send you images from deep in the woods that can be viewed almost immediately. A hunter doesn't have to walk into a buck's living room to retrieve the images from the field.
The Crush Cell 8 is compatible with any GSM cellphone that uses a SIM card and has a minimum of 3G capabilities. It features an 8-megapixel camera and high-intensity, undetectable IR LEDs for photos or HD 720 videos. A TFT viewer is included on the camera, so images can also be viewed directly on camera. The Crush Cell 9 also has Redux Anti-Blur technology, Exposure Control System and FlexTime+ Time Lapse technology for the clearest images possible. This camera accepts mini SD/SDHC cards up to 32 GB and is powered by four D batteries. View images from the comfort of the living room with this camera and a compatible cellphone, and get ready for the next hunt without spooking deer when checking your camera.
With three different models to meet the various needs and requirements of serious deer hunters, the Crush line has a trail camera to make you more successful.
Contact:
Image courtesy Wildgame Innovations
What's Your Reaction?
[reactions id="389876"]