The Association of Great Lakes Outdoor Writers (AGLOW) awarded its highest honors to five recipients at its recent annual conference in Gilbertsville, Kentucky. Golden Glow Awards were presented in the Excellence-In-Craft, Individual, Organization, Company or Corporation, and Hospitality categories during the September 17 Chevy Trucks Golden Glow Banquet at Kentucky Dam Village State Resort Park to Michael Schoonveld, William Keaton, Whitetails Unlimited, Hobie Cat Company, and the Mercer (WI) Area Chamber of Commerce, respectively.
Schoonveld receives 2014 Golden Glow for Excellence-In-Craft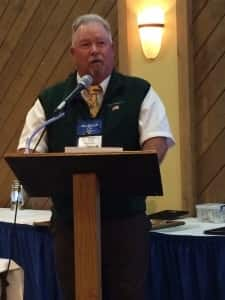 As a teenager many of his friends could recite the stats for Willy Mays, Mickey Mantle and had subscriptions to Sports Illustrated, but this amazing storyteller had subscriptions to Fur, Fish and Game and Outdoor Life. His heroes were Cory Ford, Ted Trueblood, Erwin Bauer, Gene Hill and all the other great outdoor writers who filled the pages of the outdoor publications popular then. He could only imagine living the lifestyles they reported in their tales. Hunts in the far-off mountains and deserts. Fishing in Canadian lakes for fish so large their bellies sagged when being photographed. He may have been fishing for small bluegills back in Indiana, but in his mind, he was dreaming of native cutthroats in Yellowstone Park.
Next to being an outdoor writer who earned a living by hunting and fishing in cool places, and then telling stories about their adventures, this thoughtful scribe realized that DNR guys who worked with wildlife also had the best jobs ever.
He may have had no idea on how to become an outdoor writer, but he did know the route to becoming a DNR guy. So it was off to Purdue to get a degree in Wildlife Science. After graduation, he was hired by the DNR and when a job opened at Willow Slough, it was there he traveled to put down roots and manage the ten thousand acre property for the next 35 years.
While at Purdue, an opportunity resulted when our potential Golden Glow winner took a class called Features Writing. The professor may have been a complete dullard but since assignments were the only basis for the grade this writer handed in the semester's work and never went back the rest of the year. Two things were learned in that class. One, writing a good story was rewarding, and two, how to write a query letter. (It was one of the assignments.)
Skip ahead about 15 years. Each weekday morning this DNR Biologist/soon-to-be-outdoor- writer would hop out of bed, grab a cup of morning coffee and quickly peruse the recent Outdoor Life or some other magazine. One morning he read a short essay. The writer told of finding his grandfather's hunting journal, which he considered a treasure. How neat, he thought. Maybe a journal would be a good idea; something he could share with his son or grandson — a trove of stories they would treasure.
However, instead of just starting at that point in time, he would start as far back as he could remember. After all, he did start fishing in grade school, hunting in junior high and now he had almost three decades of outdoor adventures to recount. So he began to fill spiral bound notebooks writing by hand. My First Fish. My First Rabbit. Then more and more of his outdoor memories spilled out of his head and onto paper. He filled one notebook and another, and another- reminiscing about special hunts, favorite fishing trips, hits, misses, the ones that got away. He still has them all.
One day a friend came to his house and he showed them the stories. "You ought to send these stories to a magazine! They are as good or better than what they usually print," was the reader's response.
The first query was sent to Ottie Snyder, the editor of Great Lakes Fisherman magazine. A week or so later, he sent a letter accepting the idea and offered to pay $100. That was in 1986.
Featured in all of the major publications, this outstanding anecdotalist still does a weekly outdoor column for his local paper, the Brook Reporter. He sells stories to national and regional magazines, tabloids and papers all across the country. In all this time, with thousands of columns and features written, he has never been without a story to tell.
AGLOW was the first outdoor writer's organization he joined in 1992. He was elected to the AGLOW Board of Directors in 2001, and served as president in 2004. Since then, except for one year, he has either been an officer or elected board member.
Being an outdoor writer has given him the chance to live the lifestyle he dreamed of having as a kid. He has fished from the Arctic Circle to the Tropics. He has caught fish so big their bellies sagged. He has hunted the mountains and deserts. He has met some of the men who were his youthful heroes, and somewhere out there, some youngster is looking forward to the next issue of one of the publications he writes for so they can imagine living the lifestyle he reports in his tales. His heroes were Cory Ford, Ted Trueblood, Erwin Bauer, Gene Hill and all the other great outdoor writers who filled the pages of the outdoor publications. Add one more name to that list. Mike Schoonveld.
Schoonveld lives with his wife, Peggy, in Northwest Indiana, where he continues to hunt, trap, write, and work as a Lake Michigan charter boat captain. In his own words Schoonveld said, "I don't need to be a hero, but I hope I am."
In recognition and appreciation of a lifetime of adventurous, innovative and inspiring stories well shared, Mike Schoonveld was presented with the 2014 Golden Glow Excellence-In-Craft Award by AGLOW Past President, Tim Lesmeister.
Keaton receives 2014 Golden Glow Individual Award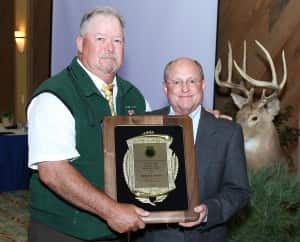 In 1994, Bill Keaton was approached by Bill Beeman, AGLOW's Executive Director at the time, to become the organization's legal counsel. Keaton accepted and played a vital role in AGLOW's growth and success for the next 20 years.
Upon accepting the position, one of the first things Keaton did was examine the bylaws and policies under which AGLOW was being run. His legal training allowed him to find discrepancies, omissions and sections that were poorly worded; any of which could possibly cause problems later. Bill worked to correct or clarify many other portions of the organization's bylaws during his tenure, and saw to it the changes were properly made.
Keaton also applied his skills over the years to assist the growing organization with a variety of clearly written legal documents, such as requests for proposals and employee contracts, which were fair to all parties involved, saving the organization thousands of dollars.
Over the years, AGLOW members consulted Bill privately for legal advice on personal and professional issues they were facing. Keaton always willingly advised the members on the best course of action, often making calls or writing letters on their behalf.
Few people have attended more AGLOW conferences than Bill. Since 1994, he has missed only two, bringing with him a wealth of practical knowledge about the organization, as well as a wealth of living history on AGLOW and its traditions.
In the past 20 years, AGLOW has grown from a relatively obscure regional writers group to its current position as one of the largest and most respected outdoor communicator's associations in the nation. Some of that success is certainly attributable to Bill Keaton's precise work and sound legal advice – all of which has been provided by Bill for no monetary compensation.
Keaton retired from his position as AGLOW Legal Advisor earlier this year, but has maintained his status as a media member. He lives with his wife Rita in Southern Indiana, where they enjoy regular visits from the children and growing number of grandchildren.
In recognition and appreciation of 20 years of volunteer service to AGLOW and its members, William Keaton was presented with the 2014 Golden Glow Individual Award by AGLOW Past President, Mike Schoonveld.
Whitetails Unlimited receives 2014 Golden Glow Organization Award

A little over three decades ago an average guy, in a small town in northeast Wisconsin, attended a Ducks Unlimited fundraising banquet. On his way home he reflected on the evening, thinking that if all those people went to all that time and effort for ducks, is anyone working to benefit the most popular big-game animal in North America?
As you might expect, he was a passionate deer hunter and an ardent conservationist, but at best an occasional duck hunter. After looking over the landscape he decided that the world could use an organization dedicated to advancing the interests of deer hunters as it related to conservation, education, and the preservation of the American tradition of regulated hunting.
That drive home was point of creation for a classic American success story: someone with a dream, and through hard work, and the efforts of friends, colleagues, and more than a few of like-minded strangers, built a nation-wide organization that has grown and succeeded far beyond the original expectations.
Whitetails Unlimited literally started on the dining room table in Pete and Janet Gerl's home. Janet maintained the membership lists and Pete and a few of his friends started attending outdoor shows on the weekends promoting the new organization. They established a few banquets that first year, learning as they went about dealing with venues, merchandise, caterers, firearm transfers, taxes, insurance, and the myriad details involved with any business, let alone one that was intent on giving away it's profits. Actually, there are no profits, only "revenue in excess of expenses."
That 'revenue' is now approaching $60 million, and since the beginning Whitetails Unlimited has dedicated itself to primarily funding local projects, as directed by the local groups that make up the local banquet chapter. WTU does not write big, million dollar checks (although they have no problem with organizations that do), but rather writes a lot of smaller checks, to fund smaller, but no less important projects. Every hunter safety class benefits everyone who hunts, and thousands of hunter safety graduates have been educated by WTU project funding. Hunter recruitment is a constant issue, and local WTU chapters have funded scores of national Archery in the School Programs. Every time a chapter organizes a handicapped or wounded warrior hunt, provides a scholarship for a student studying wildlife biology, helps fund university research, sponsors a youth education event, or donates needed equipment for game wardens to use to fight poaching, all hunters and conservationists benefit.
Whitetails Unlimited will put on about 450 events this year, with a network of 19 field directors in 14 states. The headquarters in Sturgeon Bay, Wisconsin has 19 employees who support those field directors. It took 30 years of steady growth to reach this point, and it wasn't always easy. In the early years there were trips that had six guys sleeping in one hotel room to save money, and they packed a cooler with sandwiches for meals. At one point two men left solid, professional careers to work full time at the young organization. This was a significant leap of faith by these men, driven by the mission, the faith that their hard work would succeed, and the understanding of what can happen when good people are provided with a vehicle to raise money to fund good projects.
WTU's mission of education extends to its publications and web presence, and that commitment is real. Several years ago, when the national economy shuddered and affected nearly every business in the country, WTU was not spared. There was a real budget problem, and every department was tasked with looking for ways to save money. And every department responded. However, not one nickel of project funds was cut, and the quality and quantity of event merchandise was not reduced. Everything that everyone was doing, both at headquarters and in the staff of field directors, was examined to see if it could be done smarter, more efficiently, or at less expense.
In the communications department budget meeting the question came up of cutting the budget for freelance writers and photographers – management had seen the trend of publications cutting back on what they pay for content, or even accepting freelance work for no pay at all. They were a little surprised when they saw that budget line reflected a 20 percent increase. Every other budget line in that department was down, but in a manner that did not actually reduce the amount of content that would be provided to members. As a publisher, and to meet its mission of education, Whitetails Unlimited has a commitment to provide its members with solid, informative, accurate, and entertaining information. To ensure that goal, there has to be a network of skilled communicators to draw on, and if they are all squeezed out of existence to save a buck the real losers will be the membership of Whitetails Unlimited.
WTU came out of that budget problem within a year, and since that time has experienced outstanding growth. It was a case of teamwork overcoming a problem by being positive and looking for innovative ways to do more with less. Not something you want to do on a regular basis, but it was a classic case of becoming stronger by concentrating on what is important.
And that freelance budget? When the final numbers came out, there wasn't a 20 percent increase on the line for freelancers. It was 30 percent. It wasn't free money – other budget lines took it in the shorts, but what was important was taken care of.
For their commitment to, and success in promoting conservation, education, and the preservation of an American tradition, Whitetails Unlimited was presented with the 2014 Golden Glow Organization Award by AGLOW Past President, Jeff Davis. WTU President, Jeff Schinkten, accepted the award on behalf of WTU, and presented a check for $20,000 during a brief presentation to Honored American Veterans Afield (HAVA) to assist in their continued work of taking disabled veterans afield. HAVA representative, Trevor Baucom, accepted the check from Schinkten and WTU.
Hobie Cat Company receives 2014 Golden Glow Corporation Award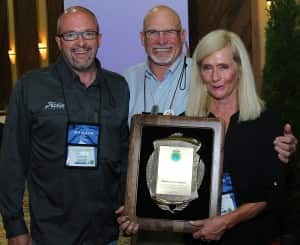 The name Hobie is synonymous with innovation, quality, legendary products, hardcore users, world renown, and there are many more. It all started with a man named Hobie Alter. The recently published biography, Hobie: Master of Water, Wind and Waves reveals the story of this true Renaissance man.
The son of a second-generation orange farmer, Hobie flourished spending time at his family's Laguna Beach summer home. And it was here in the family's garage back in 1950 where he began his somewhat accidental career by combining his two loves, wood shop and water, crafting handmade nine-foot balsawood surfboards for his friends. Business was good, and his father had grown tired of the sawdust, so in 1954 Hobie would open the area's first surf shop in Dana Point. But as demand continued to grow, balsawood was becoming scarce, and even with Hobie's creative assembly line, the wooden board building process was cumbersome. This is where Hobie's extraordinary gift for self-taught, "outside the box" engineering rose to the challenge. Through a top-secret trial and error process, and along with friend and employee Gordon "Grubby" Clark, Hobie pioneered the development of the foam surfboard. With the lighter and more responsive boards, and his gift for design and commitment to uncompromising quality, Hobie quickly became the number one surfboard brand in the world. The list of legendary surfers and shapers that worked or rode for Hobie is a virtual Hall of Fame and his success is seen as the launch point for California's iconic surf industry. Hobie himself was a top surfing competitor.
Having success with surfing, Hobie turned his attention to his other water-based passion, and after another series of tireless design testing, Hobie unveiled his namesake "Hobie Cat" which is credited with bringing high-performance sailing from the yacht club to the masses.
Today Hobie manufactures a tremendous line of fishing kayaks that have revolutionized the sport. Utilizing a peddle system, called the Mirage Drive, Hobie has made fishing from kayaks a fast growing sport that has anglers battling huge saltwater species from these small boats as well as allowing anglers to tuck back into areas on tiny bodies of water only accessible from compact watercraft.
Not only does Hobie produce some of the finest fishing machines in the world, they are ready, willing and able to work closely with media members to ensure those writing, photographing or videoing their products have access to all the resources they need to ensure adequate coverage. Hobie, and their representatives, Ingrid Niehaus, Morgan Promnitz and Keeton Eoff have attended many AGLOW conferences and Cast and Blast functions making sure media members have the opportunity to get up close and personal with this innovative fishing system.
For their deep commitment to AGLOW and their consistent support of the greater outdoors media, Hobie Cat Company was presented with the 2014 Golden Glow Corporate Award. Ingrid Niehaus and Keeton Eoff accepted the award on behalf of Hobie Cat Company.
Mercer Area Chamber of Commerce receives special 2014 Golden Glow Hospitality Award

Destination marketing plays a critical role in today's outdoor communications. America's increasingly urbanized demographic means that fewer families and fewer young people have access to firsthand outdoor experiences. Such families typically struggle in finding information on where to go to enjoy quality, outdoor activities and experiences, and rely heavily on the outdoor media.
AGLOW's approximately 50 tourism partners participate with AGLOW to promote their areas' unique outdoor resources to the public. A few of these organizations have the resources and facilities necessary to host an AGLOW Conference or Spring Cast and Blast Event. Others, however, do not.
Situated in the great North Woods, tiny Mercer, Wisconsin has some of the finest fishing, hunting, paddling, boating, hiking and other outdoor opportunities to be found in the Continental United States. Their small budget and lack of conference facilities, however, preclude them from hosting large numbers of outdoor media. But that doesn't bother the leadership at the Mercer Area Chamber of Commerce, who works closely with AGLOW to offer their signature brand of Northwoods hospitality and significant outdoor experiences to dozens of AGLOW media members each year. In turn, the stories of adventure and pristine natural resources from the Mercer area are shared with thousands of readers, viewers and listeners – many of whom plan their own trips to the Mercer area.
In appreciation of their creativity and ongoing participation with AGLOW and outstanding support of outdoor communicators on assignment, the Mercer Area Chamber of Commerce was presented with the special 2014 Golden Glow Hospitality Award. Mercer Area Chamber of Commerce Executive Director, Tina Brunnel, and Board President, Lisa Heberling, accepted the award on behalf of the Mercer Chamber.
Images courtesy Association of Great Lakes Outdoor Writers (AGLOW)
What's Your Reaction?
[reactions id="395700"]